We all know the bright images on social media with people sitting at the beach with their laptops and living the life of their dreams. They usually promise you that you can make thousands of dollars in a short amount of time by simply working online.
Earning passive income, getting away from the 9-5 job, spending more time with the family – these and many more reasons drive people to sign up for expensive programs that promise quick success but require you to invest a substantial amount of money.
It may be signing up with an MLM company or an online company that sells courses for thousands of dollars.
---
Is It Possible To Make Money Online?
The clear answer is 'yes,' and I am here to show you, how I, a middle-aged mother of three kids with no prior experience, is earning $1000 plus a month, and how you can do it too.
My online journey started over three years ago when I researched an MLM company one of my friends was about to join. The writer of the blog, who had written the review about the MLM company (by the way it was Kyani) recommended a course that shows you how to earn a passive income online by building a website.
What resonated with me was the fact that one can work from anywhere in the world; you'll only need a laptop and an internet connection.
Well, I signed up, and three years later I am the proud owner of four websites and earn in average $500/month.*
Three years, I hear you saying that is a long time to earn this amount of number. In the internet world, it is not. Yes, there are people out there that make money much quicker, but for most people, it takes around 12 months to earn money online, depending on their experience.
*Update January 2019: times are changing quickly when you earn money online. My income has grown even more and I now earn an average of four figures a month (and growing).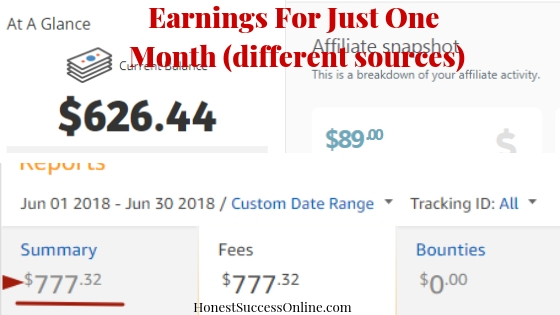 ---
The Good News
The good news is, I never had to ring people, do home parties, or ask friends or families for favors. I didn't have to sell any products or recruit one single person.
I had been working as a consultant for a direct selling company for three years because I loved the product, wanted to have my own business, and work independently.
But it was simply not for me – ringing people, closing the sale, overcoming their objections, selling products that were more expensive than similar items in the shop, recruiting new consultants, driving to parties, etc. – it took so much work and energy with little results.
Also, even though the company makes you believe that it is your business – it is not! You are simply a salesperson who needs to recruit new salespeople into the company.
You are not in control of the companies marketing strategies, the products, and so many other factors.
---
With my recommended business model – affiliate marketing – you OWN your business and have full control over it.
Read here what affiliate marketing is.
Now, I can truly work from home without leaving my family, and choose my hours whenever it suits me best and fits in with my family.
It doesn't cost a lot of money to get started with your online business. In fact, you can get started for free to see if this is the right path for you.
The Not So Good News
It takes time and effort to earn passive income.
It is not a get rich quick scheme. By the way, there is not such a thing, even if the web is full of ridiculous promises of making thousands of dollars in a few days.
In order to succeed with affiliate marketing, you have to learn new skills and implement them.
You may not see any results for a few months. You may not earn anything for a while. BUT, once you earn your first commission it is a truly amazing feeling.
The key is to work consistent, to take action, and learn as much as possible about the business model.
---
Know Your  'Why'
You have heard it before, especially those who have been involved in the direct selling industry. You need to know "Why" you are doing what you are doing. Your "Why" will keep you motivated and on track.
It will help you to overcome obstacles, frustrations and the urge to give up.
My biggest 'Why' is that I need to be able to go overseas to visit my friends and family and stay with them for two or three months at a time.
Before I started my online business, I had to go to work, save money, travel, come back home broke. It starts again, work, save money …You get the gist, right?
Working as a consultant while I was away just didn't work. No way, I could ring customers with a time difference of several hours. No way, I could do home parties.
When I learned about how to make passive income by blogging and creating niche websites, I felt so excited. By the way, I am still excited and love what I am doing.
So ask yourself, what motivates you. Write it down and look at your WHY when life gets tough.
---
---
How Can You Earn Passive Income Online
Well, as mentioned before, I have built four websites in the last couple of years which are the backbone of my online business.
Affiliate Marketing is a legit way to earn money online.
Everyone can build a website nowadays, and it only takes minutes to do it. But that is not enough to build a successful online business. The key is to learn
how to create quality content
what niche to choose
how to find out what people are searching for (its called keyword research)
how to get free traffic to your blog
how to implement affiliate links effectively, and so on…
The focus of any website and the key to success is to help people.
Here is a post about my first affiliate commission back in April 2016.
My First Commission – Woohoo
What an amazing feeling to see that making money online works.
---
How Can You Get Started?
Wealthy Affiliate is my #1 recommended online training platform. I have been a member of WA since January 2016 and I am grateful every day that I've found them and joined as a premium member back then.
With Wealthy Affiliate, you will literally learn everything step-by-step how to make passive income online.
If I can do, you can do it.
Step 1
Sign up for a free Starter Account (no credit card required) and check if this is the path you would like to take.
Step 2
Wealthy Affiliate is a community of like-minded people who all have the same goal; to build an online business. so it would be great to write a short bio and upload a photo.
Step 3
Start your new life-changing journey by going through the training courses.
Step 4
Get in touch with me. Here is the link to my profile.
Step 5
For people who are signing up to become a Premium member, I will be your personal mentor on your new and exciting venture. The Premium membership costs $49/month or $30/paid annually. It includes everything to build an online business like
costs for hosting up to 25 websites
choose from over 2000 WordPress themes
a keyword research tool (free)
Video tutorials
training tutorials
Live Chat
a SiteContent platform including grammar checker and thousands of free images; just to name a few of countless more features.
---
More Success Stories
There are more success stories of members of Wealthy Affiliate which is so encouraging for anyone who is doubtful and not too sure if the whole affiliate marketing thing is even real.
Here are a couple of my favorites I want to share with you.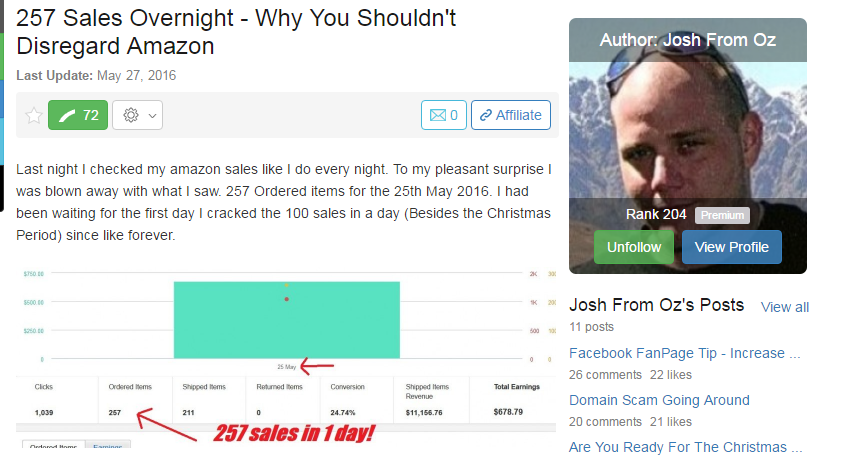 What a cool post. Josh is a very down to earth person and it is always awesome to read that affiliate marketing works.
Josh also published a case study a while ago where he explains how he has built a new niche site from scratch and now, after 12 months, already earns around $500/month with it.
You can read it here.
---
Nathaniell is another one of my favorite fellow WA members.
He has been a member since 2010 and has built a very successful website in the 'Make Money Online' niche called OneMoreCupOf-Coffee as well as several niche sites.
He shares his success stories but also failures with the WA community and I am always looking forward to his blog posts.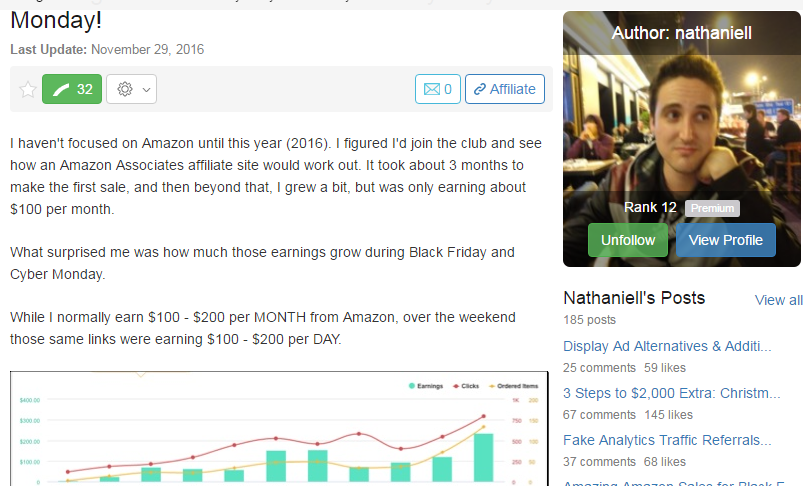 Impressive!
---
Lastly, LittleMama aka Grace who has been such an inspiration with her hard work and dedication. She is earning now over $5000 plus/month and has been part of the Wealthy Affiliate conference this year.
She shares so many valuable tips with the WA community so everyone can learn even more how to build a successful online business. Read her recent post here.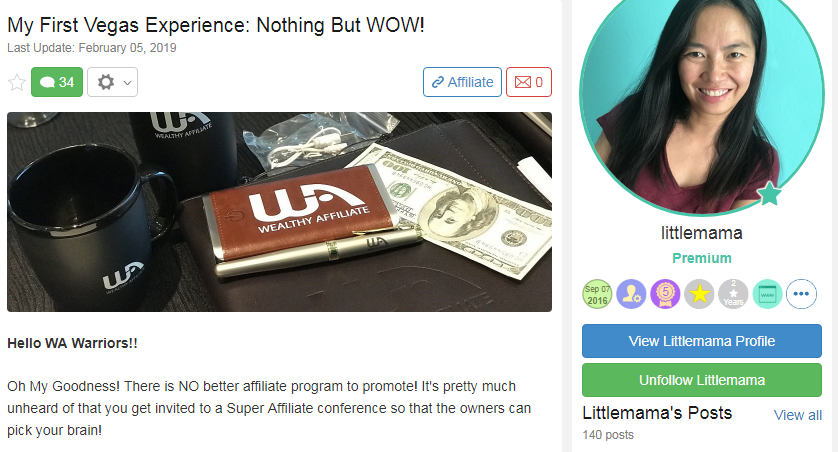 ---
My question to you is: Where is your journey taking you? Are you willing to take the leap and build a REAL business with Wealthy Affiliate?
Or, would you rather join the next direct selling company, MLM business, and follow another enticing promise of getting the luxury car or rewards trip?
Whatever you decide, give it your best shot. But please don't fall for unrealistic promises. Building a substantial business takes time, hard work, and a long-term vision.
Start Your New Journey Here! Sign Up For FREE!
I do hope to see you on the Inside!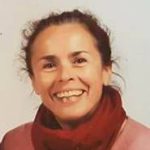 ~ Anke
Connect with me on Wealthy Affiliate!
---
This post may contain affiliate links. Click here for more information.