This post showcases my top 10 list of the best tools and resources that has helped me to build several successful blogs and niche websites.
You'll find paid and free tools in here. To build a successful online business, it is essential to also spend some money. You can build a blog for free but it has some limitations in order to propel your blog going forward and earn money with it.
When I am talking about a successful blog, I am not talking about a huge social following or thousands of page views a month. Successful to me means to make money with a blog and to establish myself as an authority in my chosen niche.
> Please note that this post contains affiliate links. That means if you purchase something through my links, I may get a small compensation. For more information, please click here. <
---
Top 10 Tools And Resources To Build A Successful Blog
# 1 Wealthy Affiliate -Training And Hosting Platform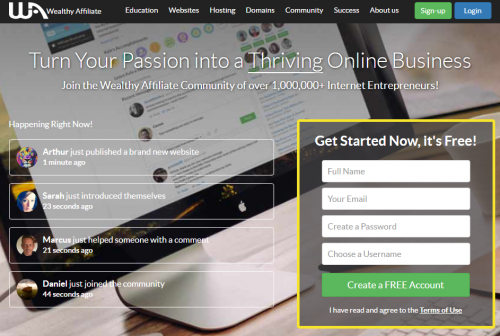 This image to the left is the home page of Wealthy Affiliate, in my opinion the best online training platform to learn everything about building a niche site, affiliate marketing, how to build a website/blog; in short here you can learn step-by-step how to make money online and build a profitable blog.
Read my detailed WA Review here.
What makes Wealthy Affiliate so unique is the fact that besides being a training platform, you can also host all your websites, buy your website domain here and countless other features that are offered with the Premium membership.
If it wasn't for Wealthy Affiliate, I wouldn't be where I am today.
You can start your online journey for free by clicking this link.
I started with the free membership, but knew pretty quickly, that I had to take the leap and become a  Premium member.
I highly recommend to check Wealthy Affiliate out for free to see if building a website or a blog is the right path for you. No strings attached, promise!
Update: As of December 13th, 2017, Wealthy Affiliate has become even more efficient and proves to be the best choice for anyone who wants to start an online business.
The Wealthy AffiliatePremium membership of $49/month includes now one of the best keyword research tools for free. Jaxxy is an amazing tool to find the best keywords for any niche. Read my review here.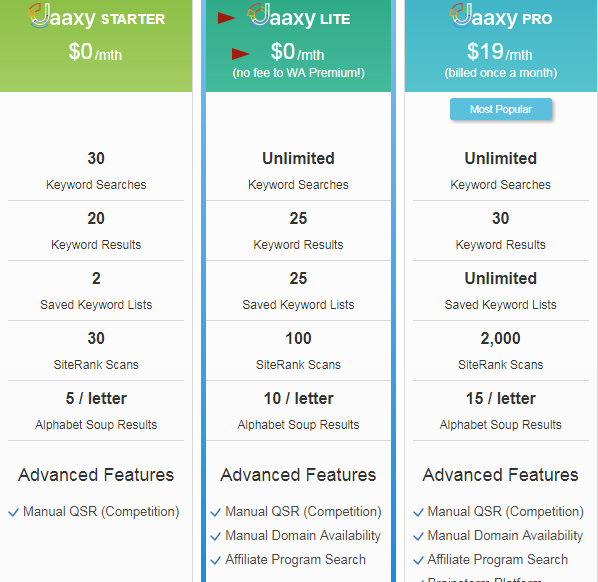 ---
---
# 2 Jaxxy – A Top Notch Keyword Research Tool
Doing a proper keyword research is one of the essential things for a successful blog. You need to know what your audience is searching for online, what they need help with, what questions they have in any given niche.
There are a few great keyword research tools on the market, and Jaxxy is one of the best. It is user-friendly, intuitive, and as a special bonus, checks your websites rankings in Google, Yahoo, and Bing.
Read my detailed review here.
You don't need to be a member of Wealthy Affiliate to sign up with Jaxxy.
If you are just looking for the best keyword research tool and want to check out Jaxxy for yourself, click on the banner.
The first 30 searches are free.
---
# 3 Finding The Right Premium Theme
If you are just starting off with your new blog or niche site, it is perfectly fine to use a free theme.
By the way, when I am talking about themes I am always referring to WordPress themes.
But sooner or later, it will become more evident to find a Premium theme that offers more options and features to make your site look more professional and user-friendly as well.
Here are the themes I am using and recommend:
For my niche sites, I am using themes from MyThemeShop. The themes are easy to customize, have a fast loading time and the customer service is great.
Click Here To See The Available Themes.
For my travel blog, I am using a theme from ThemeForest also known as Envato Market and am absolutely happy with it. The support was outstanding and on point.
Click Here To Check Out The Themes.
---
 # 4 The Hoth
The Hoth is an SEO link building and content company and my go-to company to build backlinks to posts I would like to give a bit of a boost.
Here is a screenshot of my orders.
As you can see, I went with Hoth Mini which is quite affordable and I had great results with it. All six posts (with the Hoth Mini packge, you can choose three different posts) are ranking now either on page two or one in Google and also page one with Bing and Yahoo.
Even if you don't want to buy backlinks. I highly recommend to create an account and signing up for their  informative newsletters.
Also, you can use their Keyword tool (powered by SemRush) for free plus the free Ranking Checker.
By the way, the back links are strictly 'white hat', so no worries about Google penalties at all.
Click Here To Sign Up With The Hoth
---
# 5 Payoneer
Payoneer is a cross-border payment platform that is available for customers in over 200 countries. For me, it is essential to have an account with Payoneer to receive payments from Amazon.com and Amazon.uk into my New Zealand bank account.
Read more about becoming an Amazon Associate.
Since Amazon doesn't use PayPal or direct deposit, it is the best way to get international payments with low fees into your local bank account wherever you live.
Unfortunately, Canada is not part of the global payment service yet, but according to the customer service it is coming in the near future.
Click Here To Open An Account With Payoneer
---
# 6 Tailwindapp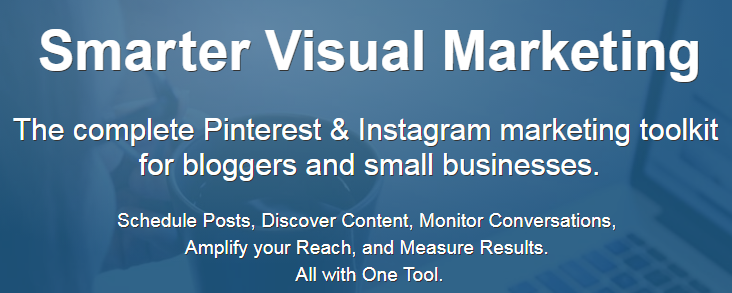 For all my four blogs I have created at least a Pinterest account and for two of my blogs ,I run a Facebookpage, including my HonestSuccessOnline.com blog.
I am a huge fan of Pinterest because unlike Twitter posts or Facebook posts, Pinterest users can save images for my blog posts on their boards and read them when they have time. It is just like bookmarking a page, only via visual banners.
Pinterest is also been referred to as search engine rather than a social media platform. If done right, e.g. creating visual appealing pins, using keywords in the description, and pinning on a regular basis, will drive visitors to your blog for years to come.
The Tailwindapp is a fantastic tool for everyone who wants to become active on Pinterest but doesn't have the time to pin consistently.
With Tailwind, you can schedule pins so it does all the work for you as well as schedule Instagram posts. By the way, Tailwind also has a search tool to find the best #hashtags for your image.
You can try Tailwind for free, there is no credit card required to sign up.
Click on the banner and check it out for yourself.

---
# 7 Canva – My Favorite Webdesign Tool
There is no way around using a webdesign tool to create captivating banners and images for your blog or to market them on your preferred social media platform
Canva is free and is, in my opinion, the best webdesign tool out there.
Read my detailed review about Canva here.
So, c'mon, sign up for free and get creative.
---
# 8 Grammarly – Writing And Grammar Checker App
Grammarly is another tool I am using for writing my blogs. It is not only a writing and grammar checker app, it also checks for plagiarism.
It is free to use. Simply download it from the Google store
I am using the paid version. Read my Grammarly review, to find out why.
Try Grammarly for free; just click on the banner below.

---
# 9 Mailerlite
Without a doubt, when building an online business, one of the important things is to collect email subscribers. After trying out MadMimi, MailChimp, AWeber, and GetResponse, I finally found MailerLite. >Read my review here.
It is easy to use, intuitive, offers awesome templates. has an autoresponder and best of all, is free for up to 1000 subscribers.
The customer service is outstanding which is essential. They always respond quickly, friendly, and in a helpful manner.
---
# 10 Designrr – Create Ebooks In Minutes
Designrr is a powerful software app that makes it possible to create stunning ebooks in literally a couple of minutes. Ebooks are a great way to build an email list.
It is quite simple, in exchange to download an ebook your reader will have to provide their email address. Of course, the ebook should be something of value to your reader.
I have been using Designrr since it was launched in 2016 and I love it. You can read my full review here.
It only costs $27 for lifetime access to the basic version of Designrr which is enough for my needs.
Click here to check out the special offer for $27
---
Bonus Tip – Must-Have Plugins
Here is a list of plugins, I have found useful for my blogs and recommend to anyone. There are all free to use.
For SEO, I either use Yoast SEO or the All-in-One SEO plugin. For beginners, the Yoast SEO might be better since Yoast offers a checklist to improve your SEO results.
For Social Sharing – Sumo plugin
Pretty Links – to shorten affiliate links and make them look 'pretty'
WP Forms Lite – contact form
Reduce Bounce Rate – to get a real view of the bounce rate and page views in Google Analytics
Easy Table of Contents
WP Smush or EWWW image optimizer
For my review sites – TablePress to create comparison charts
---
Wrapping It Up
I do hope that my top 10 list of the best tools and resources to build a successful blog has given you a good overall insight.
These tools have helped me to create blogs that make money online.
By the way, it is astounding how little money it actually costs to run an online business.
For Hosting (all four websites), Keyword Research, and Training with Wealthy Affiliate: $299/year (Black Friday Deal) = $25/month
Tailwindapp: $15/month
Grammarly: $12/month
All up, it costs me $52 a month to maintain four blogs which equal $13/month per website. To buy a domain name or to renew a domain, you'll need to add another $14/year per website.
So get started today and build your own successful blog.
The best place to get going is here.
---