If you want to start an online business as an affiliate marketer, Amazon will be most likely on your priority list of affiliate programs.
Amazon.com is a global retail giant!!! From its humble beginnings in 1995 as an online bookseller to a worldwide market player with over 270 million active customer accounts – I don't think there is anything Amazon.com doesn't sell.
In 2015, Amazon recorded 107 Billion U.S. dollar in net sales. These numbers are mind-blowing.
No wonder everyone wants to have a little piece of the cake and therefore Amazon is very popular amongst affiliate marketers, even though there are a few flaws. More about the Cons a bit later.
Firstly, I want to start off by showing you how easy it is to become a part of Amazon's affiliate program.
---
 Become An Amazon Associate
Yes, that's right an Amazon affiliate is called Amazon Associate. Becoming an Amazon associate is a simple and straightforward process.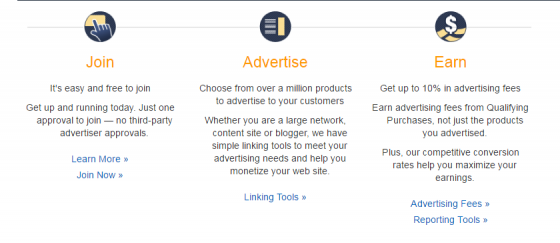 The first step is to apply ⇒ go to the Amazon homepage, and in the footer section, you will find the link to become an Affiliate.
Fill in your application form including name, postal address, what kind of online business you have (e.g. name of blog/website) and send it off. It takes a couple of days to get the approval email.
Once you are approved as an associate, you will need to create an account, and you will get your associate link called tracking ID.
This link is automatically embedded into every product you are going to link from your website to the Amazon store. That way Amazon will know when someone has purchased a product through your site. That means you will get paid a commission.
Sounds really simple, doesn't it? But there are a few things you should consider before you apply.
---
Important Things To Know
First off, before you apply for the affiliate program, you should have a website with quality content and some traffic coming to your site.
Why do I say that? To remain in the Amazon Affiliate program you will need to have at least three sales in the first six months starting with the approval date.
If you don't get a sale, you will get a notification that you are not part of the program anymore. The good news is that you can reapply for another six months.
My point is if you don't have an audience (= traffic) you won't get any sales. Once you see people coming to your site that's when you want to apply for Amazon's affiliate program.
Secondly, read the Terms and Conditions! One of the most important things you need to remember is to put a disclosure about your affiliate connection with Amazon on your site. Put it under every post that contains affiliate links to inform your reader.
Here is an example that I use on my niche sites. Feel free to copy and paste.
YourSite.com is a participant in the Amazon Services LLC Associates Program, an affiliate advertising program designed to provide a means for sites to earn a commission by advertising and linking to Amazon properties including, but not limited to, amazon.com.  Amazon offers a small commission on products sold through their affiliate links.

 If  YourSite.com links to an Amazon product (with a special code for affiliates embedded in the link) and you buy this item or any other product, YourSite.com will get a small percentage of the sale.
---
Don't Leave Money On The Table
You can choose from over one million products the ones that are relevant to your niche. The number of affiliate links you will put in your post should be optimized to get conversions.
Don't overdo it, though; meaning don't put too many affiliate links in your article. By the way, you need to use the product images provided by Amazon. Simply copy the HTML code from the Amazon Site Stripe and paste it into your text editor.
When you do a product review, write it with the intention to help your audience. Of course, you would like them to buy but you don't want to sound like a sales person at the same time.
Because your reader wants to know where they can get the product, you need to put your affiliate link into the review.  The link will then take them to the right place.
The link ideally would be a call to action like "Please check the price on Amazon" or "Buy this product on  Amazon". Tell your reader that you are sending them to Amazon. Be open about it so your reader makes an informed decision.
My advice is to place a text link at the top, an image link in the middle and another text link at the end of your post. That's it, no more!
---
The Pros Of The Amazon Affiliate Program 
Well, Amazon has mastered the art of selling. Therefore they are providing plenty of tools for their associates to promote their products. It is incredibly easy to get product links, image links or text+image links.
You can place banners, native shopping ads, and mobile popovers on your site.
Also, Amazon is a trusted brand with over 20 years of experience. That means people don't hesitate to buy from Amazon. Amazon offers a 30-day-return guarantee which is a fantastic customer service.
You will get a commission for any product the customer is going to buy.
Say, you promote a cooking book and your reader clicks on your link but doesn't end up buying the book. Instead, he/she may purchase a pair of socks or a TV or something else.
You will get paid the commission for these sales since you have taken the reader to the Amazon store and generated a sale.  I think that is pretty incredible, don't you think?
Let's recap
Amazon is a retail giant and selling machine.
You can promote millions of products.
Lot's of options to put affiliate links on your website.
Get paid for not only products you promote but anything else your reader purchases through your link.
---
How Do You Get Paid
If you are a US resident, you can get paid directly to your bank account. For residents from different countries, you can either choose to get paid via cheque or a gift card.
The cheque option is rather cumbersome and Amazon takes a hefty fee. Unfortunately, they don't do Paypal. But I have got good news.
You can sign up with Payoneer and receive your money through them. Payoneer will supply you with a local bank account number which you then put into your Amazon account settings.
What Is Payoneer?
Payoneer is a financial services business that provides online money transfer and e-commerce payment services. Payoneer is a registered Member Service Provider (MSP) of MasterCard Incorporated. (wikipedia.com)
Near three million people in over 200 countries are using their service. Payoneer provides transactions in over 150 currencies. The headquarter is in New York. I highly recommend their services. Withdrawing funds to my local account in New Zealand takes only around two days,
Payoneer takes a minimal fee of 1% of your payment. You can also apply for a Mastercard and use it anywhere you want.
If you open up an account through my link, you will get $25 from Payoneer as a thank you (once you receive $1000 in payments). And I will get $25 for referring you to Payoneer. A win-win for both of us.
---
What Are The Cons About Amazon
The commission rate is quite low compared to other affiliate programs. It starts at 4% (depending) on the product and increases if you sell more than seven items in a month and so on. You can get up to 10% commission.
UPDATE on May 5, 2017: The Amazon US Commission structure recently changed to fixed commission rates depending on the product category. Please have a look at the screenshot.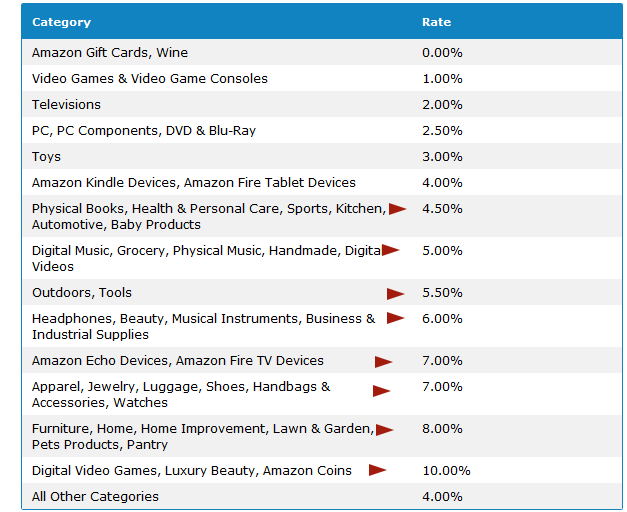 Ideally, you want to promote products which are getting a higher commission percentage. I marked them with a red arrow.
The tracking cookie is set for only 24 hours.That is extremely short.  Most programs offer 30/60/90 days or even lifelong cookies.  So when you check out other affiliate programs pay attention to the cookie life. The longer, the better.
Read more in Nine Things You Should Know About The Amazon Affiliate Program
---
Can You Earn Money As Amazon Affiliate
You sure can. It will take some time to generate sales when your website is just a few months old. It also depends on how many product review pages you have on your site. Product reviews usually convert the best.
There are lots of affiliate marketers out there that make a full-time income through Amazon with niche sites. I am going to start a new Amazon niche site shortly.
Read the first part on How To Build A Profitable Niche Site For Beginners.
I still would recommend to sign up for other affiliate programs to keep the balance. "Don't put all your eggs in one basket" so to speak.
---
Amazon's Stores In Different Countries
Amazon's main store is by far the American one but they also have stores in 11 more countries including Germany, United Kingdom, Canada, Brazil, and Mexico.
If you want to become an affiliate for more than one store, you will need to apply separately for every single one.
But how do you link your products to each country from one website, you may ask? 
That is an important question since you don't want to miss out on commission for sales, right?
There are different plugins and a provider like Genius link available that will redirect readers to their appropriate product on their home country store.
I have been using the Bestazon plugin which is free but I know that many people are using the EasyAzon (paid) or GeniusLink which costs $9 a month.
But things have changed recently because Amazon introduced the OneLink, a code you need to put in your footer section. This code will make sure that your readers will get redirected to the right products for their location.
At the moment, it will only redirect from Amazon.com to the UK and Canadian store. I am sure that Amazon will add more stores in the months to come.
I think that OneLink is a great tool since I can delete my Bestazon plugin. Fewer plugins better site speed for my site, perfect.
Dom from HumanProofDesign has written a comprehensive post about OneLink. You can check it out here.
---
Frequently Asked Questions
Following up on a few comments on this article I have received recently, I am answering questions that readers have asked frequently through email or in the comment section.
---
Why Do You Recommend The Amazon Affiliate Program Despite The Many Cons?
I know that a few internet marketers are not keen on becoming an Amazon Affiliate for various reasons. Amazon offers only a 24 hour cookie period, a relatively low commission, depending on the product range and thirdly has a long list of rules and regulations.
To me, the Pros outweigh the Cons by far. Mike from NicheSiteAzon expressed a great point why Amazon.com should be on your affiliate list. Amazon is a trusted and globally operating Selling Giant, as we all know. Amazon has a fantastic reputation for an excellent customer service, 30-day-return guarantee, and ultra fast shipping.
So when a visitor comes to your site which they don't really know and hasn't built trust with, at least you are sending them off to an online shop they already know and trust. The chances are that they are more likely to buy from a Merchant they know than a company they don't know. A pretty valid point, I reckon.
---
Do I Need To Apply For Each Amazon Store Separately E.G. Amazon UK, Amazon Canada etc?
Yes, you need to apply for each store individually. Each store will give you a different affiliate ID. For each store, you will need to have a sale in the first six months of being an Amazon Associate to get approved by Amazon.
---
What Do I Need To Do When I Have Second Niche Website?
You can add up to 50 websites to your Amazon account. You need to
→ log into your account
→ go to account settings
→ click on 'edit your website'.
When you finished your next step is to
→ click on 'Manage tracking IDs '
→ click on ' Add tracking ID'
All done!
---
How Much Traffic Should I Get To My Site Before Adding Amazon Affiliate Links?
My recommendations to wait until you get visitors to your site is mainly directed to people who have just published their first (niche) website. Since you have to generate your first sale in the first six months of being an Amazon Affiliate, it is best to wait until you see an increase in visitors.
In the first three months of launching your website, you will most likely see a trickle of people finding your site. That is actually a good thing. It gives you time to build up your site with content. Add quality and well-researched content which is SEO optimized and Google will start to trust your site after a while.
There is no set number of how many visitors you should have. I have made sales with only 5 visitors a day because my posts are targeting buying keywords like 'best' or 'review'. These words attract readers who already have the mindset of buying a certain product.
It is imperative to add a  Call to Action (CTA) to each post so your reader knows what you want them to do. Read more here.
---
Wrapping It Up
I hope this basic introduction to becoming an Amazon Affiliate has given you a good idea of what to expect.
Here are the steps in a nutshell:
Write quality content including lots of product reviews.
Get Readers (= Traffic) to your site.
Join the Amazon Affiliate Program for free.
Add (Amazon) affiliate links.
 Generate Sales = Earn a commission = Happy days!!!
As outlined, there are pros but also cons of being an Amazon affiliate. In my opinion, Amazon plays a huge part for affiliate marketers and I definitely encourage you to apply with them. It is easy to join and the variety of tools to promote their products is incredible.
There you have it, give it a go!
Do you wonder where I have learned all these things (and more)?
 Read my review about my recommended online training platform.
Or,  join me and thousands of other affiliates by clicking on this link.
If you have any questions, please leave a comment below. I'd love to hear from you.
---
Please note: this post contains affiliate links. For more information read the Affiliate Disclaimer.
[mailerlite_form form_id=3]