My post is all about writing one of the most important articles on your niche site – a buyers guide which will become one of your primary money making article.
I will share actionable tips on How to write a consumer's guide that rocks and converts your readers into buyers.
First up, it's crucial that you take your time to write it. It requires thorough research, visiting related websites, forums, FB groups, etc. to gather as much information as possible.
I quickly want to recap what we discussed in the last post How To Build A Profitable Niche Site For Beginners because it is closely related. The buying guide will be a crucial part of your new and evolving niche site.
What You Will Learn

Who is your audience?
How to structure a buying guide.
The use of keywords and SEO.
Headings, images and the power of comparison charts.
Final advice.
---
Who Is Your Audience?
So you've done your niche site research as described in my last post, made a decision to go for it, chose a theme and set up your first pages like contact, about me and affiliate disclosure. Now what?
It is time to fill your brand new niche site with content that your audience will love. Hang on a second, who is your audience?
Answering this question is important, so you know who you are writing for. If you write about shavers it might primarily for males. But you could also write about shavers for women (could be a good niche).
Think about, if your audience will be mainly women or men. What age group do you want to approach? What will be the main country you are targeting etc.
Try to build an avatar of your average reader e.g. males, 30 -50 years old, interested in…., from the States.
Keep it simple though and don't make too many assumptions. It is to give you some sort of direction and will make the writing process easier.
---
Some Questions To Ask Before Getting Started 
Before you start writing ask yourself these questions:
What problems does your reader want to solve?
What are the important features of the product you are promoting?
What does the reader want with the product?
How can the buyer benefit from the product?
Why would your reader choose one product over the other?
What information do they want to get?
Put yourself in the buyer's situation. What are they going to look for on your site?  What would you like to read when you are searching for an individual product?
Your article should have Best product;Top product or Product review in the title.

With the words best, top and review you are targeting readers who are already ahead in the buying cycle and most likely just want to get some reassurance that their decision to purchase  product xy is justified, that the quality is good and they get value for money.

They have already done their research and are looking to make a purchase.
My job as a niche marketer is to gather as much relevant information as I possibly can, find the best products and compress all this data in one easy to read article.
I am doing the work for my readers, so they don't have to do it. That is my service for them, and in return, I may get a commission for my research.
---
Read here, how I earn four digits a month in passive income.
---
How To Structure A Buying Guide 
I am showing how I structure my buying guide, but there are of course different ways how you can structure your buying guide.
Just have a look online for niche sites (easy to recognize) and check out how the competition is doing it.  You'll surely pick up some fresh ideas.
Write down what you like or dislike, if there is information missing and take notes of things you would do differently.
Your buying guide will be your pillar article. From there you are going to add internal links to posts you are writing afterward and vice versa.
Internal linking is imperative for good SEO. Read more in my post My How To SEO Guide For Beginners.
Here are the  main elements of my buying guide:
A Short Introduction
Table of Content (TOC)
A Comparison Chart
Benefits Of The Product
General Pros and Cons
Short Product Reviews
#Product 1
#Product 2 and so on
How Will The Product Improve Things For The Buyer
A  FAQ page where you can answer some questions at a glance
Summary
I like to have a TOC because I am aiming to write at least 3000 -3500 words and want to make the post user-friendly. The reader can either skip through the post or click on the topic they're most interested in
By the way, I can hear you screaming 'how on earth can I write 3000 or more words!!!' More about it a bit later. Back to my main elements. 🙂
---
My comparison chart shows my top recommended products (at least 5 up to 10 products) with some technical details and a short description of the product. I also add affiliate links to each of them.
I then describe the benefits of the product range in general as well as the Pros and Cons. The chart is for readers who want to get information before they go ahead with their purchase quickly. Not everyone needs a lot of information.
So it is good to give readers different options.
By the way, the plugin I am using for the comparison chart is called "Table Press" and for the Table of Content, I use the "Easy Table Of Contents" plugin.
---
The next part is a short product review for each of the items from the comparison chart. The review includes a brief description of the main features, the good and the not so good things plus an overall recommendation.
At the end of the review I am adding a call to action, usually, it goes 'Please Check The Price On Amazon (or eBay etc)' which will then lead the reader to the respective product site.
By the way, if your affiliate link redirects the reader to Amazon site, then it is essential to tell the reader so, as you can see in my example. It is one of the things that Amazon requires its affiliates/associates to do.
Read more in my post Nine Things You Should Know About The Amazon Affiliate Program.
At a later stage, after you have published the buying guide, you are going to write in-depth product reviews for each item from the chart and will link the buying guide to the long product reviews and vice versa.
The internal linking serves different purposes: 1. It shows Google that you provide quality content for your readers and b) people will stay longer on your page, increases the page views which will effectively impact your rankings in the long term.
Besides internal links, I also try to add an external link e.g. to Wikipedia or another authority site which will give my readers more information on regarding the product in general.
---
After I have written the product reviews, I do a recap about the benefits of the products for the readers; how it can improve their life's or how it will solve certain problems.
The last part is a short summary which could include another call to action e.g, leave a comment, share the post on social media, or sign up for a newsletter.
---
Want to learn more about my favorite online learning platform, where you can learn to build a niche site step-by-step? Please read my post here.
---
The Visual Side Of Things
My biggest advice is to make the post easy to read. Use H2, H3 and H4 headings to breaking up the post. Also, each paragraph should consist of no more three sentences.
Include images into your post; could be the products, an infographic, a banner or even a youtube video (from a noncompetition site of course or your own).
Let's recap:
Use short paragraphs (no more than three sentences)
Use headings (H2 and H3) to break up your post and highlight ideas.
Put your keywords into the Headings.
Add relevant images.
Write in a conversational/natural way.
---
The Length Of The Guide
Remember when I said that the guide should be around 3000 words long? Why does it have to be so long?
Well, it is a proven fact that Google loves long content. My screenshot shows a statistic that pages with an average of over 2000 words tend to rank highest in Google.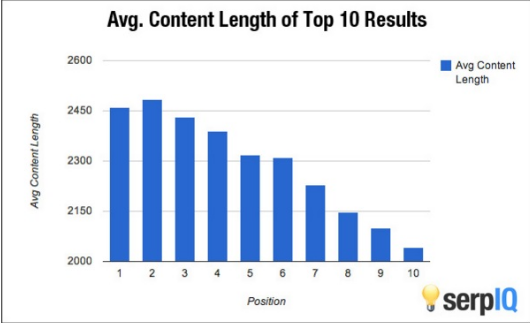 Another advantage of long-form content is that it gives you the chance to include a variety of different keywords beside your main keyword.
In addition, long-form content should be of high quality to provide your reader with as much information as possible.
But how on earth can you write so much content? It will add up quite quickly. If you have done a thorough research you will have collected a lot of information.

In addition, the short product reviews (around 300 words each) add up as well: 5 reviews, each 300 words equals 1500 words.

Adding the introduction, general product information, pros and cons, features, benefits will give your reader valuable information.
My Tip: Take your time when writing this guide. It may take a few days but if you do it well, it will give you lot's of traffic and sales for years to come. You can also add more content as you go along.
There are always new things you'll learn which you can implement. I quite regularly check older posts and add more content, images, and try to improve them overall.
---
The Use Of Keywords and SEO
In preparation for writing your article you have done your keyword research for your main keyword (the one you want to rank for) but also related keywords ideally long tailed keywords.
Put your main keyword in the article title, the URL, and also in the first paragraph of your post.
Your main keyword should also appear in the alt text of a related image you'll add to your post. These are all SEO related actions.
[Read more in my post My How To SEO Guide For Beginners.]
Keyword stuffing is out, the use of LSI words are in. LSI words are closely related to your main keyword. Scatter them into your post so Google gets a better understanding of what your post is all about.
KeySearch is a great keyword research tool that will also show you LSI words you can implement into the post.
Another tip is to use some keywords in the H2 and H3 heading. It has to look natural and of course, it has to make sense overall.
I recently have come across a fantastic post written by Alejandro, who launched his niche website eight months ago and is already earning around $1500/months.
He shows how to search for revenue generating keywords as well as researching a new niche site.
Alejandro shares also two valuable links to find LSI words, LSI Keyword Generator and to find more content ideas related to your keyword go to answerthepublic.com
Both of these tools are free to use. You don't even need to open an account.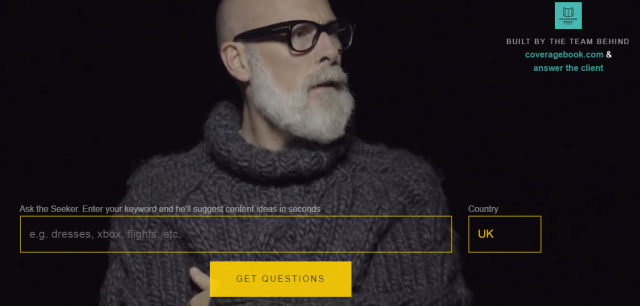 ---
Wrapping It Up

Phew, we covered quite a bit. Thanks for reading to the end. I hope this post will help you to write a buying guide that not only rocks but also converts for years to come.
I encourage you to read product reviews from other niche sites and learn as much as you can.
More importantly, take the first step and write a killer article and become an authority in your niche.
But remember, it won't happen overnight, rather it is a process that evolves over time.
Keep It Simple And  Find Your Style! Always Think Of Your Readers!
To your success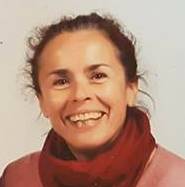 ~ Anke
Connect with me on Wealthy Affiliate
If you liked this post, please share it on social media.
I would also like to hear from you. What is your experience? What has worked for you? Sometimes it is just the little tips that can make a huge difference.
---