I recently have come across a keyword research software that has some powerful features on offer.
Besides finding long tail keywords, KeySearch also shows you the SERP (search engine results page) of page 1 for your particular keyword. So you can see your competition straight away. 🙂
Sounds exciting? It sure is, and I will talk in more detail about this awesome tool in my post.
As I already discussed in my post What Is Long Tail Keyword Research, finding the right keywords is essential to get high rankings in Google and other search engines. Especially when you are starting out in building your website, it is imperative to find keywords with low competition and reasonable monthly traffic.
Besides these two sensitive data, with KeySearch you can also find out what your competitors are doing and keep an eye on your SEO efforts.
---
What I Will Show In This Post
What is KeySearch

What exactly are the features KeySearch offers?

Some examples how KeySearch works and what it can do for you

What are the benefits and are there any drawbacks

Price,  link to a free trial and a lifetime 20% discount

 Summary – Is KeySearch right for you
---
What Is KeySearch
KeySearch is a cloud-based keyword research tool that has been developed by Dan Pfeffer, the man behind FCS Network. It is quite a young tool since it only got released over a year ago.
It is designed to help you to find niche ideas, easy to rank long tail keywords and to check out your competitors in any given niche. The unique feature in KeySearch is that it also reveals keywords on YouTube, which is crucial if you want to get your videos ranked as well.
You can watch my video here:

---
What Are The Features KeySearch Offers
Keyword Research: of course the most important feature. If you type in your keyword, you can also choose the country and your preferred search engine.
Bulk competition Analysis: click on a selection of keywords and KeySearch will compare the difficulty side by side
Rank Tracking: put in your URL and check the rank of your page and keywords, and of course your competitors as well
Data Managment Reporting: download data as PDF or CSV
YouTube Research: find keywords and difficulty for better rankings in YouTube
My Lists: sort your keywords into list to get organized and to find them quickly
Brainstorm: you put in a seed keyword, and this feature shows you instant ideas for content ideas generated from Google, Bing, Yahoo, YouTube, Amazon, and Ebay.
---
Additional Advantages
Browser Extension for Chrome and Firefox: download it for free, add your API key (only for paid plans) and do the keyword research right on your browser without logging into your KeySearch account.
In-depth video tutorials
Tutorials like 'Finding Niche Ideas,' 'Uncovering Hidden Google Suggest Keywords,' or 'Finding Easy To Rank Long-Tail Keywords'
Support via help desk and support ticket
Features added on a regular basis
Affiliate Program
---

Examples How KeySearch Works And What It Can Do For You
Keyword Research
You can either put a single keyword (seed keyword) in the search bar or a long tail keyword (usually at least three words). In my example, I used the term 'keyword research tool for SEO.' You then can click either on 'Keyword Research' or 'Quick Difficulty'.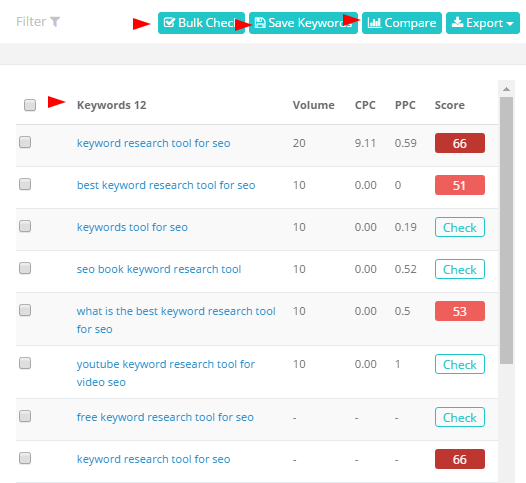 My search resulted in 12 related keywords which I now can check according to monthly volume, CPC (cost per click) and PPC. The search also shows me the difficulty; dark red is hard to rank for, and green is moderate.
Well, my search term is not the best, so I need to keep digging for a keyword phrase which is easier to rank.
But wait, there is still more to discover in your search query report. On to the next screenshot…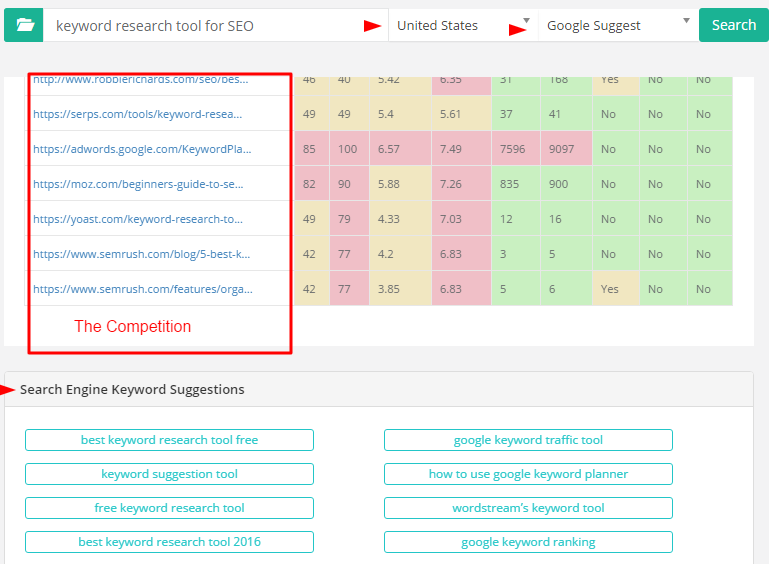 This page shows you the competition but also some more Search Engine Keyword Suggestions. You can click on these and start a new search. Rinse and repeat.
As a result, you will find low competition keywords but also lot's of content ideas for your website and blog.
---
Deep Analysis Option
To refine my search, I know go to the 'Deep Analysis' option. Again, I am using the same search term 'Keyword Research Tool For SEO.'
On the screenshot,  you can see the difficulty (Score 66 – very difficult), domain availability, search trends and the first page of Google with the competition you are up against.
This chart gives you a good indication with Domain Authority, Age, Page Authority etc. how hard or easy it is to get your content on the first page of Google against the competition.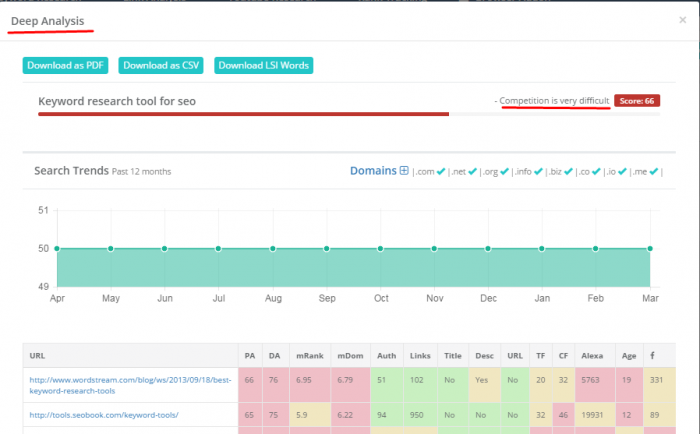 Underneath the chart, you will see more longtail keyword suggestions.  You then can use these suggestions to further investigate if they are suitable or not.
One of my favorite features are the LSI Keywords you can see on my second screenshot.
LSI stands for Latent Semantic Indexing. These are keywords that are closely related to the primary keyword. So instead of using your main keyword in your blog post over and over again (keyword stuffing), it is much better to use LSI keywords throughout the content.
It helps Google to understand your content better and it can help boost your rankings in Google.

I'd only focus on the 'Three Words', print them off for later use and add these LSI keywords to my post.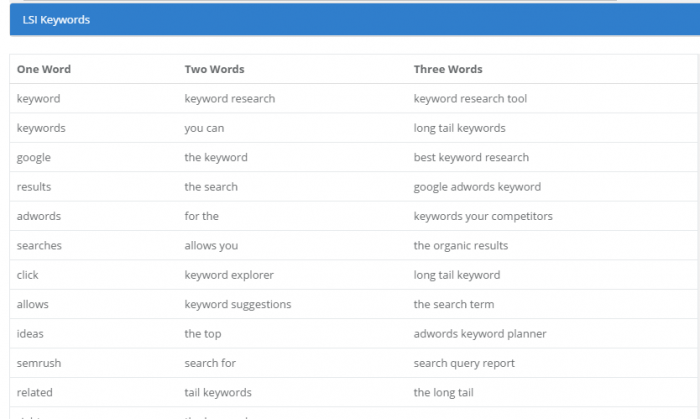 ---
YouTube Research, Link Analysis, and  Rank Tracking

Here is a screenshot of the dashboard which is easy to understand and pretty much self-explanatory.
With the Link Analysis, you basically type in an URL you would like to get more information about like the Domain Authority, Page Authority, Citation and Trust flow and a few more metrics.
YouTube Research is the same way like you would perform your keyword research. You have the same options like deep analysis, bulk checking and so on.
Rank Tracking is about checking how your keywords rank in the search engines. I personally don't worry too much about it.
But it is great to know when an individual post is maybe on Page 2 in Google to see the top ranking competition and go back and improve the post by adding LSI keywords, perhaps by adding more content, etc.
---
What Are The Pros And Cons Of  KeySearch
Here Are My Cons In A Nutshell
After a short learning curve, it is easy to use
Do keyword research for different countries
Specify research for various Search Engines
Deep Analysis – lot's of useful information
Brainstorm area is great for finding content ideas
YouTube research is a great feature
LSI Keywords, one of my favorite features to improve SEO
Tutorials are very helpful
Affordable Price
What Are The Cons
My only Con is that there is a lot of information to take in. It can be a bit overkill, and I personally don't need to know all the data of my competitors.
My focus is on finding long tail keywords or low hanging fruit keywords that have a low competition and a reasonable good monthly search volume.
I don't have time to worry about everybody else. It is too time-consuming, in my opinion.
---
The Price, A Free Trial, And A 20%Discount
By now you have probably quite a good idea about what KeySearch offers in terms of keyword research, difficulty analysis, LSI keywords and so much more in information.
How Much Does It Cost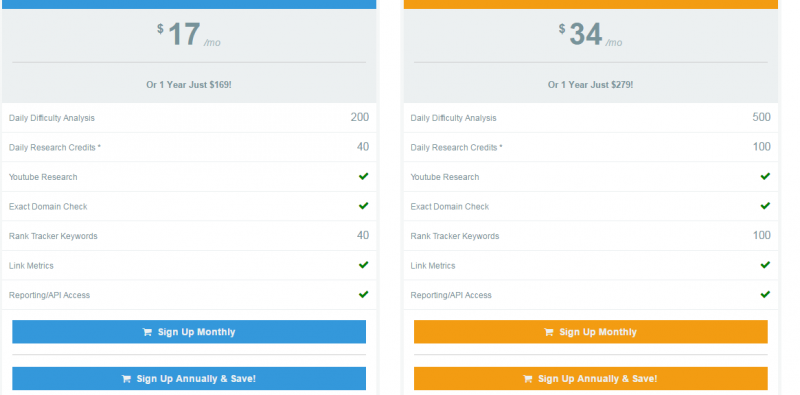 As you can see, there are four different plans $17/months, $34/months or annually either $169 or $279.
These are fantastic prices for what KeySearch offers its customers.
But my favorite bit is, that you can try KeySearch for free with no strings attached. You don't need to give any credit card or other payment details. I always recommend trying before buying. KeySearch also offers a 7-day refund policy for first-time buyers.
That's how confident Dan Pfeffer and his team are with their product.
If you like to purchase a plan use this code for a recurring 20% Discount:
KSDISC.
---
Summary – Is KeySearch Right For You
I recommend this Powerful Keyword Research SEO Tool to everyone who
is looking for a user-friendly research tool
is active on YouTube
wants to boost Google Rankings
needs new content ideas
needs a rank tracker and link analyzer
wants to locate profitable, long tail keywords
writes websites in various countries.
KeySearch offers loads of helpful information and can help boost your rankings. Highly Recommended!

Please let me know if you have any questions or feedback. I'd love to hear from you.
If you found this post valuable, please share it on your favorite social media platform.
To Your Success
~ Anke
---
This post may contain affiliate links. If you make a purchase through my links, I may get paid a small commission at no extra cost to you. It will help to keep this site ad free. Thanks for your support.