In my last few post,  I have reviewed the website builders Wix, Weebly, and SiteRubix with focusing on the ability to build a website for free.
I know there are so much more website builders online and to find the best one for your wants and needs can be an overwhelming task.
I have been concentrating on Wix, Weebly, and SiteRubix because these are the most well-known and popular platforms on the market. SiteRubix is a bit of an exception since it doesn't seem to be reviewed as often as the other two platforms. SiteRubix is also different in other positive ways which I am going to show you in just a few minutes.
Today, I'll try to help you to figure out which free website builder would be best suited for you. I will point out the Pros and Cons and also features that could make a huge difference to you and your website/blog.
---
What Are The Goals For Your Website
Before you choose a website builder that is right for you, you need to know your goals. What would you like to achieve with your site?
Do you want to sell products or do drop shipping? Then you will need an eCommerce site? Do you want to build a portfolio for your art or photography? A magazine style website with a drag and drop builder might be the best choice. Or do you want to build an online business and monetize your website by adding Google Adsense or affiliate links?
If you know the purpose of your website, it will be much easier for you to decide which website builder will tick the boxes.
---
Know The Differences
All three website builders have in common that you don't own the domain rather you'll have a subdomain like 'yourname.siterubix.com' or 'yourname.weebly.com.'
For a simple website like a personal blog, a site about your hobby or maybe a site about your wedding with photos and some additional text, Wix and Weebly would be the best options for you.  They are very easy to use with the drag and drop feature, and you have so many pre-designed layouts you can choose from.
The same applies if you'd like to feature your restaurant or showcase your artwork as a portfolio. You can link your social media accounts to your website and vice versa. The designs look professional and very sleek. There is no need to hire a website designer at all.
But if you want to know more about statistics like how many people are visiting your site, what pages are they clicking on and how long are they spending on your site, the free plans with Wix and Weebly are not the right options for you. You would have to upgrade to a paid option to access more tools and features like Google Analytics for instance.
SiteRubix Is Different
With the free version, you will get two WordPress sites which are advertising free, and you can add Google Analytics. WordPress is fantastic for writing blogs with the WordPress content management system.
Compared to Wix and Weebly, you only have 12 templates you can choose from and access to four plugins.
The big plus with SiteRubix, since it is a platform powered by Wealthy Affiliate, you get access to an Online Entrepreneur course that will teach you the basics of how to set up an online business. The course is fantastic and will give you the chance to learn how you can make money online with a website.

And here are some more features that Wix and Weebly don't offer with their free plans (and not with their paid plans either):
SiteManager, SiteFeedback, and SiteComments.
---
Let's Discuss These Features In Detail
SiteManager
The SiteManager shows all important details at a glance like when did my website go live, is it indexed in Google, how many posts and pages did I publish and when the last backup was. It also shows me details about SiteHealth.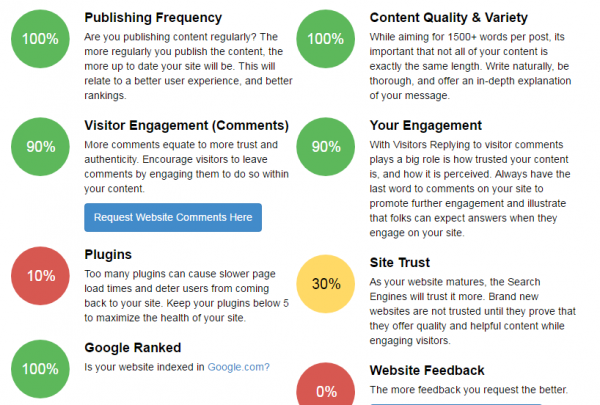 As you can see on my screenshot, I have too many plugins which can potentially affect my site loading speed. My SiteTrust is at 30% because my website is only four months old. The older your site gets, the higher the SiteTrust.
I have 0% for my Website feedback because I never asked for feedback for my sites.
In general, the SiteHealth feature is a good indication for you where you can improve to get better rankings in Google. The more often you publish content the better, the more comments you get the better.
SiteComments
The SiteComments is another unique feature in SiteRubix (and Wealthy Affiliate). Getting comments on your website shows Google that your posts are engaging and people are getting involved by writing comments.
It works like a barter system. You offer comments on someone else's website and in return, you'll get credits for it. With these credits, you can request comments for specific posts and pages on your site.
It is a win-win for everyone. Not only can you pick up ideas from other sites and learn from it but also your website becomes more engaging and comes to life. Real people leaving a comment, asking questions and that will help you getting better results in Google as well.
SiteFeedback
The SiteFeedback feature works just like the SiteComent feature. You offer feedback, receive credits, and then you can request feedback for your site.
The difference is that the feedback is not visible to the public and serves a different purpose. The feedback is all about your website in general e.g. is the site easy to navigate, is the content easy to read, are the links working and so on.
The feedback should help you making improvements to your site. It's about creating a user-friendly website which will assist with rankings in the Search Engines.
Overall, these three features are unique and will help you a) creating a better site and b) improve your ranking in the Search engines.
---
Let's Chat About ThePaid Plans
If you are becoming more serious about your website, getting rankings in Google or building an online business, you want to check out the paid options for Wix, Weebly, and SiteRubix.
A premium plan will unlock more tools and features to build your site like getting your own domain name, adding Google Analytics (Wix and Weebly) and more Plugins and Themes (SiteRubix).
A premium plan with Wix paid on a monthly basis starts at $14/months, or if paid annually it works out to be $10/months. It is called the combo plan (more details in my review) There is also a cheaper option, but it still got the Wix advertising banner.
A premium plan with Weebly paid on a monthly basis starts at $18/months or $12/month if paid for a year.
SiteRubix has only one paid plan option which is $49/months or $30/month if paid for the whole year. Wow, I can hear you say, that is expensive! Hang on a minute; I will explain what you will get with this plan in a second.
All premium plans include hosting, and Wix and Weebly offer a free domain name (plus some other perks).
Why does the SiteRubix cost that much?
Ready? Okay, here it comes: with the paid plan you get
Free hosting for 25 domains you own and 25 free SiteRubix domains!!!!
A free keyword research tool!
Access to 100s of video tutorials and training courses where you can learn how to build an online business
SSL for all your websites!
Live Webinars once a week
Access to the most supportive online entrepreneur community in the world (more than 800000 members)
Live chat 24/7, write your own blog in within Wealthy Affiliate
and so much more.
All these features are available through the free account for the first seven days (Trial), so you can check out if it is right for you. If you feel you don't need it,  you can remain a free member with the free SiteRubix sites forever.
---
Wrapping It Up
I do hope my post has helped you to get more clarity about which website builder is best for you.
If you just want to have a play and try things out, Wix and Weebly give you more choices regarding Templates and Themes and might be easier to use with the drag and drop feature.
Only Weebly and SiteRubix give you the option to quickly switch between themes and also to move your site to another host if you wish too.
SiteRubix gives you more advanced options with the free account – SiteHealth, SiteComments, and SiteFeedback as well as two websites plus a free online course.
Why not try them out and see for yourself?
I'd love to hear from you. Which website builder would you prefer and why? Please let me know in the comment box below.
To Your Success!
~ Anke
---
Please note: this post contains affiliate links. If you make a purchase through these links, I might get paid a small commission at no extra cost to you.