Today I am going to have a detailed look at Wix, another free website builder. I have seen their enticing advertisement all on Facebook which made me curious.
How is Wix different to Weebly or my favorite website builder for WordPress, SiteRubix.com? What are the Pros and Cons of the Wix free website builder and who could benefit from it.
I will be focussing mainly on the free features but will also touch on the premium features that are available with a paid plan.
Let's get started.
---
What Is The Wix Free Website Builder
Wix was founded in 2006 and is one of the fastest growing Website Builder Platforms with over 100 million registered users. Over 2.47 million are paying subscribers who have upgraded to one of Wix premium plans.

Besides offering the free option, Wix has 5 paid options you can choose.  But for now, I want to have look at what the free plan has to offer.
---
Features Of The Free Website Builder
If you sign up for a free account with Wix you will get the following functions:
unlimited pages
500 MB storage
1 GB Bandwidth
drag and drop interface
free hosting and a mobile site
100s of templates to choose from
SEO; you can add Page titles, Meta descriptions and alt text for images
access to support like phone, email and support library.
Wix has a huge variety of pre-designed layout that will make it easy for beginners to get started. The drag and drop interface is easy to use, and Wix is adding new tools and designs on a constant basis.
Wix even has an Artificial Design Intelligence (ADI) that can do certain jobs for you like automatically connect to social media, build a contact form and picks a suitable theme for your audience. Sounds kind of cool.
---
Who Is Wix Free Website Builder For
It is basically for everyone who would like to have a presence online, who is looking for a user-friendly way to build a website or a blog.
If you want to showcase your art, promote your business, set up an online store or write a personal blog: Wix might be the right choice for you.
I mentioned the benefits of the free plan. But what are the drawbacks?
---
What Are The Cons Of The Free Plan
Of course, the are drawbacks with the free plan which is understandable. Features are limited compared to a paid plan.
Once you have picked a theme or template, you can't quickly switch to another template without moving your content manually with copy and paste.
Just like the other free website builders, your domain is a subdomain, not your own e.g. "yourname.wix.com."
To get your own domain name, you need to upgrade to a premium plan.
Your free site will have the Wix advertising logo on the site and bottom quite visible.
You can't add Google Analytics
I like the fact that you get a mobile site, but you have to edit it manually to adapt the site for mobile users. That sounds like more work to me. I'd rather use a responsive theme that does the work automatically for me.
---
What Do The Paid Plans Offer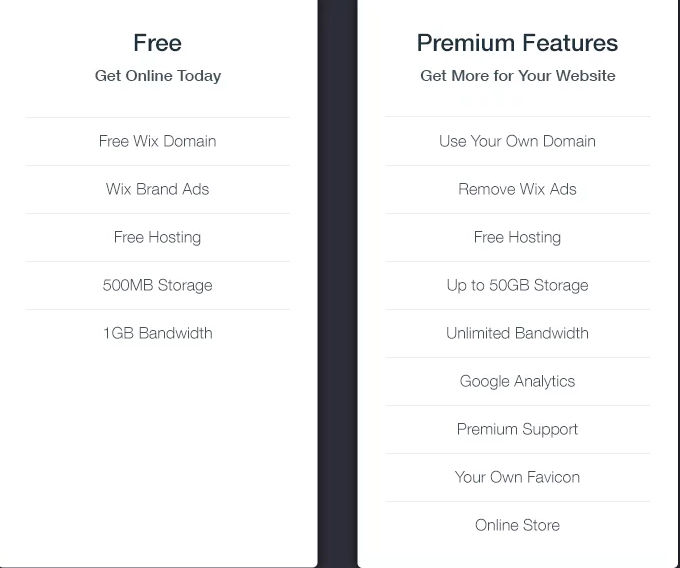 The features in the premium plan sound pretty good. Also, you have access to over 260 apps that will help you to improve the functionality of your site. Apps are basically the same what Plugins are on WordPress sites.
Wix offers an extensive library with free images and videos for their premium members.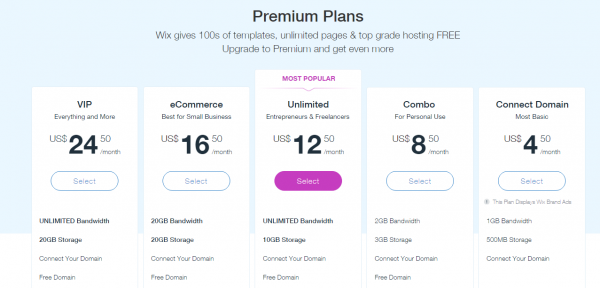 Please note that these prices are valid when you pay annually. For instance, the unlimited plan will cost $16 a month if you pay on a monthly basis.
You only get the free domain plus other goodies (like two apps valued at $48 each) when you pay for the whole year. The good news is that Wix offers a fourteen-day risk-free trial. If you decide you want to cancel, you will automatically go back to the free account.
Here is something else to consider before you sign up for a paid plan. You can't export your site to another host. That means Wix will be your hosting platform for as long as you want to run your site or blog.
---
What Are Some Common Complaints
On WhoIsHostingThis I have read a few complaints regarding the customer support which can take a while to response, about slow loading pages and wrong billing. It doesn't say if these issues could be resolved or not.
The customer phone helpline is only available from Monday to Friday during working hours. This is probably an area where Wix could improve since they have millions of registered users.
Also, if you would like to have more control over your site via HTML and CSS access, then Wix is not the right choice for you.
---
In Conclusion
The big plus for Wix is and what sets it apart from its competitors are the high numbers of templates you can choose from.
The drag and drop interface is user-friendly, and you can choose from over 200 apps to increase the functionality of your site or blog.
As with any other free website builder, there are pros but also cons as discussed in my article. The biggest flaws for me are a) you can't export your website to another host and b) you can't easily switch from one template to the other.
To find out if Wix is right for you, I would recommend to sign up for their free account. The same is valid for Weebly (read my review here)  and my favorite free website builder SiterRubix.com.
At the end of the day, you have nothing to lose. Find out what is best for you, your business and your personal use.
I would love to hear from you. What is your favorite website builder and why? What is your experience with Wix?Please leave a comment in the box below.
To Your Success!
~ Anke
---
Please note; this post contains affiliate links. If you click on a product link and make a purchase, I may get paid a small commission at no extra cost for you.
---