My post is all about the Weebly website builder and in particular the free features it offers to everyone who wants to build a free internet site.
I will have a detailed look at what is the Weebly website builder, what are the Pros and Cons and how does Weebly compare to my favorite website builder SiteRubix.com.
My review is part of a short series about the best free website builders to give you choices in finding out which website builder platform might be most suitable for you.
---
What Is the Weebly Website Builder
Weebly – The Easiest Way To Create A Website – that is the advertising slogan, and it is a true statement. Weebly is a robust and reliable website builder that allows you to build a website without any coding.
The drag and drop builder makes it easy to customize your blog or website the way you want it to look. With the free plan, you can choose from 40 templates.  If you have some knowledge of coding, you can also access HTML and CSS and customize the Templates even more.
The themes are responsive which means they look great on all devices, desktop, tablet and mobile phone. A responsive theme is one of the most important features because nearly 50% of searches are done on cell phones. A responsive theme will also benefit your rankings in the Search Engines.
 Weebly also offers free hosting and support features like chat and email support as well as help video tutorials.
If you are keen to start a blog, a travel diary, an e-commerce business or showcasing your business, Weebly might be the right choice for you.
Let's have a look at the free plan, and it's Pros and Cons.
---
What Do You Get With The Free Plan
The free account offers you the following:
A Drag and Drop Website Builder
SEO
500MB storage space
40 themes aka templates
Lead capture to collect email addresses
Free Hosting
Access to HTML/CSS to customize the pre-designed templates
Responsive Themes
Email, chat and community forum support
There is no time limit to use Weebly's free account.
What are the limitations that come with the free plan?
You will have a subdomain which means instead of saying "yourwebsite.com" it says "yourwebsite.weebly.com"; you can't connect your custom domain- only with a paid plan.
Limited storage space (500MB)
Weebly advertisement is displayed in the footer section.
Your site won't be indexed in the Search Engines.
Overall, I like the features that come with the free plan, and I think it is sufficient if you are just starting out or if you want a blog for personal use, for showcasing your hobbies, a travel blog or something similar.
The biggest drawback to the free plan is that your website won't be indexed in the Search Engines. So if you want people to find you on Google, you will need to upgrade to a paid plan.
I would recommend the free plan for beginners since the drag and drop builder is easy to use. If you'd like to get started with Weebly, please click on the banner.
---
Keen On Building A Business?
If you are looking at building a business online, then I would strongly recommend having a look at Weebly's paid plans or check out my SiteRubix free website builder review.
Weebly's paid plan starts at $8/month when you pay annually.

Here is a screen shot of the monthly payment options.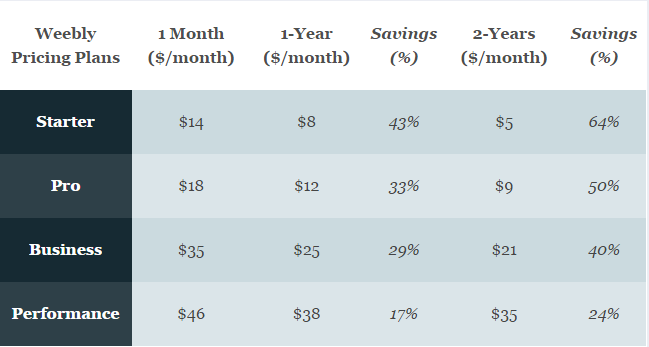 As you can see, you can even upgrade to a 2-years plan and save 64%.
The features of the starter plan include:
Unlimited storage
No Weebly ads displayed
You can connect your own domain.
Get a free domain (worth $20)
Google Ads credit valued at a $100
Advanced site stats
Besides the email, chat and community forum support also phone support.
The starter plan is considerably low considering it includes hosting, a domain and the other features mentioned above.
The tools that Weebly is providing might be a  bit limited compared to their biggest competitors Wix and Squarespace. Modules like "related posts" or "most popular posts" are missing but hopefully will soon be added.
The biggest Cons for Weebly are:
Weebly is one of the easiest website builders on the market.
It is user-friendly and intuitive to use.
Your website will look stunning and professional.
You can switch quickly from one template to the next without losing any content. You are more flexible regarding design.
You have access to HTML and CSS.
---
Who Is  Weebly Perfect For
As I said before, the free plan is ideal for beginners who want to have a play with creating a website and who would like to share personal blogs, write a (travel) diary or showcase other things.
It is not suitable for someone who would like to build an online business and want to monetize their blog or website.
If monetizing your blog is one of your goals, please read my SiteRubix review.
Weebly's paid plans are ideal for people who:
Want to showcase their business.
Build an e-commerce store
Want to start an online business.
Own a restaurant or other local business.
Want to be their own boss.
---
How Does Weebly's Free Plan Compare To The Free SiteRubix Platform
So, how do the free plans compare to each other?
Both platforms are easy to use with a slight advantage of the Weebly's drag and drop feature. Weebly also offers more templates than SiteRubix. Both are built on a subdomain and feature Search Engine Optimization.
But: With the Siterubix platform, you will get two websites for free using WordPress and no advertising in the footer. Plus, you can add affiliate links, e.g., Amazon links and your site will get indexed in Google.
Whatever your preferred choice is, it is easy to get started with building a website for free.
---
Wrapping It Up
Weebly is incredibly easy to use, and you can create a beautiful looking website in a matter of minutes by choosing one of the forty pre-designed layouts.
The drag and drop builder is super user-friendly. You don't need to know any coding. Therefore it is ideal for beginners without any experience.
If you do want to build an online business for free (to start off with) plus access to an incredible community support and video tutorials I recommend the free SiteRubix platform.
The other option is to upgrade to one of Weebly's paid plans.
If you have had any experience with Weebly or other free website builders, I would love to hear from you. Please leave a comment below.
To Your Success
~ Anke
---
Please note: some links are affiliate links. I may receive a small commission if you make a purchase through my links at no extra cost to you.