*Please note, this post contains affiliate links. For more information read my affiliate disclosure.
Welcome to my updated (20.11.2022) extensive and honest Wealthy Affiliate review!  
Chances are you got here because you have heard of WA and wanted to get more insider information on what this training platform for building a successful online business has on offer.
In my reviews of MLM companies, I have been talking a lot about my #1 recommended business opportunity that doesn't involve recruiting or selling products.
This business opportunity and Wealthy Affiliate (WA) belong together.
Why? Well,  WA teaches its members everything about building an online business but also provides all the tools to become a successful entrepreneur in an ever-growing market.
Affiliate Marketing is my recommended business model. It allows me to work from anywhere in the world with just a laptop and internet connection.
It is a legit way of earning a truly passive income with unlimited earning potential.
But Wealthy Affiliate not only teaches in easy to follow step-by-step tutorials everything about affiliate marketing, but it also teaches how to drive targeted traffic to your blog/website, Search Engine Optimization, and Social Media Marketing.
My Honest Wealthy Affiliate Review – A Must Read
Is Wealthy Affiliate too good to be true? I will discuss this matter as comprehensive as possible and hope you'll find my review insightful and to the point.
The issue with trying to make money online is that most people end up getting confused, feeling frustrated by information overload, and as a result, don't even get started.
Nowadays we get bombarded with so many scams and promises about getting rich quickly by making money online that it is hard to tell which program is legitimate and which one is just plain a waste of your money.
Believing that making money online will work is a great start, but is this belief enough?
No. it is not. You need training that guides you along the way plus tools that help you to become a successful online entrepreneur.
That's where the WA online platform comes in.
---
More About Wealthy Affiliate In A Nutshell
Wealthy Affiliate has been founded in 2005 by Kyle and Carson and is based in Canada.
Since October 2020, Wealthy Affiliate offers now three membership options, a free Starter membership where you can test drive the full platform for seven days.
After the first seven days, you can decide whether you would like to remain as a free member with limited options or if you would like to upgrade to become a Premium Member or Premium Plus member.
The Premium membership costs either $49/month or $495/year which translates to $41.25 per month.
ThePremium Plus Membership is$99/month or $995 a year which is around $83 per month.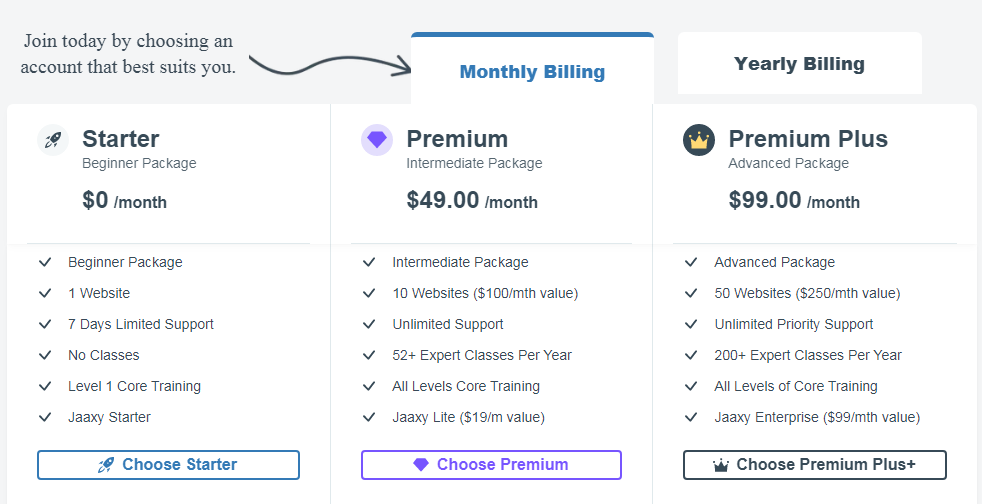 By the way, Wealthy Affiliate is not a multi-level marketing company. It has got an affiliate program for people that want to promote the training platform (like me for example). It means that I may earn a commission if someone signs up through my affiliate link.

That's it, no team building, bonuses, and all these other things that come with being involved in MLM. Just thought I get this one straight.
Ready To Take Wealthy Affiliate For A Test Drive?
(put your credit card away, you won't need it)
Need more information? Let's get started with my detailed review of Wealthy Affiliate.
---
Wealthy Affiliate Overview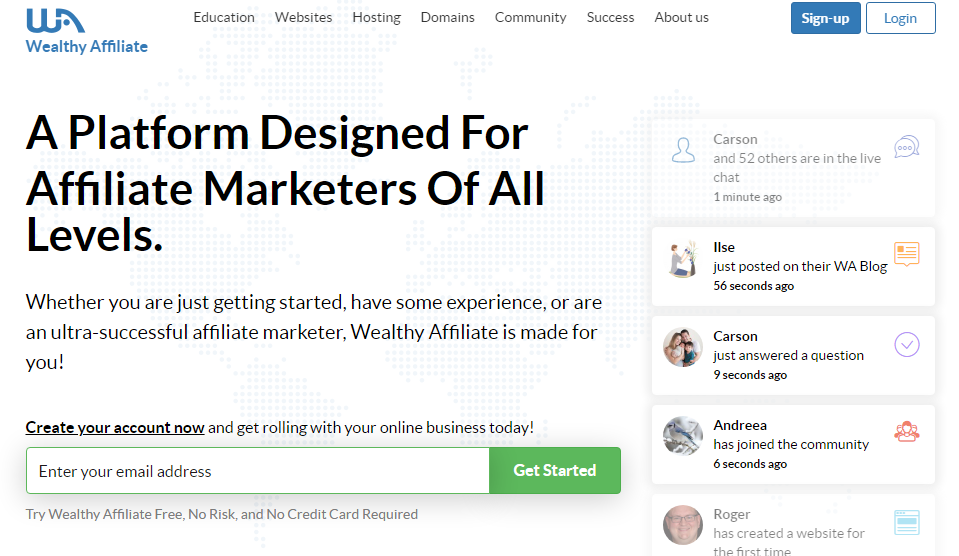 Introduction To Wealthy Affiliate (WA)
Before I get started, there is something you should know.  My view on WA is unique because I have been a premium member of this online platform for four years. So I know what I am talking about.
Firstly, I can explain from first-hand experience the Pros and Cons of WA.
Secondly, I am here to help you to find the best options for you to create a successful online business. If you disagree or have found different results than I have pointed out in my review, please share it with my readers and leave a comment below.
---
Wealthy Affiliate was founded in 2005 by two young Canadians Kyle and Carson. Both had tremendous success in their online ventures and set out to share their knowledge with other people. (for more information read my FAQ's page)
WA is a unique online platform that combines three essential components to help you build an online business:
Training/Education
Hosting Platform
Support 
---
 Who Is Wealthy Affiliate For?
If you are reading this review, the chances are that you are looking for a way of leveraging the internet to work from home. You might have heard of WA before, but you are not too sure if this is just another scam.
Or, you might be looking for something that can teach everything to do with affiliate marketing. You might have a passion or interest but need help to put it into action?
WA caters to all levels of marketers; from the complete newbie ( like I used to be) to advanced and experts. It appeals to everyone who wants to become an online entrepreneur or wants to take their existing business to the next level.
If you are
A blogger,
A person that is entrepreneurial-minded
Involved in MLM and want to get more leads and sales by building a blog
A stay at home mom who wants to earn a side income or full-time income with truly flexible hours,
Someone who wants a change in career,
Wanting to escape the 9 to 5 'rat race'
Wanting to own your own REAL business
A student looking for ways to earn money
Retired and want to learn new skills and earn money
Wanting to build a website … (the list could go on)
…. then Wealthy Affiliate might be the best place for you.
---
Who Is Wealthy Affiliate NOT For?
The short and sweet answer is: WA  is not for people who want to get rich quick, don't want to put in hard work, or spamming other people with 'shiny objects.'
---
What Are The Tools And Resources WA Offers
Live Chat
13 Full Interactive Classrooms
Site Builder
Express WordPress Builder (three clicks and done)
Certification Courses For Different Levels
Free Keyword Tool
Live Video Classes
Search Bar For Any Questions
Over 100 000's of Active Community Members
Walk-Trough Videos
The training is comprehensive, well-structured, and always up-to-date. In fact, you can access over 1000 (One Thousand !) training modules. (For Premium Members only)
---
New Features Introduced In 2017
One of the things I admire about Wealthy Affiliate is the fact that the platform continually evolves and adds new features on a regular basis.
Let me introduce you to two new features, the owners' Kyle and Carson have brought to this online learning and hosting platform.
Site Speed
The free SiteSSl (HTTPS) and SiteProtect had been introduced in 2016. When WA announced the new SiteSpeed feature in 2017, which helps with better rankings and engagement, the excitement was incredible.
This fantastic feature doesn't cost anything extra, no additional fee, nada. Everything for a low monthly price of $49 with no contract (aka strings) attached.
SiteSpeed is a website caching platform that basically sits in front of your site and website server. It is a fast and robust hardware that saves the static versions of your website's posts and pages and therefore decreases the loading time for your site.
It can also handle a lot of traffic without slowing your site down.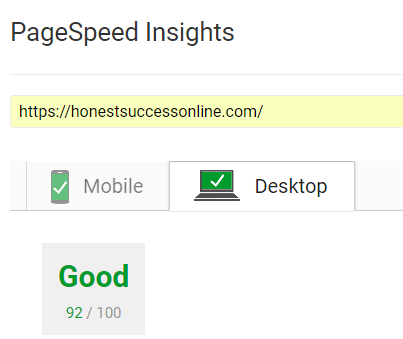 Here is a screenshot of my site and it looks pretty awesome!
---
SiteContent
The SiteContent feature is a fantastic writing tool that is part of the SiteRubix platform. It offers vivid writers lots of options.
The best part is that you don't need to login to your WordPress site and still can post your newest content straight from the dashboard.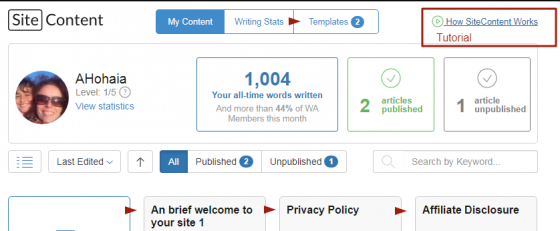 The dashboard is user-friendly and is easy to navigate. In the right corner, you can access a video tutorial that explains in much detail how SiteContent works.
I do love the pre-made templates that include a Privacy Policy, About Me, and Affiliate Disclosure page which you can use for your sites (with adjustments of course).
You can even make up your own templates for writing product reviews etc.
There is also a grammar checker included that will check your post for spelling, grammar, punctuation and sentence structure.
You also have the option of setting and tracking goals which will help you to keep motivated and accountable. There is a goal for word count and the number of articles one might want to publish in a particular time frame.

Other features in the SiteContent platform include:
Icon to indicate that post/page is indexed in Google
Bucket icon for easy organizing
Save/publish button
Autosave and word count
Convert post to a template
Grammar checker
Goal setting
Keep track of your progress and stay motivated
The SiteContent platform is still a work in progress. There is no option to add images just yet but hopefully; it will be included very soon.
---
How Much Does Wealthy Affiliate Cost?
As mentioned earlier, there are three different membership options.
You can join Wealthy Affiliate University for free. Yep, it doesn't cost anything to sign up, and you don't even need to provide a credit card!
The $0 Starter Membership includes:
Access to the 10 Module Online Entrepreneur Certification Course
Access to the 10 MModule Bootcamp course
One Website including free SSL
Jaxxy Starter with 30 keyword searches
Website Hosting
Access To The WA Affiliate Program
In the first seven days, you will also have access to all the Premium features which I will outline below
The Starter Membership is great to learn the basics and to check out Wealthy Affiliate with no risk involved. You can stay as a free member forever.
---
2) For people who are serious about learning and building an online business, then the WA Premium Membership is for you.
For $49/month or $495/year you will get:
Hosting for 10 Premium websites
Jaxxy Keyword Research Tool lite ($19/month value)
Unlimited Access to all courses and training tools
Access to Site Comment Platform and Feedback Platform
Live Chat 24/7
Express WordPress Builder plus access to over 2400 website themes/templates
SSL certificate included
State of the art secure and fast website hosting including your own email
52 Expert classes a year
3) Premium Plus Membership
For $99/month or $995/ year you get:
of course all the Premium features
50 Premium websites
1.000.000 monthly visits
Priority Expert help
Jaxxy Enterprise ($99/month value) including 10000 Site Rank Analysis
Advanced hosting
200 plus expert classes a year
---
The Features Of The Free Membership And Premium Membership Compared
---
How About The Support
Working online by yourself can be challenging at times. What if you get stuck? You might have a question about your site. Or there is a problem with adding images or you don't know how to write content or how you can attract more traffic to your website.
I know from first-hand experience how frustrating it can be to get stuck with sometimes just little things.
Whatever it is you are facing, you sure will find help and support on Wealthy Affiliate. There is either the Live Chat or you can type in your question into the search bar.
If you can't find the answer you can ask your question, and usually, within the hour some of the other helpful members reply or send an appropriate link.
Wealthy Affiliate is home to over 800 000 plus members who all have the same goal: building an online business. This is the most supportive community I have ever come across.
Even the founder's Kyle and Carson are actively involved in the community. To be quite frank, where else can you chat with a business owner one-on-one?
They are always there to chime in with a comment or answer questions. As a premium member, you can even send them private messages. Both are constantly busy to make WA a better place and more user-friendly.
---
I had the honor and the privilege to attend Kyle's first live training class at the beginning of 2017. Read more about his fourteen years of experience in building a successful online business here and learn from one of the best online entrepreneurs.
---
If it is just you and the computer it can get a bit lonely. That's how it feels to me sometimes, anyway.
It helps to express frustration or doubts but also to share the success and cheer each other on. It is a long-term business after all, and it can take a few months to your website takes off.
The community support is a huge factor in keeping yourself on track and accountable.
---
Pros Versus Cons Of Wealthy Affiliate
These are the Pros of WA as outlined before
Unique Online Community
Unlimited Access to all training modules, video classes, courses, and tutorials
Website Hosting for 50 websites
Affiliate Program
Keyword Research Tool – free access for all Premium members (read my review about this tool here)
Website Analysis
Site Feedback and Comments
Over 2400 WordPress themes
Caters to all levels of marketers
Spam free Environment
You can cancel the membership at any time. There is no contract.
SSL included.
I probably have forgotten a few things, but these are the main features in my opinion.
Nobody is perfect, and there are a couple of little flaws on Wealthy Affiliate as well.
Cons:
The sheer amount of information can be overwhelming especially for newbies. There is so much to take in and to learn.

My tip:

take it easy and follow the training step-by-step.
Once you are a premium member, you can't go back to the free membership.
I wrote an in-depth post about the most common complaints about Wealthy Affiliate. Check it out here.
---
My Personal Experience With WA
I stumbled upon Wealthy Affiliate at the beginning of 2016. I did some research about an MLM company because a friend wanted me to join them.The article I had found instead praised Wealthy Affiliate as an alternative way to learn about earning money.
The article I had found instead praised Wealthy Affiliate as an alternative way to learn about earning money online.
I was intrigued, to say the least, and signed up for the free account. Shortly after, I upgraded to the paid membership and never looked back.
From being a complete newbie, I have now three fully functional websites and started earning money with them. How cool is that! When I say Newbie, I really mean Newbie. I never heard about affiliate marketing before and I thought only experts could create websites. (Read my post about how easy it is to build a free website)
I was so wrong! Becoming a member of Wealthy Affiliate opened a new and exciting door for me. It felt overwhelming when I started but I followed the training step-by-step at my own pace. The learning curve was so steep, let me tell you.
There is still so much more to learn, and I am looking forward to continuing this inspiring and exciting journey.
---
Success Stories
What really cheers me on is reading blogs by other members about how they succeeded with their internet business.
It is so inspirational and motivates me to keep on keeping on. Even if not everything is going according to plan and I experience a few hiccups now and again.
Here are my favorite success stories I want to share with you.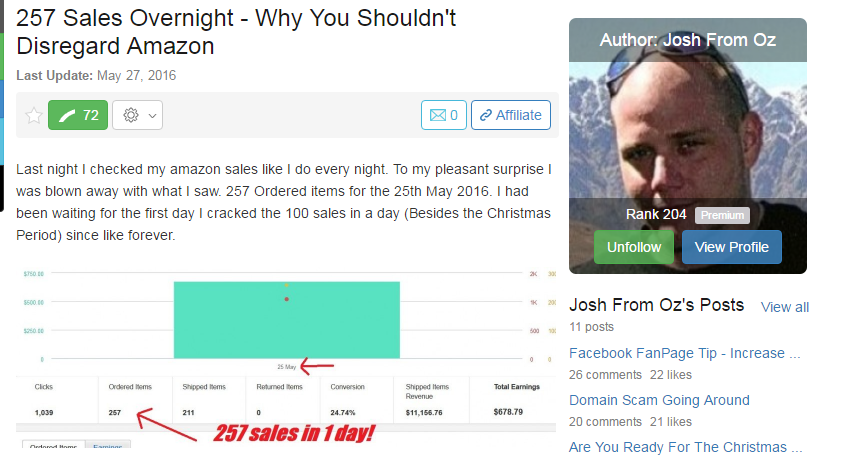 What a cool post. Josh is a very down to earth person and it is always awesome to read that affiliate marketing works.
Josh also published a case study a while ago where he explains how he has built a new niche site from scratch and now, after 12 months, already earns around $500/month with it.
You can read it here.
---
Nathaniell has been a member since 2010 who has built a very successful website in the 'Make Money Online' niche called OneMoreCupOf Coffee as well as several niche sites.
He shares his success stories but also failures with the WA community and I am always looking forward to his blog posts.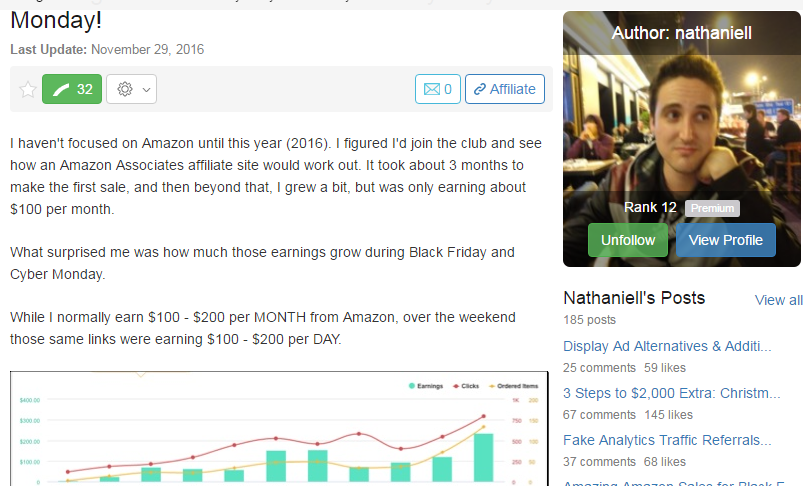 ---
And last but not least, a third example.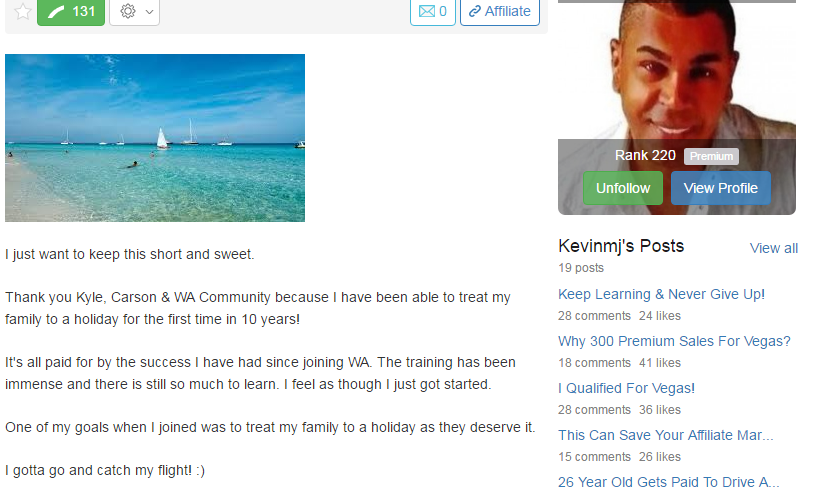 ---
These are just a few examples of successful members at Wealthy Affiliate. The point here is that these members share their knowledge with other members. They have created training tutorials that add even more value to what WA has to offer.
---
Let's Recap
The price of running your very own online business with WA would cost you $49/month (if paid monthly) or $41.25/months (if paid annually) plus $14 if you buy a  domain name. ( You can purchase a domain name somewhere else by the way.)
Just looking at hosting alone for one website plus a free keyword tool plus the online classes and video tutorials – the value is incredible for the money. And over time most members end up building more than one website.
I have three websites at the moment but I am planning to build a brand new niche website. Keep an eye out for my posts, I will do a case study about it.
Want to read more about the SiteRubix Platform? Here is my in -depth review.
With WA you'll get 25 domain owned websites for the same price!
Well, I am sure you get my point. Enough raving. 🙂
---
My Verdict
Making Money Online is not magic. It takes skills, knowledge, ongoing training/education, support, and consistent work. It all starts with You! Only  You can take the first step in the right direction.
I said it before and say it again, You need to apply what you will learn and put the work in.
Nobody will do it for you. You are the key to your success.
Wealthy Affiliate provides the tools and the training. But your part is to work on your business (as much or as little as you want), do your research and content writing.
---
Wealthy Affiliate is an all-inclusive online platform that provides all the tools and resources under one roof.  Rather than getting hosting sorted and finding a domain name and sign up for a keyword research tool, you'll find everything combined here which is convenient especially for newbies who can get easily overwhelmed by starting up an online business.
The training is structured in easy to follow step-by-step modules. The training modules are interactive, and you will always get your questions answered. No more searching for hundreds of YouTube videos, that's for sure. 🙂
In my humble opinion, Wealthy Affiliate is the best online training and hosting platform with more than 11 years of experience.
I promise to be in touch with you shortly after you sign up. I'll be there to help you every step of the way. I know how overwhelming it can be to getting started online from my own experience.
Start Building A REAL Business with Wealthy Affiliate Now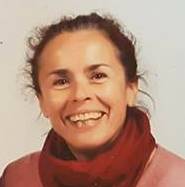 ~ Anke
Connect with me on Wealthy Affiliate
---
Do you have any questions or feedback? Please leave a comment below. If you try out WA and you are not happy, please let me know also. I am sure we will get it sorted. 🙂 Anke
---
Please note: This post contains affiliate links. For more information please click here.