Welcome to my post about '10 Tips For Success At Wealthy Affiliate'. These tips are coming from a long-time member of Wealthy Affiliate, Jay Neill.
I am here to share his advice with you guys so you can pick up a thing or two and apply it to your own journey of building an online business.
Jay is well-known inside WA for his weekly live Video classes every Friday. Jay has been with Wealthy Affiliate since 2007 and shares with us what has worked for him over the years to become a successful internet marketer with the help and support of WA.
At the end of this post, I am going to share the link to the video, if you'd like to watch it.
Just to clarify, Jay's tips and advice are related to his past ten years with Wealthy Affiliate. Read more about WA here. Nevertheless, you can apply these tips to your online or offline business ventures as well.
---
Before We Get Started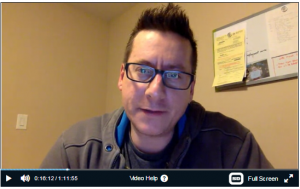 When Jay joined WA in 2007, he was already involved in Webdesign and Graphic design. With the introduction of WordPress, he felt the need to learn more about it and found Wealthy Affiliate, which back then didn't have a free starter membership like nowadays.
Joining  WA has changed Jay's life, and he shares a lovely story how he found out that the WA founders Kyle and Carson were just living around the corner from his place.
Anyway, back to the subject. Here is a general tip Jays shares if you want to be awesome at WA.
Stay positive in within Wealthy Affiliate and keep a positive attitude.
Try to find something positive in a negative. Find a solution to solve the problem. A negative vibe can affect other people (as we know from our own lives).
I like this approach and think it applies to all other areas in life. Of course, not every day goes according to plan, and yes, it can be frustrating to face obstacles.
But, I know from my experience that a positive attitude makes life a little bit lighter and helps you to move forward.
Let's talk about the ten success tips.
---
10 Success Tips From 10 Years At WA
Jay is structuring these ten tips into three different areas.
Staging (Before) ⇒Development (During) ⇒Deploy (After)
Before means the process of learning everything regarding building an online business.
#1 Don't Rush
It is important to go through the courses step-by-step and not to rush through. Take notes and apply each step as you go along. Be realistic! Success comes with the right mindset.
#2 Appreciate What You Have
There are so many tools provided with a Premium membership inside WA like hosting, a keyword tool, a domain purchase opportunity, video classes, etc., all in one platform. As an example, in the offline world, Jay would charge $50/hour for his expertise.
Here in WA, we have the chance to learn from him every Friday. That is a value of $200/month.
Appreciate all these awesome tools and resources for $49/month or less with an annual membership. Good points!
#3 Anticipate Failure
75% of people who start online fail with their first niche. It took Jay 15 niches until he found success with it. Success can have a different meaning for everyone by the way. What does success mean for you?
Learn from your mistakes and move on. Don't give up! Embrace failure as a learning curve.
---
Development (During) Stage
This stage relates to your journey of building your online business.
#4 Get Awesome At SEO
Gaining knowledge about SEO is a sellable asset. With this knowledge, you can help other people and even take a new career path.
SEO helps not only your own website but also in gaining clients and assist them with SEO.
#5 Find A Place To Work
Create an environment where you can learn and work distraction free. It can be challenging working from home with children and other distractions.
If you find a place and space for yourself, you work much harder. You are building a business that means you are working. So, having a working space is important.
#6 Create A Routine
If you are working from, it is also crucial to develop a work ethic like you would in a 'normal' job. Write down a schedule and times, when you are working on your online business. Also, let your family and other people know about your routine.
What times work for you? Early in the morning, afternoon or at night? Plan certain activities into your routine e.g. writing content, researching, learning about different topics, etc.
---
Deploy (After) Stage
This is the stage where your business is rolling. Your website is up, traffic is coming in and a few sales as well.
#7 Don't Get Lazy
Jay has seen it often. People are seeing results and think now they can sit back and relax. The opposite should be the case. Success should become your thriving force.
If you don't keep working on your business than ranking and sales will drop after a while.
#8 Stay Humble and Stay Hungry
When success comes in, stay humble and keep the drive to succeed.
#9 Don't Venture Too Far
What Jay means by this is to concentrate and focus on your chosen niche. Don't jump from niche to niche.
#10 Find A Mentor
Find people that inspire you, in the online or offline world. Learn from successful people and listen to their advice.
It could be a person or a book that had a positive impact on you.
For instance, I have a really close friend who has such an awesome approach to life that I find incredibly inspiring. She is not a business person but someone who has so much wisdom to share. I consider her as my mentor.
---
Flipping Burnout To Inspiration
Everyone will experience burnout at some stage in their working lives. It also is true for the online world. Researching, writing and publishing new content a few times a week can be tiring and hard work.
Here are five tips Jay shares
Remember WHY you are inside WA as a member.
Go back to the day when you joined WA (think about your mindset)
Go back to the time when you became a Premium member. (I still remember the day vividly – it changed my life)
Look back at what you have accomplished; websites you have developed, articles you wrote, etc.
Look back at what you have learned e.g. SEO, plugins, conversion, how to write product reviews and so much more.
Turn your inspiration into authority. Keep working on your business. Keep learning. Keep applying what you learn.
---
Wrapping It Up
I do hope you find these 10 success tips informative and valuable. Please share any questions, feedback or aha moments in the comment box below.
Note, that you will need to open a free starter account with Wealthy Affiliate to watch the video. No credit card required!
Here are Jay's notes as downloadable PDF.
To your success ~ Anke