Growing and increasing your email list is an evergreen topic that is number one priority for most internet marketers.
I had the privilege to watch a Live Webinar with Jay Neill from Magistudios, who has been a successful internet marketer for over ten years.
He has been a member of Wealthy Affiliate University for a decade and shares his comprehensive knowledge in weekly live video classes each Friday night.
In my post, I am going to share Jay's tips and advice on how you can grow your email list in a simple way.
At the end of the post, you'll find the link to the video. If you want to watch the video, you first need to open a free account with Wealthy Affiliate. No credit card required!
---
What You Will Learn In This Post
Why is using an email list important?
How to capture leads without annoying your readers.
How to capture leads without annoying Google.
Three easy ways to build your email list.
From search query to opt-in, Jay's simple email blueprint revealed.
As you can see, Jay covers a lot of topics so let's get right into it.
---
Why Is Using An Email List Important
Before Jay is getting into more details, he points out, that everything he shares is based on his experience and it has worked for him. He puts a disclaimer up, to use his tips and advice at your own risk. Fair enough!
Jay shares some really fresh and captivating facts about email marketing.
According to a 2015 report by Direct Marketing Associate, the ROI (Return On Investment) of email marketing is 3800%. That is a big return on your investment!
90% of emails get delivered to the intended recipient's inbox compared to only 2% of your Facebook fans see your posts in their news feed.
68%of Americans say they base their decision to open an email on the "From" name.
76% of marketers see active growth in their number of email subscribers.
Employees spend 13 of their working hours each week in their email inbox (on average).
People are checking their emails all the time. You get notifications, and you can check them quickly on all devices.
Emails are 40times more effective at acquiring new customers than Facebook or Twitter.
Even though they are different opinions about the importance of email marketing, Jay firmly believes that email marketing is here to stay and will be going strong in the future.
Social media is great for people reading your posts and for building your brand, but email is another conversion source which means increasing your sales.
These facts are speaking volume about how important it is to grow your email list.
---
How To Capture Leads Without Annoying Your Readers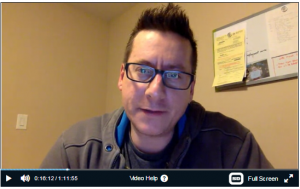 Think about what annoys you about email acquisition?  The same things that you find annoying will most likely annoy your readers as well.
For instance, I don't like pop-ups the moment I enter a website. Sometimes I even feel a bit panicky because I can't see at first glance where to click to get rid of it. Or the so called 'Welcome mats' that cover the entire page but  I didn't even have a chance to read the content.
Another case was that I clicked the pop-up to close it and it came back shortly after. For me, that isn't a good user experience at all.
Another angle to think about is, what made you signing up for an email list last time you entered a website? What caught your interest? What made you see the offer? If you liked it, why not using the same approach.
Jay's Number One Tip: Timing
Timing is imperative for capturing leads and will increase your conversions. So, Time your offers!
Give your readers time to absorb your content before asking them to opt-in for your email list. If you use Pop-ups, Pop over or Slide-ups – put a time delay up so readers can first read your content!
---
How To Capture Leads Without Annoying Google
Google has made changes in its algorithm regarding email pop-ups in mobiles.
Email pop-ups 
that cover the content
make it hard to close
make it hard to actually sign-up, e.g. pinch and squeeze the form to navigate around.
These metrics can all negatively affect your rankings. Essentially it means if your email pop-ups are not optimized for mobile phones, remove and replace them with mobile responsive forms.
---
Three Easy Ways To Build Your Email List
These are Jay's top tips how he has successfully captured email addresses. They are simple yet effective ways.
Number 1 – Give your audience VIP access to your content.
a) Be the first person to be notified when new content comes out.
b) This can be placed after your content.
c) A gentle corner slide once they have reached the bottom of your page ⇒ This one works great because you know they've read the whole article.
Number 2 – Social media funneling
a) Place special links on your social media profile pages.
b) The link will take them to a Landing Page with a special offer e.g. an ebook, a video walk through, etc., depending on your niche.
c) Thanks for being socially awesome.
Number 3 – Offline
That might not be an option for everyone, but it is an excellent way to convert offline clients to online leads.
a) When you do networking, capture emails with a guestbook.
Get hustling and get started. You don't need a capture lead like an ebook etc. Just start with the VIP access offer.
Jay also noticed that people are more reluctant to give their name. He recommends just to ask for their email address in the sign-up form.
---
From Search Query To Opt-In, Jay's Simple Email Blueprint Revealed
It is all about keeping it simple. Make it as easy as possible for a person to give their email address to you. Here is how Jay does it.
He uses two tools:
Use an Autoresponder email provider service. Jay uses Aweber, and I recommend Mailerlite since it is free with excellent features. You need it:
a) for collecting emails.
b) to deliver a drip email campaign also known as autoresponder series.
Sumo (former SumoMe) which is a free plugin for social media sharing but also to create email sign-up forms.
a) to control opt-in delivery.
b) to diversify the type of form.
Jay doesn't use any plugins or other fancy stuff. Only these two tools.
Jay's Email Growth Strategy (blueprint)
Lead comes in via Google Search Result
Lead reads content on the site
Lead gets to the  bottom of the post and sees awesome opt-in offer
Opt-in form only require email address (i.e. no name)
Lead subscribes
Gets directed to a dedicated 'thank you' page he has created
Now, the lead is in the drip campaign. He also shows how he sets up the pop-up opt-in form with Sumo.
That is all there is to it. Simple but effective!
---
Wrapping It Up
Jay finishes his Webinar with a Q&A Session.
I'd like to summarize the main points I've picked up from watching his webinar.
Keep it simple.
Don't overcomplicate the process.
Think about what makes you signing up for a newsletter and apply it to your website.
Get started with a simple sign-up form which is not intrusive.
Make it as easy as possible for your visitor to give the email address, e.g. only ask for the email address, not the name.
Follow his blueprint if you wish but use the tools that work for you!
Remember, you will need to create a free account (no credit card needed) with Wealthy Affiliate.
Please leave your comments and your feedback in the comment box below. I'd love to hear from you.
---
Please note: this post contains affiliate links.