I have been using Grammarly for nearly a year now, so I can give you a detailed review about the Pros and the Cons of this automated proofreader and grammar checker.
Grammarly is basically an app which you can download as a free browser extension. It works in Chrome, Safari and Firefox.
Using Grammarly has been a huge time saver for me since I started writing my blogs. Because English is not my first language, I often felt unsure about the correct use of Grammar, Spelling, the use of Prepositions and Vocabulary.
All this changed through Grammarly.
Let's have a look at it in more detail.
---
Website: grammarly.com
Name: Grammarly
Price: Free or Paid (more details in my review)
Founder: Max Lytvyn and Alex Shevchenko
Overall Rating: 97/100
I have written my first review about Grammarly in May 2016 on one of my main websites. Read my full review here.
I've decided to do another review on here since I firmly believe this proofreader  provides incredible value for everyone involved in blogging and creating websites.
You can watch my video here.

As a blogger, affiliate marketers and the likes you are required to write a lot of content for your blog/website. It is recommended to publish quality and valuable content at least once a week.
To get ranked in Google, these posts and articles should ideally be at around 1000 to 2000 words. The posts can be a bit shorter or even longer. I am talking about average here.
That means you need to do a lot of proofreading, checking grammar, spelling, right punctuation, the right use of vocabulary etc.
And that is when Grammarly comes into play.
---
What Is Grammarly?
 "Grammarly was founded in 2009. It is an automated proofreader that can correct up to 150 different types of errors e.g. in writing, spelling, punctuation, etc. (in the free version).

In the premium version, it will detect up to 250 different types of errors and also enhances the usage of vocabulary.

As you can see, there are two versions available: a free and a premium version.

What does the Free Version include?

It corrects up to 150 different types of spelling, grammar, and punctuation errors.
You can copy and paste your text into the online editor.
It is available to install for both Mac and Windows operating systems.
You can download a free Browser extension to Chrome, Safari and Firefox.
It automatically loads when you use Gmail, Facebook, Twitter, LinkedIn, and Tumblr.

These features are pretty impressive. But I decided to sign up for the premium version since I felt I needed more support with enhancement of my vocabulary, spelling, and punctuation.

What do you get with the Premium Version?
Grammarly corrects up to 250 types of spelling, grammar, and punctuation errors.

It also provides suggestions to enhance the usage of vocabulary.

The program detects Plagiarism.

It provides citation suggestions.

It works in Microsoft office. Woohoo!

You can decide between American or British English."

 (from my review on funtravelingwithkids.com)
My review is based on the premium version since I signed up to the annual plan.
As mentioned before you can get the free version and the premium version. It is up to you and there is never any pressure to sign up for a subscription plan.
There are three different subscription plans available:
Monthly: $29.95
Quarterly: $59.95 ($19.98/month)
Annual: $139.95 ($11.95/month)
---
My Favorite Features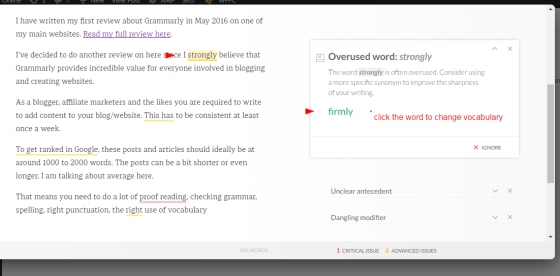 This is one of my favorite features – the pop-up window. In enables me to correct my mistakes right in my text without copy and paste.
This screenshot is taken in my WordPress dashboard. When you look at the screenshot, you see my post on the left and Grammarly's suggestion to the right. To correct my flaws, I just click on the word and it will get changed in my text. (marked with red)
If I want to stick to my version, I click on ' x Ignore.'
The pop-up window enables me to edit my text without leaving my WordPress site. I don't need to copy and paste.
The same happens when I write posts on FB or in my email account. So easy to use and convenient.
---
My second favorite feature
In your Grammarly account, you can choose a document type. The options are:
General (default)
Academic
Business
Technical
Medical
Creative
Casual.
That is awesome since different types of letters require different writing styles.
---
What Are The Pros And Cons Of Grammarly
"In a Nutshell, here are the pros and cons of the premium version I have noticed:

Pros:  

Grammarly automatically loads into your writing program e.g. WordPress, Emails, Facebook, Pinterest, Microsoft Office.
Grammarly explains why corrections might be necessary; so you can decide if it makes sense in the particular context and you learn more about grammar, correct spelling, punctuation, etc. at the same time.
Choose a document type e.g. Business, Casual, Academic, Technical, Medical, Creative.
 It makes editing a breeze. No more red eyes because you don't have to proofread over and over again. You can finish writing your post much faster. Yeah!!!
Everyone, who uses your Laptop/Desktop can use and therefore benefit from it!
Customer service:  via email but very quick, friendly, helpful and efficient.
Overall, Grammarly is very user-friendly.

Cons:
Now and again I discover little mistakes Grammarly hasn't picked up on in my posts.

There is not a  LiveChat option, which would be great to have. That is just a small criticism. As I mentioned the customer service via email was great."
(from my review on funtravelingwithkids.com)
---
What Can Grammarly Do For You
In my opinion, Grammarly is a fantastic tool to help you with grammar, spelling, punctuation and even enhancing your writing skills and vocabulary.
Using Grammarly has been a huge time saver for me as well. It is so easy to overlook mistakes. With the help of this incredible tool, it doesn't happen anymore. As mentioned before, it can occur that the app doesn't pick up on mistakes.
To me, it is a minor flaw since it happens rarely.
I am not a native English speaker, and when I started writing my websites, I second guessed myself all the time. Now I am confident, that my writing is ok and that grammar and spelling are spot on.
Another plus in my eyes is that everyone who uses your desktop (in my family all 5 of us 🙂 ) benefit from it. I think that is awesome. Your kids can do the homework, write essays and your partner can use it for writing emails.
I invite you to try it for yourself and see how it can benefit you. Click on the banner – it's free!

Website: grammarly.com
Name: Grammarly
Price: Free or Paid (more details in my review)
Founder: Max Lytvyn and Alex Shevchenko
Overall Rating: 97/100
I would love to hear your feedback. Have you used Grammarly before or any other proofreader? What is your experience? Please share in the comment box below.
---
Note: This post contains affiliate links.