Welcome to my Kyäni Review 2017 – Is Kyäni a scam? 
Please read my post before you make a decision whether or not you should join the company.
By the way, my review talks only about the business model, not the quality of the products.
I had come across Kyäni over a year ago when an acquaintance asked me if I was interested in joining. I didn't end up joining the company but found something that I feel passionate about and provides me with extra income.
Find out more about at the end of this post. I am so grateful that I did my research back then and made a decision that would have a significant impact on my life.
My review is based on my research and my opinion. I found it challenging to find all the information, found different numbers how much it cost to join, etc. So if I got details wrong, please leave me a comment down below.
---
What Is Kyani About 
Company: Kyäni
Start-up costs: from $499
Founders: the Hanson & Taylor Family
Rating: 50 out of 100
Kyäni was founded in 2005, was launched in 2007 and has its headquarters in Idaho Falls, Idaho and is operating now in over 53 countries.
The word 'Kyäni' means "strong medicine, " and that is what the company is about: nutritional supplements to increase the health of people.
There are four products available with ingredients that are based on the health benefits of the wild Alaskan blueberry and the wild Alaskan Salmon.
The products are called: Kyäni Sunrise, Sunset, Nitro FX and Kyäni Nitro extreme.
If you would like to try the products, you can even buy them on  Amazon.com.
Kyäni's mission statement is " to bring well-being to people all around the world" and financial freedom. The business model is a networking or MLM company.
I will discuss the commission plan, business tools as well as the pros and cons. I am going to finish with my verdict and let you know, what business model has changed my life.
---
 Let's Talk About The Money
Kyäni praises itself for having the best compensation plan of all networking companies. The principle is always the same. You recruit, your downline recruits, and the recruit sponsors another person and so on…
There are two income streams:
You can get 20% of the product sales which can increase up to 60%
The second income stream is from recruiting other people into your downline based on the 3×7 matrix.
There are other financial incentives like sponsor bonus, fast start bonus, car program and incentive trips.
As an example: You join and get the business builder pack and recruit two people who each find one person who buys the business builder pack in within the first 31 days ⇒ you will reach Jade rank. If you hold this position for two months, you will get the fast start bonus of up to $600.

If those four people become Jade, you will climb the rank to Sapphire.
That sounds like great money. Let's have a closer look at what you will have to invest monthly.
---
Start-up Costs And Monthly Expenses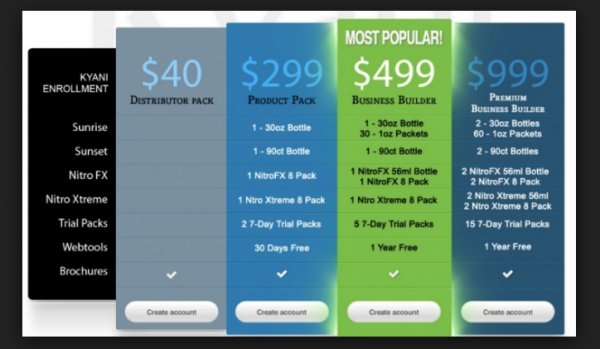 To get started, you need to invest US$499 or ideally $999 at least. The more you spend, the higher the payouts and commissions. I have also seen packs for $1299 and $1499. There are different numbers around on the net, so it seems to change over time.
$499 is a substantial amount of money not everyone has at their disposal. On top of that you will have to pay a monthly auto-ship of $120 and after the first 90 days a monthly charge of $16.50.
The $120 monthly auto-ship will count towards your $100 PV a month you will have to accumulate in order to be eligible for commissions.
To make things clear: in order to climb to Jade, you will have to recruit two people and they have to recruit one person each who are all need to buy a business pack of $499. That is huge and I think a difficult task.
---
Business Tools 
Kyäni supplies a variety of business tools from training materials, tutorials, videos, product guides and power point presentation. You have access to your own website, social sharing and an app suitable for iOS or Android.
Let's talk about the app. That's when it get's a bit confusing. I have found three apps. One for Kyäni, one for Kyäni Dream Team and one for Kyäni Team Fusion. So there are two main teams you can join.
Team Fusion was founded two years ago and launched in Australia and New Zealand in 2015/2016. So if I were to join Kyäni, I would need to become part of Team Fusion and get their app (since I live in New Zealand).
The app gives you access to:
Mobile enrollment forms
Mobile shopping
Access to back office
Social Suite
Keep up to date with business
You can connect and invite potential prospects. You can send them a link or a video to their social media accounts. Sounds cool but you still have to follow up with a phone call. There is no way around it.
You will also need to attend phone calls once a week, and you should attend events and presentations.
Team Fusion claims that it is a system that does the work for you.
---
Pros
Kyäni is a member of the Direct Selling Association
Sales commission starting at 20%
Good range of business tools
Natural products
30-day money back guarantee on the products.
---
Cons
Expensive start-up costs
Monthly auto-ship
PV  minimum
You need to have sponsor ID to enroll as customer or distributor online
Basic training
Different information about start-up costs
Three different apps – confusing
---
Verdict
From what I have observed and researched, it is all about recruiting new people into the Kyäni company. There is not much training regarding how to sell the product. It's all about sponsoring.
Considering the high start-up costs, it will be a tough task to recruit new people as distributors. So if you want to make money you have to work hard. Do presentations, talk to people, ring them and follow up.
If you don't know how to do that, you will most likely fail in within the first few months. The app seems an easy solution but no one is signing up by just watching a video or watching a presentation.
Nothing new and nothing exciting in my opinion.  A few people will reach the top ladder and the main percentage of people will only get a small piece of the cake. That's how it goes with network marketing.
---
Is Kyäni a Scam?
I rated them 50 points out of 100, so they are borderline between being legit and a scam. Considering they are having a good product, even though overpriced, gives them a few points.
But when I look at the expensive start-up costs and thinking about how many people you have to recruit and your downline has to sponsor so you can earn a decent income…! I definitely would stay away from this company. A lot of hard work for very little money.
You need to have a big social network in order to get a view recruits. And after that, you can't control how active your downline will be working on their businesses.
Click here to see the Kyäni Income report from the US in 2015 and decide for yourself. You still have to put expenses into account as well. There won't be much left in your pocket after all.
If I got any details wrong or if you have had any experience with Kyäni or any other MLM companies, please leave me a comment.
But before you go, here is some more info you might like to know about.
---
As promised, I am going to reveal how the researching of the Kyäni business opportunity has changed my life?
Over a year ago, I had researched Kyäni because one of my acquaintances had asked me if I'd like to join the company. And as you do, I did my due diligence and looked Kyäni up online.
It just didn't appeal to me for the reasons I have outlined before.
What I found instead has changed my life! The business model I am going to show you doesn't require
Calling people
Recruiting
Auto shipments
 Asking friends and family to buy off you
It is called Affiliate Marketing and is a legit work from home business opportunity.
It does require:
hard and consistent work
learning of internet basics
interest or passion for a niche of your choice
The end result will give you a long-term sustainable business.
---
How Do You Learn The Ropes? 
Over a year ago, I joined Wealthy Affiliate University where I learned everything I needed to know regarding building a successful online business. And I am still learning …:-)
It was the best decision I have ever made. I own three websites now and earn an extra income. My goal is to build it up to a full-time income in the next couple of years.
How Much Does It Cost?
All it costs is either only $49/month or $359/a  year. No additional costs or strings involved.
That covers all the costs to build an online business plus training plus website hosting and so much more
The best part is that you can sign up for free and you can stay as a free member as long as you want.
I hope to see you inside WA.
To Your Success!
~ Anke
---
Please note: this post contains affiliate links
HonestSuccessOnline.com is a participant in the Amazon Services LLC Associates Program, an affiliate advertising program designed to provide a means for sites to earn a commission by advertising and linking to Amazon properties including, but not limited to, amazon.com.  Amazon offers a small commission on products sold through their affiliate links.