This article is the second part of how to be successful in an online business – learn from the best. In case you've missed part one, here is the link. 
My notes are based on a live video class run by Kyle, co-founder of Wealthy Affiliate University and Jaaxy, one of the best keyword research tools on the internet.
---
If you would like to watch the video, please scroll down to the end of this post. Please note, to watch the video you have to create a free account with Wealthy Affiliate (no credit card required).
---
It was such an honor and privilege to learn from one of the most successful online entrepreneurs who has more than fourteen years of experience under his belt.
The first part covered the following topics:
Starting An Online Business From Scratch
Choosing A Niche
How To Structure Your Business
Affiliate Programs
---
What Are The Topics In Part 2
In this post, I will share Kyle's expertise on theses topics:
Keywords
Why Do People Fail
How To Grow Your Business As It Evolves
Some Questions And Answers
Let's get straight into it.
---
1. Keywords 
Some of the most common questions Kyle hears is 'How do I do keyword research?' and 'What type of keywords should I choose?'.
Kyle stretches the importance of choosing long tail keywords and the 'low hanging fruit.'
[If you want to know what these two terms mean, please read my blog post What Is Long Tail Keyword Research]
When you start out with a new website, it is important to concentrate on the low hanging fruit keywords. They usually don't get a lot of searches, but the essential part is the low number of competing websites (QSR).
In the first three months of establishing a new website, you will see very little traffic. But over time, the content targeting low hanging fruit keywords will accumulate more traffic over time.
With these types of keywords, you will have a better chance to rank in the search engines than with broad keywords that have a competition of around 250 or more websites.
Kyle's advice is to concentrate on a QSR under 100 or even better under 50.
Another advantage of using long tail keywords (which means long search phrases) is that you will get traffic for keywords you haven't targeted.
As an example: the keyword is 'How to make money online with affiliate marketing' is a long tail keyword and you can get ranked for phrases like 'make money,' 'make money online,' affiliate marketing,' 'how to make money' etc.
One single post could get ranked for potentially 50 keywords or more.
---
Let's Recap Topic Number One 'Keywords.'
Concentrate on a QSR of under 100 or less
Traffic will accumulate over time when you use low competition keywords
---
2. Why Do People Fail 
Over the past fourteen years, Kyle has seen a lot of people succeed with their online business but also a lot of failures.
The reason for failure comes down to certain habits and cliches people have.
What sets a successful and a failing business apart?
The first reason for failure, Kyle has seen is that people are focusing on the wrong things.  If people take the human element out of business and concentrating primarily on the process and techniques itself is one of the main reasons for failure.
Secondly, people get distracted by shiny objects and false promises.
They try and implement everything they have learned and want to apply it all at once instead of focusing on one thing and get good at it.
The mindset is critical: Approach and treat your business like a business!
He says, that building a business for three months and not earning anything is completely normal. So give yourself time and have the right mentality.
Unfortunately, fast success is something that many people grasp for in an online business.
Kyle finds it hard to comprehend why people want success in an instant. Everything we have accomplished in our lives hasn't come fast; we had to work for it. Why would it be any different in the online world?
His advice: make time for your business and be realistic about the process. Quick success is not a reality. If you have this mentality, then you will jump from product to product that will promise you overnight success.
---
Let's Recap Topic Number Two ' Why do people fail.'
They got the wrong mindset
They get distracted by shiny objects and false promises
They don't take the time to build a sustainable business
They expect fast results
The solution
Approach Business like a business
Make time for your business and be realistic
Work hard and be consistent
Develop positive habits
---
3. How To Grow Your Business As It Evolves 
The core of your business are the people that come to your website. And over time you want to increase your audience aka your traffic. Besides writing quality content, there are different ways to grow your business.
You could concentrate on Facebook ads, PPC (pay per click) or SEO. Become an expert in a particular strategy before you diversify.
Once you get rankings in Google and become more of an authority site, it is much easier to scale your business. It is only a matter of doing more of what you already are doing.
Be great at your niche and immerse yourself in it. Read the news, read magazines, set up Google alerts – that way you will never run out of ideas.
Kyle also mentions that it is okay to move on from one niche to another if you have lost interest. The second time around you will be more efficient in building a new niche site. But please, don't make it a habit. Don't jump from niche to niche. Give yourself enough time to build a new niche website.
---
Let's Recap Topic Number Three ' How To Grow Your Business'
Concentrate on one technique to grow your business
Become an expert in one strategy
Do more of what you are already doing
Be committed to your niche
---
4. Questions And Answers 
Out of the questions asked during the live class, I chose the most relevant ones.
Q. What would you recommend to convert people on mobile devices?
A. It is most important that the website is mobile friendly and responsive. You can check if your site is mobile friendly on here. Overall, keep your site simple.
Test, if whatever products you are promoting, that it is working on the cell phone as well.
---
Q. How do I truly become an authority in a niche?
A. Time is the best way to become an authority. It takes time to create a brand. Everyday action and time will eventually lead to it.
---
Q. Was there less competition when you (Kyle) started in 2002?
A. back then there were fewer affiliate programs and also lesser opportunities to make purchases online. It was more difficult than it is today.
More and more people are buying online today, so there are more opportunities to succeed online than back in 2002.
---
Wrapping It Up
I do hope you have found some valuable information for your online business. I was in awe after watching the video about the wealth of knowledge and expertise Kyle was willing and happy to share.
My biggest aha moments were:
Approach and treat your online business like a business!
Make time for your business and be realistic about the process – it takes time!
Connect with your audience through relevance!
What were your aha moments? What are you going to do differently? I'd love to hear from you. Please share your thoughts in the comment box below.
If you have missed part one, please click here or if you want to watch the video, click on the link below.
Please note, you will need to create a free account with Wealthy Affiliate if you'd like to watch the live class. (no payment or credit card required).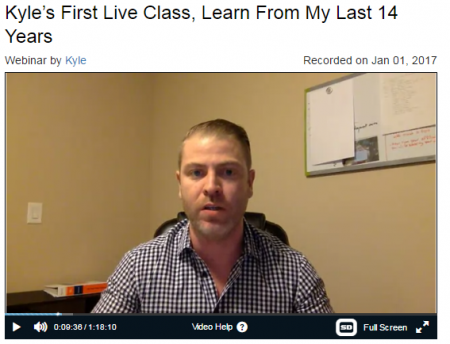 ---
Please note: This post contains affiliate links.