It has been two months since I published my first update on my niche case study.
It's time to check in and see if I stuck to my 'Plan of action'. My goal was to publish a post once a week and to buy a mini package from the Hoth to start building backlinks.
What you will read in this post:
What happened in the past two months
What is my action plan for the next three months (September until End of November)
Traffic stats.
---
Did I Stick To My Action Plan?
The clear answer is 'No.' I didn't manage to publish one post per week rather one post a fortnight. 🙁
My excuse? My other three websites were a bit time consuming and took much longer to maintain. I wrote a couple of guest posts for my family travel blog and also decided to put more effort into the world of Pinterest.
Since the Christmas holidays are not far off, I needed to update a few Christmas related articles on my travel blog as well.
At the moment, my niche site has six pages and 11 posts; mostly buying guides, product reviews and a couple of informational posts.
Regarding buying a Mini package from the Hoth, I decided to leave it for a bit later until there are a few more posts on my site.
What I did manage to do though was opening a Pinterest business account.
---
My Plan Of Action For The Next Three Months
Okay, here is my plan of action:
publish one post per week; that means in three months to come I need to write 12 articles
get a Hoth package to start building backlinks
write more informational posts plus a Christmas related buying guide
Increase Traffic
---
How About Traffic And Sales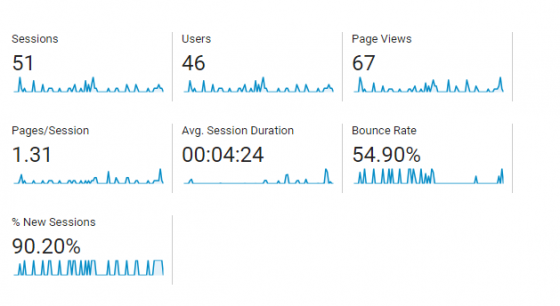 All up, 46 visitors came to my site and spent an average of four minutes on it.
Where did the traffic come from? Here are the stats: 32 – direct; 12 – Google; 2 – Facebook; 2 – Pinterest.
No sales so far but a few of my keywords are ranking on the second and third page of Google and Bing. It hasn't translated into sales and lot's of traffic yet.
---
Summary
In general, not very exciting news. Do I give up? Heck no!
I expect my first sale not later than in the next couple of months. Finger's crossed!
In about three months, I will post an update and hope that my prediction was right.
I am looking forward to more traffic and better rankings in the leading search engines like Google, Bing, and Yahoo.
By the way, I am checking my rankings with the SiteRank feature in Jaxxy.
It will be interesting to see if the Black Friday Sale in November will make a difference.
Until then, I will be keeping up with posting content on a regular basis.
Missed my first update? Click here to read more.
Do you want to start an online business, build a website and start earning money? Check out my review for my #1 recommended online learning platform.
---
If you have any questions or feedback, please leave them in the comment box below.
[mailerlite_form form_id=3]