What makes a successful online business and what do you need to succeed in online affiliate marketing? The obvious things are probably clear.
Personal characteristics like resilience, determination, staying focused, sharing knowledge, helping others are imperative to become a successful business person.
But when you are your own boss, only accountable to yourself then there is one thing that will help you to keep going when building an online business gets tough. At some stage, you might hit the wall because there are only a few visitors to your site or you only get a few sales.
There is an African proverb I would like to share with you: "If you want to go fast, go alone; if you want to go far, go together."
In the world of online affiliate marketing, you are by yourself, but I will show you how you can 'go together.'
---
My Secret Ingredient 
As you probably know, I have been a member of Wealthy Affiliate University for quite some time now. I wrote an in-depth review about WA a while ago, and the secret ingredient can be found inside this amazing online platform.
As a member of WA, you will be a part of a huge community of like-minded people who are united by one goal: building a successful online business.
What this community can give you is priceless, and that is my secret ingredient that will help you achieving whatever your goals are.
– SUPPORT –
I am going to show you the different ways of support you will get at Wealthy Affiliate.
---
Setting Up Your Profile
If you create an account with Wealthy Affiliate, either a free starter account (no credit card required) or a Premium member account, you will be asked to add a profile photo and write a little blurb about yourself.
In my opinion, this is a significant step. Ideally, you want to introduce yourself and find people that follow you, and you can follow them.
What is the purpose?
Because you are becoming part of a community, other members want to get to know you and most of them offer their help and support. And that is so much easier when you find out more about the person behind the name and the picture.
Here is a screenshot of my profile page and I already marked three important areas: my blog, questions, and training. Let's have a closer look.
---
My Blog
As a premium member,  you have the option to write blogs about your experiences, your success, your frustrations, anything and everything but mostly business related.
Your followers will get notified by email about your blogs and can then check them out, like and comment on it. The comments are always encouraging and empowering and will help you to keep going no matter what obstacles you are facing.
The support by the other members is simply amazing. I have learned so much just by reading blogs and comments; it's mindblowing.
---
The Questions Area
Do you have an issue with your website, don't know how to add an image, an affiliate link, how to go about email marketing, SEO, keyword research…..(the list goes on)? There are two options how you can solve the problem.
You can ask a question. (refer to my link) In within a few hours, you will get answers from other members.
 Here is a question I asked a while ago. I received three replies from my peers and was able to get my problem sorted.
2. Use the search bar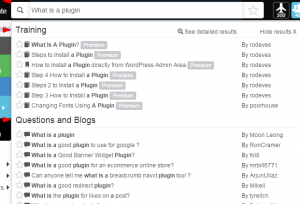 As you can see in the screenshot, I typed in 'What is a plugin" and you can find answers under the Training section or Questions and Blogs
Either way, you will find answers straight away. If you can't find what you are looking for, then use option 1 and ask a question.
I am always amazed at the wealth of knowledge available to everyone.
---
Speaking Of Training
Once you have been a premium member for more than three months, you can create training tutorials or training videos. This is a great way of sharing with the community. You also earn credits aka money when you publish a  training tutorial.
It is a win-win for everybody.
---
Last But Not Least – The Live Chat 
The live chat is available 27/7 and is cool when you have urgent things to discuss or need help in other ways.
I must admit, I have never used the live chat option. But I know it gets well used.
Even Kyle, the co-founder of WA is chiming in with a comment now and again.
---
Wrapping It Up
The support I have received by my fellow peers on WA is incredible, and I am truly grateful for it. I wouldn't be where I am today without the encouraging and inspiring comments, success stories and sharing the difficulties from like -minded people from all over the world.
Support is one of the secret ingredients that will help you to succeed in online affiliate marketing.
Everyone is working towards one goal, in their own unique ways: Achieving success with our online businesses.
Remember the African proverb?
"If you want to go fast, go alone; if you want to go far, go together."
Wealthy Affiliate provides the tools. It is up to me how I use them.
Would you like to know more? Read more on my FAQ's page.
If you want me to join on Wealthy Affiliate, click here to create a free account (no credit card required) and check it out for yourself. I hope to see you there!
---
Please note: this post contains affiliate links.