Are you looking for a work from home opportunity with flexible hours and a product you really like? Welcome to my Buskins Leggings review.
My detailed review will help you to find out if you should become a Buskins Leggings Affiliate or if you better look elsewhere.
I will walk you through the joining process, the earning potential and hopefully help you to make a decision at the end whether or not Buskins Leggings is a great opportunity for you.
To be upfront,  Buskins Leggings is not an MLM company with all these glamorous promises of making lots of money. It is rather a direct selling business with a somewhat modest compensation plan that is paying out commissions two tiers deep.
Without further ado, let's get started.
---
Want to make money without selling or recruiting? Read more how I earn passive income each month on autopilot.
---
Should You Become A Buskins Leggings Affiliate? [Review]
What Is Buskins Leggings

I guess the name says it all, Buskins is a direct-selling marketing company that has specialized in producing and selling leggings for infants and adults.
The company is based in Murrieta, CA.
They have been in business since 2014 and are operating now in 6+ countries including the UK, Canada, New Zealand, and Australia.
Cherish Lytle is the founder and CEO of this company which is run entirely by women.
According to Buskins website, they now have over 40 000 affiliates worldwide.
---
The Buskins Leggings Products

Thankfully, even though the company's name is 'Buskins Leggings', they have a few more products on offer. Have a look at the shorts, tops, activewear, or colorful hairbands that will appeal especially to young girls.
The range of leggings starts for infants and babies and goes up to adult sizes including plus size leggings for the more voluptuous women.
The matching leggings for mom and daughter are really cute and I can imagine they are much loved by many.
Buskins Leggings have also a couture line which is quite expensive at around $100 compared to the 'normal' range.
How About The Quality
Buskins Leggings prides itself to have exclusive patterns but according to negative reviews online this is not always the case.
Customers have also complained about the poor quality of some of the leggings with wholes appearing after a short time and fading material.

And here is another one written by a Buskins affiliate.

You can find more reviews and complaints on BBB.org.
Moving on…
---
How To Join Buskins Leggings As An Affiliate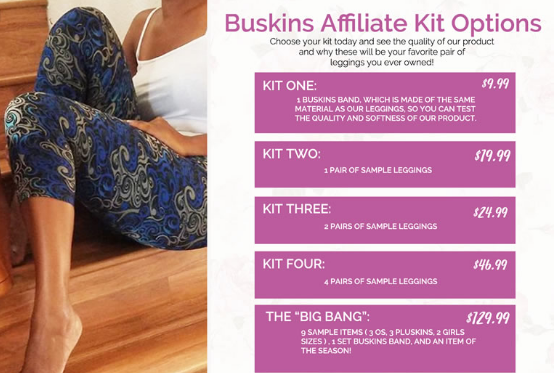 You can become an affiliate with Buskins for as little as $9.99 plus a $15 monthly membership fee.
The most expensive option is the 'Big Bang' with 9 sample items and costs $129.99.
For the $15 membership a month you'll get:
Your own Buskins replicated website with your own web address and contact information;
A Trunk Show scheduler, order tracker, company-paid host rewards, e-vites and more
A back office suite of tools to manage all aspects of your business;
Hold live and/or virtual Trunk Shows (show and sell!);
If you build a team, you can track all of your team's activity;
Social Connect: Keeps you in contact with the company and the team;
Live Chat capability with your customers;
Accept cash, or charge cards from your show customers
I do like the ability to have a live chat with my customers on my personalized website as well as a trunk show (party) scheduler.
If you are planning on doing lots of parties, it may be best to get a few clothing items to showcase. But it is not necessary since you could run your business entirely from your website.
---
Show Me The Money
Since Buskins Leggings is a direct-selling company, the compensation plan is very easy to understand. It's simple and straight forward; no complicated points system, a left leg and right leg and so on.
You start off as a Trainee with a basic commission of  20%. Once you advance to Affiliate you'll earn 25%, Master Affiliates get 30%, Distributors 32%, and Master Distributors get 35%.
I am not too sure about the requirements to advance in ranks but I do know that you don't need to meet monthly quotas.
Affiliates to Master Distributors get a 5% commission for sales from their recruits in the first tier. The second tier pays out 1% for Distributors and 3% for Master Distributors.
On top of that, you can earn a monthly recurring commission of $2 on each first tiers membership.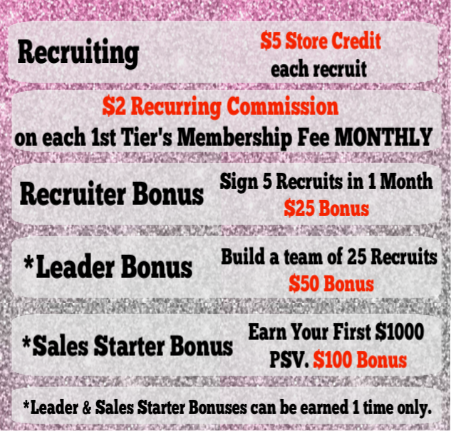 The image above shows the bonus payments which are quite low in my opinion. A leader bonus of only $50 for 25 recruits! That is nothing considering how difficult it can be to sponsor people.
There is also a Fast Start Program which rewards the newbie but also the sponsor. For example, if you reach $500 in Personal Sales Volume (PSV) you, the newbie gets $50 and the sponsor earns $25.
If you sponsor three recruits, you'll earn $25 and your sponsor $15.
You can also qualify for incentive trips.
---
Can You Make Money With Buskins Leggings
This question is a tough one to answer simply because Buskins Leggings has not published any income disclosure statements.
A starting commission of 20% is not really too exciting and the bonus payments for sponsoring and on team sales are pretty modest.
Another factor to consider is that clothes are not consumable products like skincare, makeup, or nutritional supplements. Therefore it is way harder to get repeat business.
So my guess is that Buskins Leggings may be good as a side gig but to earn a full-time income is a completely different ball game.
Due to the low start-up costs, it may be easy to sponsor new affiliates quickly but direct selling is not easy and many people give up along the way.
---
---
Should You Become A Buskins Leggings Affiliate
Before I answer this question it's important to have a look at the Pros but also the Cons of this direct-selling opportunity.
Here Are The Pros Of Buskins Leggings
The low-start up costs make it easy for any person to join. The compensation plan is easy to read and understand.
Buskins Leggings offers a 14-day money back guarantee and a 30-day exchange policy which is great for customers. The shipping costs are free; there is only a small handling fee to pay.
I do like the business toolset which includes a personalized website with some cool features like the opportunity to chat live with your customers, or the trunk show scheduler.
Speaking of the Trunk Show aka party. Buskins pays out at least 10% of the sales as hostess credits. There are no complicated requirements, only one: party sales must be at least $175 to qualify for hostess rewards.
The Cons Of Buskins Leggings
Quite frankly, I was not impressed with the negative reviews on the Better Business Bureau where Buskins Leggings only scored a rating of F.
All up, 19 complaints have been filed reporting poor customer service, missing orders, and disappointing product quality.
On top of that, there are also 27 reviews to view that report similar issues as stated in the complaints.
For such a young company, that is a big no-no. If they want to be successful in the direct-selling game, Buskins Leggings has to provide top notch customer service and high-quality products.
The compensation plan is not really that exciting and I doubt that one can make a good income with the company. Unfortunately, Buskins Leggings still hasn't provided an income disclosure.
Also, you need to keep in mind that the products are not consumable. That means it is less likely to have consistent repeat business. So really, as an affiliate, you need to be looking consistently for new ways to increase your customer base.
Have I mentioned that the party plan business, is a bit outdated as well? Buskins Leggings website doesn't look too inviting for people to book a party.
---
My Verdict
Even though the start-up costs are low and the ongoing monthly membership costs of $15 for the business tools and websites are manageable, I personally would not become an affiliate with Buskins Leggings.
The compensation plan is not very exciting, and the negative customer reviews don't speak for the integrity of the company.
There are lots of things Buskins Leggings can improve on. Only time will tell, how they will manage in the future.
Ultimately, the decision of whether or not you are going to join Buskins is up to you.
My preferred business model is affiliate marketing where I don't have to sell or recruit and still earn a passive income.
If you feel like you want to build a real business, please join me on my favorite online training platform Wealthy Affiliate. 
Learn how to build an online business step-by-step. I would love to see you inside.
Chat soon!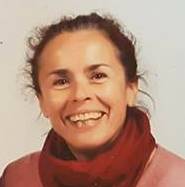 ~ Anke
Connect with me on Wealthy Affiliate