Recently, I have seen comments and questions about Home Job Group and concerns that it is just a scam that will empty your wallet just a little bit more.
I decided to have a closer look and check the company out. Home Job Group claims that they can find real jobs for working from home. My post is based on my research and reflects my own opinion. From what I've found I am not going to join this group, not even for research reasons.
My post is based on my research and reflects my own opinion. From what I've found I am not going to sign-up with this company, not even for research reasons.
So many people nowadays are looking for work from home jobs, so Home Job Group targets a wide audience with their service. More and more people are looking for an opportunity to escape the 9 to 5 grind and to work from home.
[Read here for my post Work From Home Jobs That Are Not Scams.]
Let's get down to the nitty-gritty.
---
Company: homejobgroup.com 


Founder and CEO: Anne Wilson
Fees: $14.95/$49.95/$99.95
Rating: 10/100
Apparently, this company was founded by Anne Wilson in 2006. She decided to create this business to help people to find a job at home work opportunities.
Home Job Group basically connects the hiring company with people who are looking for a work from home job.
That sounds all pretty fine and dandy, but when I looked a bit closer at the website and what they offer, a few alarm bells started to ring.
---
Who Is Anne Wilson?
I haven't found any information about Anne Wilson on the internet whatsoever. No videos on YouTube to promote the business or anything like that.
So, I wonder if Anne Wilson even exists.Wouldn't it make sense to promote your business on social media or have a LinkedIn account?
One review I have found states, that the photo of Anne Wilson is taken from an image provider.
I also found different dates of when Home Job Group was founded. The years range from 2006, 2007, to 2009.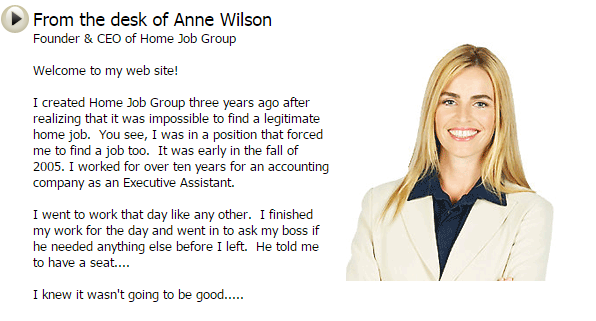 Not a good start!
---
Some Facts Stated On The Homepage
Home Job Group is an online job search engine that has 25 different job categories and also offers jobs globally. The company has helped over 290000 people to find 'a real job.'
I put Home Job Group's search engine to the test and typed in my job search and used my German email address and got the following result.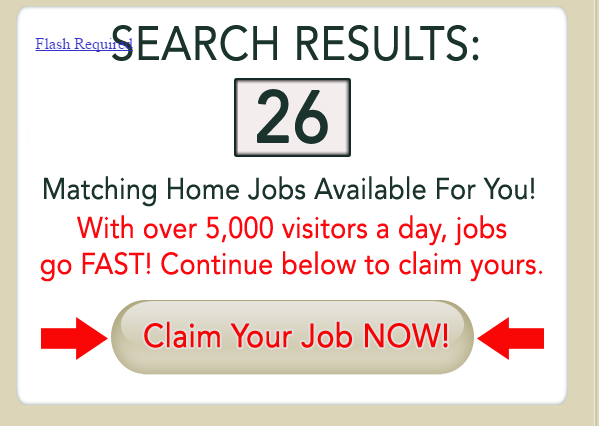 I typed in a job search again, this time with a different email address, different job request, and New Zealand as a country. Guess what: I got the same result – 26 home jobs are available. Very strange to say the least.
Carry on …
---
You Have To Pay  To Gain Access To Job Offers
To have access to the job offers from Home Job Group, you have to pay a membership fee. There are three different options to choose from.
Basic Membership for  $14.95/month: It gives you access to the basic home job database. Support staff will help you with questions. You will have access to the membership area for two months. You will not receive updated job data.
Premium Membership one off fee $49.95: the membership never expires. It gives you access to the premium database which has 1500 jobs on offer. You also have access to a private area that has handpicked jobs, picked personally by Anne Wilson. Bonus: Credit Repair Ebook and Resume Writing Kit.
Ultimate Placement Service Membership one off fee $99.95: the membership never expires. The company also offers an exclusive service. You only need to fill in a short application form, and they do the work for you e.g. stay in touch with the potential employer and follow up etc. Bonus: access to Home Job Group Library, Credit Repair Ebook, Resume Writing Kit.
Home Job Group offers a 60-day money back guarantee for all three memberships.
---
Some More Things I Noticed
Home Job Group claims that Privacy, Security, and Business is certified by Veri-Corp. Well, they don't exist anymore.
They also claim to be #1 ranked for finding a home job by "accredited websites" like HomeJob Advice.com (doesn't exist anymore) or HomeJobResearch.com founded by Jennifer Krause who's story, by the way,  sounds just like Anne Wilson's story.
Or, another one called scamfreeonline.com. Interestingly enough they promote the same products like HomeJobResearch.com and have the same affiliate links inserted.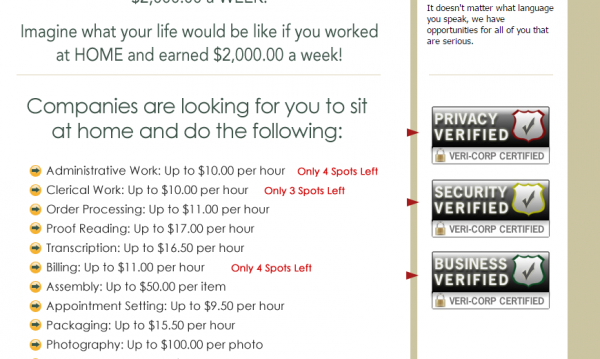 ---
What Are The Pros And Cons
Pros:
60-day money back guaranteed. Since Home Job Group is a vendor on Clickbank, the chances are that you will get your money back. But, I searched on Clickbank and couldn't find Home Job Group in there at all. So I am not too sure what the story is.
Cons:
I dislike that one has to pay a fee or a membership to find a job. It is a very unusual practice. Also, the bonuses you will get, once you sign up, are claimed to have a value of over $350. You can get similar books on Amazon for a few dollars.
Veri-Corp doesn't exist.
Websites who are recommending Home Job Group (as stated on their homepage) either don't exist anymore or some of them belong to the same person.
The search results in the Job search show always the same number (26), no matter what country you are from or what position you are searching for. Looks dodgy to me. It might be a marketing tactic to create urgency to get people to sign up for the membership.
Does Anne Wilson, the founder, and CEO, exist?
---
My Verdict
To be honest, I would be very cautious with the Home Job Group. There are too many Cons for my liking.
There is no guarantee that you will find a job with the help of this company.
The only good part is their 60-day money back guarantee. Since Home Job Group is associated with Clickbank, chances of getting a refund are good.
But, as I said before, I couldn't find Home Job Group as a vendor on Clickbank at all. So if anyone has information regarding this matter, I would be grateful to hear from you.
Home Job Group has jobs like a virtual assistant, transcriptionist, graphic designer, article writer and proofreading on their database.
If you are looking for jobs like that, I would recommend to check out upwork.com or fiverr.com. It doesn't cost anything to join and they have tons of work from home jobs available.
If you are looking to build an online business, check out my #1 recommended training platform. You can read more about it here.
To Your Success!
~ Anke