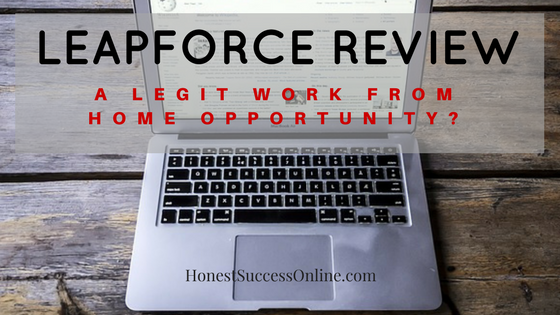 Many people are looking for legit Work from Home opportunities. Unfortunately, many of these jobs don't keep up with their promises and some are plain spam.
Leapforce is a company that offers job opportunities for those that want to have flexible hours, no set work hours or schedule, and would like the benefits of running a home-based business.
My Leapforce review will give you in-depth information if this company is legit and worth your time and effort.
My review will cover:
What is Leapforce?
What do you have to do?
How much and how often do you get paid?
What are the requirements?
What are the Pros and Cons?
In general, my research has shown very mixed reviews of people who have worked for Leapforce ranging from being very happy with the company to being absolutely dissatisfied.
Read more about my #1 recommendation for making money from home.
Without further ado, let's get started.
---
My Leapforce Review 
Company: leapforce.com
CEO: Daren Jackson
Job Title: Search Engine Evaluator, Internet Analyst, FB Ad Rater
Hourly Rate: Around $13/hour; please note: you have to pay tax at the end of the tax year
Joining Fees: No joining fees required
Overall Rating: 70/100
Leapforce offers a legit work from home opportunity but with some downsides to it. It's a good opportunity for people who don't like to sell, speak on the phone or recruit. For more information read my in-depth review.
---
What Is Leapforce At Home?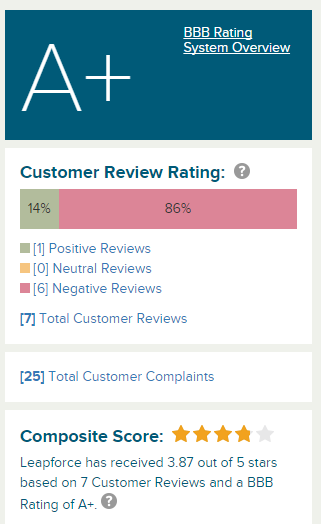 Here is a bit of background information about the company. According to the BBB, Leapforce has been in business for over nine years.
It's been a BBB accredited business since July 2011 and has a rating of A+.
Leapforce is a company that offers people flexible work from home job opportunities. If you pass Leapforce comprehensive requirements, you become a Leapforce At Home Independent Agent.
That means you will be an independent contractor, so you have to pay tax on your earnings at the end of each tax year.
There are no fixed hours the company offers you. It depends on the number of contract work Leapforce can require and passes on to their agents.
That means that you can't expect to work set hours a week e.g. you may need 20 hours a week to cover your living expenses.
With Leapforce, it will vary from week to week, so there is no steady income guaranteed.
Leapforce hires agents in multiple countries e.g. US, Canada, India, Sweden, Germany, Australia just to name a few. For a comprehensive list, check out their website.
---
What Do You Have To Do?
The good news is, that this contract work doesn't include any phone calls or recruiting whatsoever. That is great for people who don't like being in sales jobs or dislike speaking on the phone.
You basically work on the computer and conduct internet-based research. The aim is to evaluate the researched information for leading companies worldwide.
The job title varies form Seach Engine Evaluator to Internet Analyst, Facebook Ad Rater, or Customer Service Evaluator.
So if you enjoy online research and evaluation, then becoming an independent agent for Leapforce might be a great choice for you.
---
What Are The Requirements?
First of all, since you work from home you need to be self-motivated and able to work independently. You need internet access, an area at home where you can work, and, of course, a computer.
Anyone older than 18 years can apply online and send a recent resume to the company.
Once the application is completed, you will have to pass a three-part qualification exam.

Many people who have applied with Leapforce found the test rather cumbersome and difficult.
Before you take the test, you will be sent a 165 page PDF file and work through it. You then have to answer multiple questions based on the PDF file. Some reviewers found it very time-consuming.
Others had no difficulties to pass the test. If you don't pass you can redo the test. Overall, the entry test seems a bit tricky and takes a lot of time.

Requirements (in a Nutshell)
Minimum age 18 years
Internet access and own computer
Need a valid Tax Identification number
Apply online and send a resume
Be prepared to take and pass a three-part qualification exam.
The whole application process will take around two to three weeks.
---
Read more about how I make over $500 in residual income each month and how you can do it too.
---
How Much And How Do You Get Paid
You'll get paid once a month by direct deposit into your bank account.
In order to get paid, you need to invoice your hours to Leapforce. One agent states that you can't bill the actual time it took to do the research. You only get paid the time the company has estimated it should take to do the task.
$13/hour seems like a lot but you still need to pay income tax and take the costs of running your internet and computer into account.
You won't get reimbursed for business expenses like costs for internet, the computer or the power bill.
Leapforce provides a 1099-Miscellaneous Income Form for the end of year tax.
---
Pros And Cons Of Working For Leapforce
As I have mentioned before there are very mixed reviews online from people who have worked for Leapforce At Home.
I have found complaints and positive feedback on the BBB website as well as on glassdoor.com.
Let's Have A Look At The Pros
You can work flexible hours and choose your own hours.
It is a fun job that doesn't require any phone calls.
The guidelines are straightforward.
Good as a second source of income.
Payment is good and on time.
Good training program.
Here Are Some Of The Cons
It can be hard to pass the exam which is also quite time-consuming.
It takes a while to qualify for projects which means getting more work can take a while.
Repetitive and tedious work (for some people).
The actual time you have been working on a project is not billable only the time the company has estimated it should take to complete the task.
Your work gets reviewed on a monthly basis which can be nerve-wracking for some.
The contract can be terminated without notice and reason.
You don't get paid for the training which can be quite extensive.
---
My Verdict
Leapforce At Home is a legit company that offers work from home opportunities for people who like to do online research.
The great news is that you don't need to sell anything or make any phone calls.
Some of the cons mentioned in here have to do with the nature of working as a contractor e.g. no paid training, no paid vacation, and also that the contract can be terminated at any time.
The company should still give reasons and plenty of notice to the contractor though.
This job opportunity is probably not suitable for people who need a certain amount of working hours a week to cover living expenses and to pay their bills.
It might be a good opportunity for people who are looking for a second income.
 Learn How To Make Money By Building An Online Business, and work from home or anywhere in the world.
I dislike the fact that you can't invoice your actual working hours.  That means you might have to work longer on a project as expected and don't get paid for it.
It would be also great if Leapforce would guarantee at least a few set hours a week.
Therefore my overall rating is 70 out of 100.
Please let me know if you have worked for Leapforce and share your experience with us. I'd love to hear from you.
---
Be sure to check out my #1 recommendation for working from home and making money online.