Do you know what my favorite part is when I discover a website in the MMO (make money online) niche? Yes, you guessed it – the income and progress report.
For me, it is like magic how one can earn money by blogging and creating a website. The revenue streams vary from using affiliate links, GoogleAdsense, paid ads, eCommerce shops and so on.
There is always a process involved for a blog/website to gain trust with their readers and trust with Google, Bing, and Yahoo. My aim is to show you how my site will be growing from its start with all the ups and downs. I am calling them my Progress Reports.
What Is The Purpose Of My Progress Reports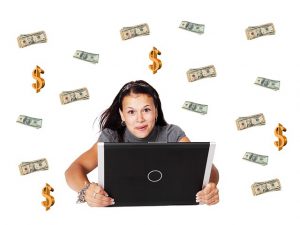 I want to share my success but also failures. I feel very passionate about my site and the information I am going to share with you.
My progress reports will show you what is possible in the world of affiliate marketing. The MMO niche is highly competitive. So does it make sense to add another site in within this niche?
Yes, I think so. I have my on view and unique take on things that will resonate with some people, and it won't work with others.
I want to inspire you to go on your own journey. I want to encourage you to check out if an online business is right for you.
For most people, their enthusiasm fades away after a while. If you still love writing content, researching and connecting with your readers after 12 months or longer, well, this is for you.
I love what I am doing, and I am looking forward to writing the next post, and the next, and the next ….:-)
What About Income Reports
Well, I have sad news for you. I am not going to publish any income reports. In my opinion, it is nobodies business even though it's cool to learn how much money you can earn online.
The sky is the limit and highly depends on the amount of work you put towards building your website(s).
But back to me. What I do like to share is the progress I am making and how close I will come to my goal to earn a full-time income. My definition of a full-time income is at around $4000 – 5000/month.
My Goals For 2017
First Things First
My website HonestSuccessOnline.com was born on December 3, 2016. This is my baby and I am planning to nurture it and let it grow to a respectable website with a wide audience.
So my site is very young, only two months old. In terms of reaching an audience, I have to get ranked in Google.
So far I have a few organic searches maybe one a day.
My Plan/Goals
Posting Schedule
I have established a regular posting schedule of twice a week. My publishing days are Tuesday and Saturday. That means for 2017 to publish 104 posts for the year.
Traffic/Vistors
In terms of visitors, I want to increase the number of readers from basically zero to about 150/day by the end of 2017.
Promotions
As you might be aware I am actively promoting Wealthy Affiliate University, my #1 recommended online training and hosting platform. I'd love to get lots of starter and premium referrals through my site to WA.  My goal is to get 50 premium referrals by the end of this year.
I am genuinely interested in every single one of you. I want to be your mentor and would love to be part of your journey to your personal online success.
Email Marketing
I know from my other two sites that it is challenging to get subscribers to an email list. I need to create a lead magnet like an eBook as an incentive for new subscribers. My goal here is to attract around 100 subscribers.
My Accomplishments So Far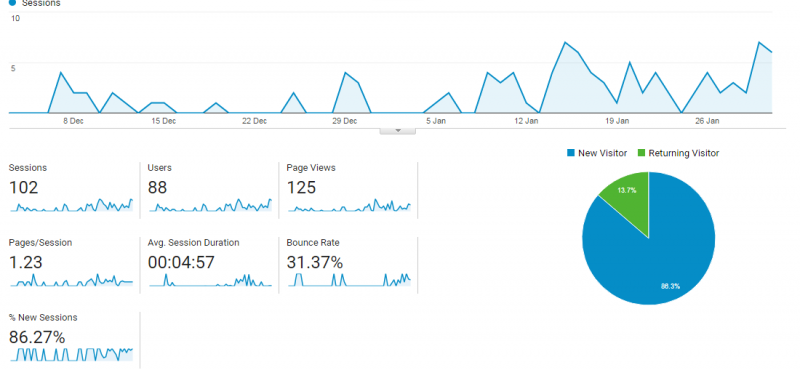 As you can see on the screenshot, from the beginning of December 2016 until the end of January 2017, I had 88 visitors with an average session duration of 4:57 minutes. Not too bad. 11 visitors left a comment. Keep it coming!
I put up a sign-in form for my email newsletters but no subscriber yet.
I created a Facebook business page but haven't done much to promote it. The promotion part will come later, maybe in the second half of the year.
My Focus For Now
My primary focus is creating more content; each post will be between 1000 – 2000 words. These posts will be the foundation of my site.
Building a strong foundation is essential for the success of my website.
Some of my key posts so far are:
How To Make Money With Affiliate Marketing For Beginners
Seven Common Mistakes You Should Avoid In Affiliate Marketing
My Honest Wealthy Affiliate Review
What About Wealthy Affiliate – Some Common Complaints
Please check them out and let me know what you think.
My Final Thoughts
Okay, folks, that is me for now. I am looking forward to sharing my next progress report at the end of this year.
I do hope the success will be greater than the failure. But hey, we can only learn from our mistakes, right?
It is an exciting journey, and I do hope you will find some inspiration in this post.
Please feel free to leave a comment below. I'll answer all of them. 🙂