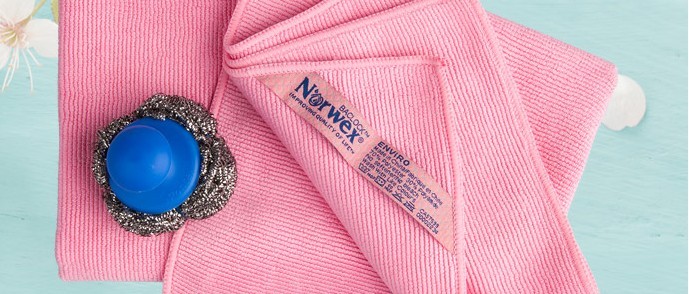 Welcome to my Norwex review where I am talking about not only the product range but most importantly if this is a real business opportunity for you.
It is always a good idea to do your due diligence before getting involved in a new business venture.
Even though the company has been around for nearly 25 years, I have found it challenging finding lots of information regarding the compensation plan or income opportunities.
Norwex is also not a member of the Better Business Bureau or the Direct Selling Association (DSA). Being a member of both speaks for the integrity of a company whose business model is based on direct selling or selling via party plan.
Let's have a closer look at what Norwex has on offer for customers and consultants.
---
Read how I make over $700 a month without direct selling and MLM and learn how you can too.
---
What Is Norwex All About 
Norwex is a Norwegian based company which was founded back in 1994. This direct selling company has based its core concept on "Clean without chemicals" and introduced a microfiber cloth that cleans your house without the need of harsh household cleaners.
This environmentally friendly approach proved to be so successful that Norwex has expanded to more than 13 countries including Canada, Australia, New Zealand, Germany, The UK, and Sweden – just to name a few.
Bjoern Nicolaisen, the co-founder, and CEO of Norwex has proven to be a successful leader over the past 25 years.
We do like the Norwex mission statement to improve the quality of life by radically reducing chemicals in our homes.
This leads us to the product range of Norwex.
---
The Products
It all started with the 'miraculous' microfiber cloth in 1994 but since than Norwex has increased their product range from cleaning products to skincare, bath and body care as well as products specifically designed for kids.
Norwex offers a 100% satisfaction guarantee. If you are not happy with the product the consumer has 60 days to ask for a refund, replacement, or exchange of the product.
They also offer a 2-year warranty for the microfiber cloths.
Customers are in general very happy with the products but some complaint about the higher price tag for similar items.
I have found that products of direct selling companies are usually higher than products you can by elsewhere.
However, Norwex customer guarantee is outstanding in my eyes.
---
How To Join – The Norwex Business Opportunity
Joining Norwex is easy as with any other direct selling company. You'll need a consultant as a sponsor, fill in a form and order your starter kit which is worth around $200.
Norwex offers sometimes specials when you can join the company for $10 and receive the Party Starter Pack for free. But, in exchange, you'll need to have $2000 in sales in the first 90 days of being in business. Otherwise, you'll have to pay the $200 for the starter kit.
The commission on sales is 35% and Norwex says that a party in the USA averages around $600 in sales. That means you'll need to have at least 4parties in the first three months; more parties would be even better because lots of times you'll find that people cancel their parties or there are not enough people who would like to buy stuff.
I haven't seen much regarding training opportunities for new consultants. I am speaking from experience when I say that it is not easy to book parties, doing hostess coaching, and overcoming objections.
People are busy and getting them excited about holding or attending a party about mainly cleaning products is a tough call.
So, if you are a Norwex consultant I'd love to hear more about how they train their consultants. Without developing sales skills, a new consultant will get frustrated and easily give up, no matter how great the product is.
---
The Compensation Plan
Information about Norwex compensation plan for consultants is hard to come by but I have found a video that explains it quite well.
So basically your personal sales commission on the products is 35%. That means if you have a party with $600 in sales you'll earn $210 in sales. Not too bad!
If you sponsor 3 consultants and all of you have $250 in sales in the same month then you will get a 3% commission on their sales the following month. That is the level of being a team coordinator.
From there, you can become a Sales Leader and Executive Sales Leader.
Earning a commission on the sales of your downline provides the passive income for your business.
Overall, the compensation plan doesn't seem to be too complicated and the commission of 35% is generous.
---
Pros And Cons Of The Norwex Business Opportunity
There is a lot to like about Norwex but I can also see a few cons.
The Pros Are
I do like the "green" approach and the mission statement to clean without the use of harsh chemicals.
Norwex is a solid company with being in business for nearly 25 years.
It is easy to join and the start-up costs are reasonable.
Great product guarantee which in return will build trust with customers.
The Cons Are
Norwex is not a member of the DSA or the Better Business Bureau
There doesn't seem to be a lot of training resources for new and existing consultants
The party plan sales method is somewhat old-fashioned and is becoming harder to maintain in times of ordering online.
The excitement about cleaning products might be challenging to keep going.
---
Final Thoughts/Verdict
Norwex is not a scam for sure and offers a business opportunity for people who would like to work flexible hours, want to get back into work, or just want to earn a bit extra money on the side.
In my point of view, there is no risk involved in joining Norwex but I do feel that it is challenging to build a team and to book parties on a consistent basis.
Unless you are such a talented sales person and have a huge network of friends and families, your business venture will not last very long.
In order to make sales and to sponsor new consultants, you must book parties.
That is tough in our society where most people are ordering stuff online or are simply to busy to come to a party.
Even if you are able to sponsor new consultants, you are only earning a commission when they make monthly sales. Many people may start and will finish quickly as well.
I assume that most people who want to get involved with Norwex are keen on getting the products at a cheaper price.
Please let me know if you have had any experience with Norwex. I'd love to hear from you.
---
My Experience With Direct Selling And MLM
I had been a consultant with a direct selling company for over three years so I speak from experience when I say it takes a lot of hard work to be successful with this kind of business model.
I've learned that trying to sell to people is not my thing. Ringing potential customers, traveling for hours to do presentations without sometimes getting any sales was tough going.
I know of people who were super successful but they were working consistently.
Well, looking back I'd say it was a huge learning curve but not what I was looking for in an ideal business. In reality, the hours weren't exactly flexible, instead, I had to work in the evening and on weekends.
For the past three years, I have been building my online business that doesn't involve recruiting or calling people at all. Now I can work whenever and wherever I want to work with only a laptop and an internet connection.
Learn more about this business model and my #1 recommended online training platform and see if it is right for you.
Quite frankly, it is not for everyone. It takes at least 6 to 12 months of consistent work to see the first results aka earning money.
Once you get the foundation, you will earn passive income for years to come. All it takes is good training, consistent work, and taking action!
Ready to take the leap? Sign up here for free!
---
[mailerlite_form form_id=2]