Welcome to my Princess House review where I am focussing on the work at home business opportunity for women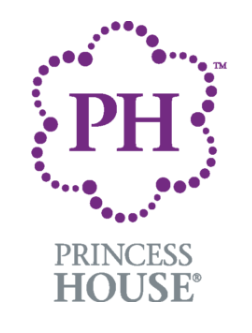 this direct selling company offers.
I won't be going into too much detail about the product instead look at the income potential and if it is worth your time, money, and effort.
Direct selling is a huge magnet for people, especially women, who are looking to escape the 9-5 grind, want to have flexible hours, a higher income potential, or seeking to join the workforce after being a stay-at-home mom.
I had been an independent consultant for another direct selling company for four years and know a few things about what is required to be successful in the business.
Read more about my #1 recommended business opportunity (not direct selling or MLM) that changed my life here.
---
Princess House Review
Princess House has been a long-standing party plan company with 55 years of experience under its belt. Founded in 1963 by Charles Collies, it developed from a company that primarily sold high-quality crystal ware to products ranging from bakeware, cutlery, dinnerware, and more.
In 2012, Connie Tang became the new CEO and president of Princess House to make necessary changes to ensure the future success of the company.
Her experience in the direct selling industry with being the president for Jafra cosmetics for four years was much needed to increase PH's revenue and to develop new directions.
According to Direct Selling News, Princess House increased their revenue consistently for the past few years.
Princess House is a member of the Direct Selling Association and also of the Better Business Bureau with an A+ rating.
---
The Products
Even though my post does not review PH's products and their quality, I still think it is important to mention a few things.
Princess House now focusses on 'healthy living' as a new marketing strategy. They developed and launched a cookware line called Vida Sana, that helps to retain 67% of nutrition in the food. It also cooks food  29% faster than regular stainless cookware.
The good news is that the cookware comes with a lifetime warranty, but the prices are unfortunately very high. As a matter of fact, they are hugely overpriced.
A three-piece cookware set retails between $300 and $500 which you can get for less than $100 over on Amazon.
It is also worth mentioning that currently, the products are not available to order online. That means you have to allocate a distributor first so you can place your order.
PH is probably the only direct selling company that doesn't have an e-commerce platform (yet). The only way is basically to sell (and buy) the products via home parties.
---
How To Become A Sales Representative For Princess House
To enroll as a sales consultant, you'll need to purchase a share & earn kit for $139 which includes $585 of merchandise. What exactly is included in this kit, is not clear at all.
PH offers new sales representatives the chance to get free pieces of cookware.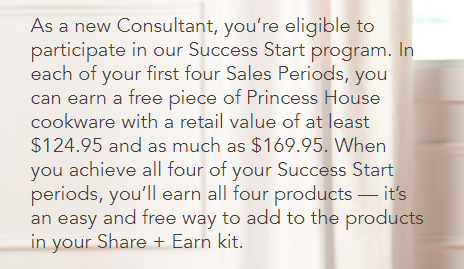 Again, it is not clear how much in sales you have to achieve each sales period to qualify for the bonus rewards.
The compensation plan goes like that:
25% commission when you get less than $1250 in sales/month
30% for up to $1999
35% commission on sales over $1999.
According to the Princess House website, to earn $500 a month, you need to conduct one party a week or four parties a month; based on an average party sales volume of $500 in customer sales.
I haven't found any numbers on how much commission you can earn on recruits in your downline.
To make recruiting easier, Princess House has launched an app called 'StartNow' that helps to sign up prospects basically 'on the go.'
According to the Direct Selling News, 85% of the 25000 salespeople are Hispanic as well as the majority of customers. The top markets for Princess House are Southern California and Houston, Texas.
That could mean that there is plenty of room to grow their business for consultants in other parts of the states.
Related posts: Is World Venture Travel Club A Scam?
---
Is Princess House Worth Your Time?
There is a lot to like about Princess House but also quite a few drawbacks.
Let's start with positive things. There is a good variety of products available for different budgets. The lifetime warranty for cookware sets speaks for the quality of the products.
Princess House is led by a President who has lots of experience in the direct selling industry.
There are only a few complaints about the company online via bbb.org or on glassdoor.com.
Once the company establishes an e-commerce platform and more online marketing tools, there is room to grow the business for sales consultants.
On the downside, selling products via home parties is not fashionable anymore. Who wants to spend an afternoon or evening looking at pots and pants? And, can you really get people excited to book their own party?
It is a tough business to find reliable hostesses who can draw people into a party who are willing to spend some money. To be fair, the prices, especially for the cookware is so overpriced.
As a sales consultant, you'll have flexible hours, but in reality, most people will book parties for the weekends or evenings. These are the times you want ideally spend with your family.
Also, follow up customer phone calls, phone calls to check in with your hostess and possible recruits will be mostly in the evenings.
I know from experience how challenging it can be to juggle family life and business.
Check out my #1 recommended business opportunity that doesn't involve direct selling or MLM. Read more here.
---
My Verdict
If you got the gift of the gab and just love selling products via home parties, then Princess House might be an excellent choice for you.
It could be a lucrative business opportunity for people who are motivated, love to network, and don't mind getting friends and family involved to launch their business.
I personally find direct selling a tough business where you have to learn to deal with rejection, objections, and lots of party cancellations.
It takes a strong mindset to overcome these obstacles and to build a successful business in the industry.
If you are looking for a business opportunity that doesn't involve direct selling and provides you with passive income for years to come, please read my #1 recommendation here.