Melaleuca is a "Health and Wellness" company with over 30 years of being on the market.  I am guessing you are reading this review to find out more about the Melaleuca business opportunity.
Are you looking for a work from home business opportunity with flexible hours away from the 9 to 5 grind? Or do you want to establish an independent business with the chance of earning a substantial income with the Melaleuca multi-level marketing structure?
The health and wellness niche is very saturated with many other competing MLM companies like Modere or Youngevity.
Read my review to find out, if Melaleuca is the right MLM opportunity for you and if you really can make money with it.
Most people don't make much money with MLM companies. Learn how to build a REAL business.
This review is not about Melaleucas products. Instead, I am only looking at the business opportunity this MLM company offers.
So if you are sitting on the fence whether or not to join this business as an independent marketer, please read on.
What Is Melaleuca All About

Melaleuca was founded in 1985 by Frank Vandersloot who is still the CEO and President. The headquarter is in Idaho Falls, U.S.A.
Melaleuca is a BBB accredited business with an A+ rating which is always a good sign. Even though they've got a high rating, there are still many mixed reviews ranging from over the top positive to very negative experiences. The truth as always lies somewhere in the middle.
The company is present in twenty countries like Australia, New Zealand, Germany, the UK, and Taiwan, just to name a few.
Melaleuca calls itself the Wellness Company with a focus on eco-friendly, organic products.  They are selling over 400 products ranging from household cleaners to skin care, from Vitamins and weight-loss supplements to energy drinks and more.
It is very similar to Amway regarding the business model and product range.
Some of the main differences between these two companies are the fact that Melaleuca focusses on environmentally friendly products and sells their products via a membership model.
How To Become A Preferred Customer With Melaleuca

Most people are joining Melaleuca's membership model that gives them the chance to purchase their products for a discounted price of at least 30 to 50% of the retail price. If you do join, you are called a 'preferred customer.'
The membership costs initially $19/year and renews automatically every 12 months for a fee of $19. The downside in my eyes is that you have to commit to ordering products every month worth at least 35 points which equals roughly $50.
That is a lot of money for some people, and most likely you'll spend more than is required.
Melaleuca also offers Loyalty Shopping Dollars for watching product videos and videos about 'learn how to earn.' A pretty smart idea to get more people into becoming independent distributors.
The membership model with the required auto-ship each month means a recurring commission on the product sales for distributors. Easy money right there!
How About The Melaleuca Business Opportunity?
According to Melaleuca, if you are taking on the business opportunity, you don't have to sell any products or carry inventory. Your 'job' is to help new customers to set up their shopping account.
Becoming an independent marketer for Melaleuca is very simple, together with your enrollment form as a preferred customer, you fill in the business agreement form. The fee of $19/year remains the same.
Once you referred a new customer, you can earn up to 20% commission on their product purchases.
Read the full compensation plan here.
Let's get down to the nitty-gritty. A 20% commission sounds pretty impressive, but it kicks only in when you have referred at least 20 customers who have signed up for the 'Preferred Customer Membership.'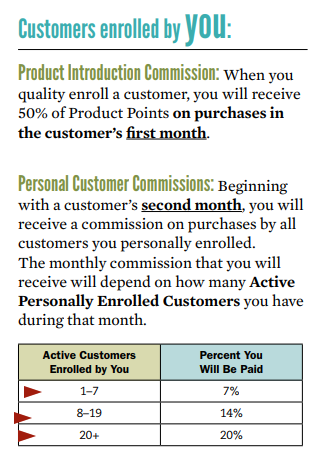 As you can see in the screenshot, you'll only get a 7% commission on product sales for up to seven active customers. It increases to 14% for 8 to 19 customers and eventually to 20 % for twenty plus paying customers.
Also, the commission payments start in the second month that a customer has enrolled with Melaleuca, not in the first month. For the first month of enrollment, you can earn a 50% commission.
Commission payments are getting paid for up to 150 points a customer spends each month. If they spend 200 points, you are only getting a commission for the 150 points.
Melaleuca pays advanced bonuses and commissions down up to seven generations depending on the status you have achieved on the business ladder.
According to Melaleuca, the retention rate for memberships is around three months.
Related post: How I Make Passive Income Online and earn four digits a month.
How To You Actually Recruit New Members?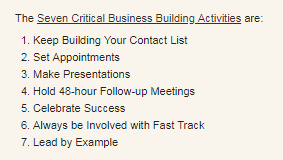 The screenshot shows Melaleucas seven business strategies. As with most network marketing companies, building a contact list is crucial. Who do you know you could talk about the products/membership? Make appointments and hold presentations,
Even though Melaleuca claims that you don't need to do home parties, you'll still need to show potential new customers the products and benefits of them. Plus, why would they choose Melaleuca over other supermarket products?
After all, a $19 membership fee plus a required minimum monthly spend of around $50 is a lot of money.
There are lots of marketing materials available for purchase including a business kit with product samples, business cards, etc.
You can also get a personalized website starting at a monthly cost of $14.95 a month depending on which one you choose. There are different kinds available from different vendors.
Potential customers can't buy anything through the site. It is purely to provide more information to your customers.
Pros Of The Melaleuca Business Opportunity
The business model seems fairly simply with the goal to help new customers to sign up for the 'Preferred Customer Membership.' You don't need to sell products or carry inventory.
The startup costs of $19 are low, but you still have to spend $50 a month on products plus invest money for business materials.
I like the eco-friendly approach and the fact that customers can earn loyalty points and money back on product purchases.
The company seems pretty solid with being on the market for over 30 years, and annual sales of $2 billion.
I do like the fact that you earn a recurring commission on existing customers since they have to purchase every month.
The Cons Of the Melaleuca Business Opportunity
Even though Melaleuca has been around for over 30 years, not too many people know about the company and its products. Melaleuca doesn't invest in advertising, so it is up to the customer to 'spread the word.'
That makes it quite challenging to refer new members if they have never heard of the company let alone have tried the product.
What is the point of having a website when customers can't purchase anything? It is a waste of money you spend on a monthly basis.
Another 'no-go' for me is the fact that you have to spend a minimum of $50 a month. That is a lot of money for many people. After all, you want to earn money not spend it.
Filling in a form and paying a joining fee plus a monthly required minimum amount of products can be another big hurdle.
It takes fantastic customer and sales skills to find new members on a consistent basis. The information regarding the business opportunity is hard to access if someone wants to do their research.
Why not be more open about it and more people would be becoming a business partner with Melaleuca.

My Final Thoughts
Overall, the Melaleuca business opportunity seems to be legit, and I believe you can make a little side income.
To earn a full-time income with the company will take excellent networking marketing skills and lots of hard work as with any business.
I had found it frustrating to find decent information about the membership costs and product prices. I'd prefer them to be more open about it and in return, it would be much easier to sponsor new members.
The same applies to the business side of Melaleuca; I don't get why they have this 'hush hush' mentality.
There is no risk to signing the business agreement with Melaleuca and no hidden costs. You will need to invest money in the business collateral and for product samples though so you can do presentations and the likes.
If you do love the products and feel they are worth the money then, by all means, go for it. But expect to put long hours and consistent work into it to build a substantial income.
I don't think the 'product sells itself' because of the monthly auto shipping costs.
Please let me know about your experience with Melaleuca in the comments below.
My Experience With Direct Selling And MLM Companies
I had been a consultant with a direct selling company for over three years so I speak from experience when I say it takes a lot of hard work to be successful with this kind of business model.
I've learned that trying to sell to people is not my thing. Ringing potential customers, traveling for hours to do presentations without sometimes getting any sales was tough going.
I know of people who were super successful but they were working consistently.
Well, looking back I'd say it was a huge learning curve but not what I was looking for in an ideal business. In reality, the hours weren't exactly flexible, instead, I had to work in the evening and on weekends.
A Better Business Opportunity
For the past three years, I have been building my online business that doesn't involve recruiting or calling people at all. Now I can work whenever and wherever I want to work with only a laptop and an internet connection.
Learn more about this business model and my #1 recommended online training platform and see if it is right for you.
I have to be honest though: my recommended business model is not for everyone. It takes at least 6 to 12 months of consistent work to see the first results aka earning money.
You may have heard of affiliate marketing before but never really knew what it was all about?
In a nutshell, first up it is a legit way of earning a commission for products you recommend via a website or a blog that you build.
In return, you earn a commission when people buy products or services via your blog.
Read more about what affiliate marketing is here.
The website/blog is your own business, you own it not anyone else. You are in control of what you want to write about and what kind of products you would like to recommend to your readers.
It is a true work from home opportunity where you can work at your own pace as much or as little as you want to.
If you are able to invest between 10 and 20 hours of work a week then you will surely succeed.
Once you get the foundation right, you will earn passive income for years to come. All it takes is good training, consistent work, and taking action!
The key is to learn everything about how to build a website (it is easy, click here and I show you how to build one in 2 minutes), how to write content, how to engage with your readers, and how to rank your website.
Extra tip; with my recommended business model you will still have your friends and family, and you don't have to deal with complicated compensation plans etc.
The Advantages Of Affiliate Marketing:
low start-up costs, if any
the opportunity to earn passive income for years to come
a legit way of making money online
you are in control of what products or services you like to recommend
work from literally anywhere in the world
no recruiting
no selling
no inventory – you only need a good laptop
flexible hours
you are not tight to only one company
your blog is accessible 24/7 by potentially millions of internet users around the world
The Cons Of Affiliate Marketing
it can take months until you earn money
for beginners, there is a learning curve involved
it can be challenging not to see any results for a while
Who Is Affiliate Marketing For
for people who'd love to build their own business risk-free
for Entrepreneurs
for people who love to learn and love challenges
for everyone who wants to build a passive income stream
for people who want to work truly flexible hours
for people who seek time freedom
Ready to take the leap and start a legit business that doesn't involve recruiting or selling?
Start Your Journey Of Making Money Online Now!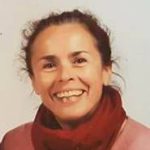 Anke
Connect with me on Wealthy Affiliate.
This post may contain affiliate links. Please read the disclaimer for more information.