Is Modere a  scam? is a question that has been asked by many people because Modere formerly known as Neways, is one of many MLM companies with a 'colorful' past.
It doesn't mean they are a scam but it pays to have a closer look at their compensation plan and business practices.
There are countless opportunities out there to get involved in direct selling and multi-level-marketing that promises you the freedom to choose your own (working) hours and the opportunity to earn big bucks.
Well, Modere is one of them with products that respect the environment and leave out harmful chemicals and compounds. Their tag line 'Live Clean" appeals to me and many other people and their mission to 'Create 10 Million Healthy Homes By 2020' is really impressive.
But does that mean you should become a "Social Marketer' for Modere?
My detailed review will show you what it takes to get involved with this company and if it is the right work from home opportunity for you.
I will walk you through the basics of the compensation plan, how much it costs to join, and if you can earn money by selling Modere products.
It is also important to shed some light on whether or not Modere is a scam or if you can trust this MLM company.
The company has established itself in the evergreen health, weight loss and wellness niche which is always popular but also highly competitive.
Similar companies are: Melaleuca, Jeneusse Global, or Youngevity.
After all, who doesn't want to stay healthy and look younger? And, let's be honest, nearly everyone tries to lose a few pounds now and again.
At the end of my Modere review,  I will share a  business model with you that may be great for people who have had enough of being in the network marketing industry.
Who knows, it may lead to something amazing.
---
Looking for a business opportunity that doesn't involve recruiting or selling? Read my # 1 recommendation here.
---
Is Modere A Scam – The Truth Behind This MLM Company
What Is Modere All About

When we talk about Modere, we have to talk about Neways first because one wouldn't exist without the other.
Neways was founded back in 1987 by Leslie D. and Thomas Mower under its original name 'Images and Attitudes'.
In 1992 the company was renamed 'Neways'. Like so many other MLM companies, Neways/Modere is based in Utah.
Its primary owners are now Z Capital Partners, L.L.C.[source: Wikipedia]
Neways International/Modere are looking back on quite a colorful past riddled with lawsuits and even imprisonment of the original founders, the Mowers.
Thomas and his former wife Leslie were convicted for not paying personal income tax of around $3 Million they had earned with their companies Neways Australia, USA, and Malaysia. In 2006, both were sentenced to serve more than two years in prison. Read more here.
Even though Neways restructured (including the compensation plan and other things) and was relaunched in 2014 under its new brand name Modere, the list of lawsuits didn't end there.
In 2016, Nerium International filed a lawsuit suit against Modere for "stealing distributors from Nerium (because it's) apparently unable to achieve any success whatsoever as a network-marketing company on its own merits." [check the full story here]
And here is another one: "On March 22, 2017, Plaintiff AdvoCare International, L.P. ("AdvoCare") sued Modere, Inc. ("Modere"), Amber DeLoof, and Jessie Lee Ward for tortious interference with contract, trade secret misappropriation, and civil conspiracy (Dkt. #1)." [read it here]
Hopefully, there is not more to come…
On the bright side, in 2016 Modere acquired the wellness-focused direct-selling company Jusuru including their patented liquid BioCell products that are now making up Moderes Collagen Science division.
Jurusu's co-founder and CEO Asmah Ishaq has been the new CEO for Modere since January 2018. [source: DSA]
Exciting times ahead?
---
Modere Products
Modere has a wide product range from dietary supplements, personal care, household products, and health&wellness products which includes the ever so popular weight loss system M3.
Here are the  categories you'll find on the website:
Collagen Science: Liquid BioCell, Pets/Equine, Trim
Collections: bundle deals, for example, 10 products including toothpaste, mouth rinse, body bar, laundry detergent, etc for around $100
Personal Care: Skin, Body, Men's Care, Hair, Mouth
Health&Wellness: Anti-Aging, Active Health, General Nutrition, Weight Management
Household Care: Kitchen, Laundry, Clean
Budgetwise, the products are affordable for household care items and the likes but very expensive for the Biocell products for instance.
I do like the environmentally friendly approach and the 'live clean' mission statement.

The products are being shared by Social Marketers in 30 countries worldwide.
Be Smart With SmartShip
The products are more affordable when you sign up for an auto-ship order which is called SmartShip. Depending on the number of products you order, customers can save from 5% up to 15% on the retail price.
A pretty good deal considering there are no membership fees involved.
But it seems like it has to be ordered on a monthly basis. It would be good to have a bi-monthly or quarterly option.
---
You love the products but don't want to get involved with the business side?
Check out my #1 recommended business model.
---
How To Join – Become A Social Marketer

Okay, before I get into the nitty-gritty, here is something that puzzled me. If you visit the Modere website, there is no link for people to join the company.
I had to google it to find out how one can join Modere.
To sign up you have to go to a website called ShiftingRetail.com and again there is no link on there that would lead you back to Modere's website. It would make sense if there would link to each other. Hmmm…
Anyhow, to become a Social Marketer, you'd pay an annual fee of $39.99 which includes the following:
Access to Customer Perks Program

Up to 15% discount on your monthly order
Smartship Loyalty Rewards

Share the Love Program
Direct to Customer Marketing Program
Daily and Monthly pay for sharing Modere products according to the Modere Compensation Plan
Personal Website to Share
Virtual Office Suite of tools and training to support business growth
Free ModereLIFE mobile app [source: website]
Next up, you'll need to choose a starter kit which start at $99.99.
Ideally, Modere wants you to get one of their  XM launch packs which can be yours for $349 and give you a few perks like 480 points, $200 in bonus product credits, a free ticket (Value $199) to the next Modere Social Retail Conference, and a few more things.
Once, you've decided on a starter pack, you need to enroll for the SmartShip program to be automatically eligible for commission payments which require 75 points a month.
75 points equal around $100, so that will be your monthly expense via the SmartShip order.

So basically, Modere doesn' want you to stress too much about customer sales. Just (!) pay $100 on products each month and you are in to get your commissions.
By the way, 150 AP (as seen on the screenshot) means  150 Activity Points.
Moving on…
---
The Modere Compensation Plan
The Modere compensation plan is extensive and complex. It looks like it is a combination between a binary and unilevel plan.
There are a few new terms like customer pod, marketer points, active customer points, organizational points, and so on.
To keep it simple, Modere has split the compensation plan up into two groups; the Social Marketer Builder Title for recruiting and Social Marketer Promoter Title for people who are good at selling the product.
To earn commissions as a teambuilder, you need a 75 points SmartShip order or 150 activity points.
Let's talk about the Social Marketer Promoter
Commission payments for retail sales (promoter) start at sales over 300 points. If it is less you are only getting a 10% in product credit.
300 points equal around $600 which would pay you $30 in commission plus $30 in product credits.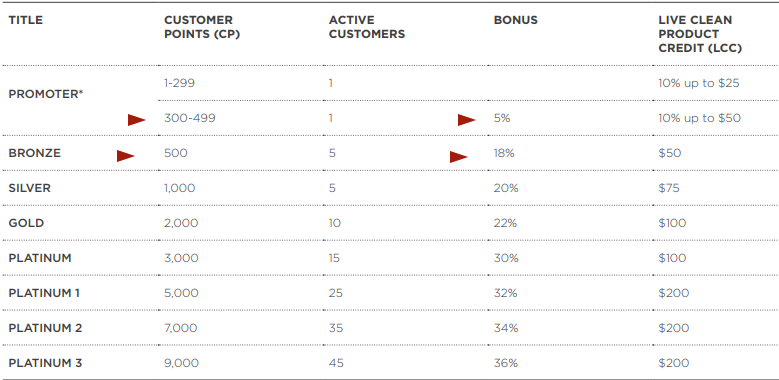 Based on customer sale volumes you can advance in the ranks from promoter to Platinum 3, the highest rank.
You can also earn up to $200 in product credits each month, and a Promoter Developer Bonus.
The second part of the Modere compensation plan is the Social Marketer Builder Title. Now it is getting more complicated and requires careful reading of the compensation plan. Read it here.
In quintessence, by recruiting new Social Marketers into your downline, you will earn commissions and bonuses in the process. There are 9 ranks all up starting from Consultant, Senior Consultant, Team Leader, Senior Team Leader, Social Marketing Director 1,2,3 and Elite Social Marketer 1, 2, 3.
You can earn monthly team builder bonuses, leadership development bonus, generational unilevel 4& more elite bonus.
---
Can You Make Money With Modere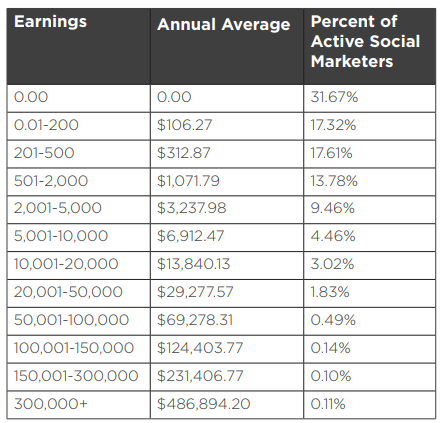 The above screenshot of Moderes Income Disclosure from 2017 gives a good indication of the earnings potential for Social Marketers.
The income disclosure covers a four-month period which started at the beginning of November 2017, the introduction of the revamped compensation plan.
The annual average income is based on the calculation of the monthly average earnings per unique Social Marketer in each of the months during the period and then annualized by multiplying these earnings by twelve.
A whopping 31.67% didn't earn an income and from the remaining 68.33% of Social Marketers, 2.67% made a full-time income.
I guess, 65.66% were lucky if they made any profit at all because the income disclosure doesn't include any expenses that may occur when being a Social Marketer, e.g. expenses for SmartShip, travel, taxes on income, etc.
The profit margin looks pretty low to me considering the regular monthly expenses of a $100 auto-ship order.
---
Is Modere A Scam
Based on what I have found out about this company, it is fair to say that Modere is a legit company. They offer quality products and I do like their mission statement and environmentally approach.
I dislike their requirement of a monthly auto-ship order that cost a Social Marketer $100 each month in extra expenses.
The only positive side here is the product credit, one can earn in return.
---
Pros And Cons Of Modere
Let's have a look at the Pros and Cons of Modere at a glance.
Here are the Pros:
Member of the DSA
Modere is accredited with the BBB since November 2018 and has an A+ rating
environmentally friendly approach
the compensation plan rewards Social Marketers for great customer sales which is acknowledged through different ranks and bonus payments (promoter title)
What Are The Cons
the required monthly auto-ship of at least $100 is a no-go for me
the earnings potential/profit margin is very low according to the income disclosure
there is no indication of what kind of training Modere provides to Social Marketers
more and more MLM companies are selling via social marketing so Moderes approach is not so unique anymore
despite an A+ rating on BBB, there are several complaints  regarding customer service, refund issues, and product quality
---
Wrapping It Up
Getting involved with Modere may be a lucrative 'business' opportunity for people who are highly motivated, love to network and are masters of social marketing.
It takes a strong mindset, hard work, and great network marketing skills to build a successful business in the industry.
I personally would stay away from it because of the monthly auto-ship order they require. Instead of paying for the auto-ship you could get customer sales to qualify for commission and bonus payments.
But I have noticed that when you sign up to be a Social Marketer, there is no way around of not taking part in the SmartShip loyalty program.
Loving the products doesn't mean that you have to become a Social Marketer.
There are better business models out there with better earnings potential.
---
Want to build a business that doesn't require network marketing skills and will earn you passive income for years to come?  Read more about my #1 recommended business model.
---
 An Alternative Business Model
For the past three years, I have been building my online business that doesn't involve recruiting or calling people at all. Now I can work whenever and wherever I want to work with only a laptop and an internet connection.
Read here how I earn now four digits a month.
I have to be honest though: my recommended business model is not for everyone. It takes at least 6 to 12 months of consistent work to see the first results aka earning money.
If you are able to invest between 10 and 20 hours of work a week then you will surely succeed.
Once you get the foundation right, you will earn passive income for years to come. All it takes is good training, consistent work, and taking action!
Ready to take the leap and start a legit business that doesn't involve recruiting or selling?
Start Building A REAL  Business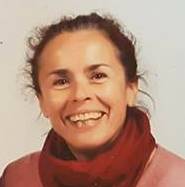 ~ Anke
---
This post contains affiliate links. Read more here.
Stop Annoying Friends And Family!
Discover How To Create Passive Income
Without Recruiting One Person!
Sign-Up For My Free Email Course And Start Building A REAL Business!