Welcome to my Nerium review, another MLM company that sells skincare products and has made headlines lately for all the wrong reasons.
One reader of my readers has asked me to also shed some light on whether Nerium is a pyramid scheme or a legit business opportunity.
So, I have done my due diligence to find out more about this company and to be upfront quite a few 'red flags' came to the surface.
My review will show in detail how this company works, the compensation plan, and how you can join the Nerium business opportunity.
At the end of my post, I will not only conclude whether Nerium is a pyramid scheme or legit business. But I will also introduce a business model that will give you the chance to build a real online business that earns passive income for years to come.
Without further ado, let's dive in.
---
Looking for a business opportunity that doesn't involve recruiting or selling? Read my # 1 recommendation here.
---
What Is Nerium  International All About

Nerium International was founded in 2011 by Jeff Olsen who was previously involved with Pre-Paid Legal (now known as LegalShield).
Read our LegalShield review here.
The entire company runs as an MLM company or, as Nerium calls it a 'global relationship marketing company.' Despite the fact that Nerium has only been operating since 2011, they are operating in thirteen countries.
Initially, Nerium started off with their flagship product, the Nerium IQ Age-Defying night cream which includes the NAE-8 extract which is derived from the Nerium oleander and Aloe Vera plant.
A few years later, besides offering exclusive anti-aging skin care products they also introduced their wellness products (dietary supplements) in 2017to tap into a bigger market.
Big competitors without a doubt are MLM companies like Jeunesse Global and Rodan and Fields. Without giving too much away, it is fair to say that Nerium works pretty much like these MLM companies.
---
The Nerium Products

It comes as no surprise that Nerium skin care and wellness products are highly overpriced as it is the case with almost all MLM companies.
The prices range from around $40 to $460 for a total body set.
You can get these products cheaper if you decide to become a preferred customer which requires to agree to a monthly (!) auto-ship order. Ouch!!!
Even though the company is using patent-pending extracts like the one derived from the Nerium oleander and Aloe Vera plant, there is no scientific proof that the products work as promised – reduce the appearance of fine line and wrinkles.
In fact, it is actually not even clear, if the products that contain extracts from the Nerium oleander plant are safe to use. It is a toxic plant and they are no studies available to the public of possible side effects.
After reading an article by Dr. Jen Gunter, I would well stay away from using products that contain any extracts from the Nerium oleander plant.
If in doubt, please check with your doctor before using Nerium skincare products!
How about approval by the FDA?
According to Nerium, there is no need to get approval from the FDA because Nerium products are considered cosmetic products.
NeriumAD was made to reduce the appearance of fine lines, wrinkles, and uneven skin tone. The word appearance is important! That's because NeriumAD is considered a cosmetic treatment.  Now that you know the difference between what the FDA considers cosmetics and drugs, as well as what ingredients NeriumAD doesn't include, you can now understand why NeriumAD does not require FDA approval. (read more here)
---
How To Join – The Nerium Business Opportunity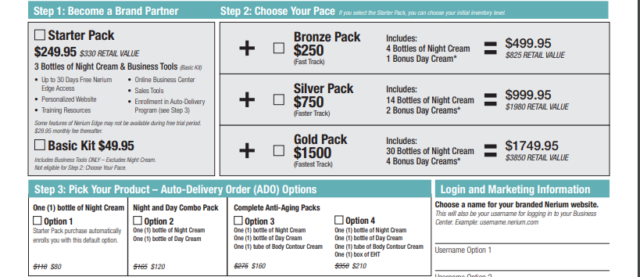 Let's check what it takes to get involved with Nerium as a so-called Brand Partner.
You can get started with a minimum investment of $49.95 which doesn't include any products. You'll get marketing and training material and access to a free trial of Nerium Edge, a subscription to access mobile apps, GoSocial, GoShow, and the Nerium Communication center.
After the free trial, you need to fork out $29.95 a month to be able to access these features. As you can see in the screenshot above, the new Brand Partner must sign up for an auto-ship order of at least $80 a month. A BIG red flag for me.
It reminds me of Kyani and there monthly auto-ship requirements.
That is all up, a monthly expense of at least $110 for a Nerium brand partner.
The 'good news' is that one 'only' need to sponsor and maintain three preferred customers in a month to get next months auto-ship for free. No pressure, right?
To remain an active brand partner, you must maintain $200 PQV (personal qualifying volume) or $80 PQV from your personal ADO (auto delivery order).
---
The Nerium Compensation Plan
Compensation plans from MLM companies are easy to read and understand, said no one ever! And of course, Nerium International is no exception.
As a matter of fact, it is probably one of the most excessive ones I have seen so far. They pay up to 10 (!) levels deep in team commissions, have all up 17 (!) ranks one can achieve – from the brand partner as the lowest to Triple Diamond International Marketing Director as the highest rank.
Similar companies are Perfectly Posh, Vic Cosmetics, and Arbonne.
All up you can earn up to 13 (!) different bonuses including the ever so attractive Lexus car bonus.
Retail sales can earn you up 10% – to 25% plus commissions and bonuses on team sales. Read the full compensation here.
I have also found this video on YouTube that explains Nerium's compensation plan in more detail. I do not endorse this video. It is for educational purposes only.
---
Can You Make Money Selling Nerium
This question is a hard one to answer. I haven't found an income disclosure for the Nerium company but I assume that the majority of brand partners haven't earned a full-time income.
Usually, the ones who join the company first have a good chance of climbing the ranks, building a team and therefore earn big money.
The sad fact is that most people in MLM  invest more money than they actually earn.
The truth is 'the overwhelming majority of MLM participants (most sources estimated to be over 99.25% of all MLM participants) participate at either an insignificant or nil net profit.' (source Wikipedia)
---
What Is Happening With The BBB?
My usual go-to resource when I research a MLM company is the Better Business Bureau to check out the companies rating. I was surprised to find out that BBB gave Nerium International a rating of 'A+'.
There have been 58 complaints filed in the last few years and just because Nerium has responded to most of them should not result in an A+ in my point of view.
Such a positive rating can be misleading especially when people don't take the time to have a closer look.
Customers are forced to complain via BBB because their first attempt to solve issues with Nerium's customer service failed.
Most complaints are in regards to auto-ship orders, not receiving a refund for items that haven't even been ordered and the likes.
---
Nerium International Make Negative Headlines
A clever marketing strategy for selling anti-aging skincare product are 'before and after' pictures. It can be a huge selling point to customers especially for overpriced, expensive products.
But Nerium made a big mistake when they showed 'before and after' pictures of Ray Liotta, a well-known actor, saying that he was using Nerium skincare products.
Ray filed a lawsuit in 2014 against Nerium saying that he never used these products and never gave Nerium the permission to use his pictures.
To make matters worse the lawsuit also claims that Nerium runs a product based pyramid scheme.
You can read more about this and other questionable Nerium business practice in this post.
In early 2018, two of the biggest distributors for Nerium, Tammy and Mark Smith, sued the company and Jeff Olsen for over $100 Million because of questionable business practice. Nerium again made negative headlines.
It is quite a complex case which shows dishonesty and the lack of integrity on both sides to say the least.
Click here to read the full story
---
Pros And Cons Of The Nerium Business Opportunity
Here are the Pros:
it all honesty, based on my research, I can't find any pros.
Here are the red flags:
products are overpriced
no scientific proof that the products even work, in fact, it might be unsafe to use them because they contain Nerium oleander which is a poisonous plant.
brand partners must sign up for a monthly auto-ship order of at least $80 plus have to pay $29.95/month to access certain business and marketing tools called Nerium Edge
as outlined before, Nerium made negative headlines for various reason; one of the lawsuits claims that Nerium is a product-based pyramid scheme
the compensation plan is excessive with 17 ranks, 13 different bonus payments, and team commissions ten levels deep
---
Is Nerium A Pyramid Scheme – Conclusion
Based on my research, I wouldn't be surprised if the FTC would close down Nerium International in the future because their commission plan looks like a pyramid scheme, even though Nerium is talking about making product sales.
But the truth is that you will only make money if you build your own team which means recruiting, recruiting, and more recruiting.
Here is a video that talks more about how to spot a pyramid scheme. At the end of the video they show a checklist and with Nerium, there are a few boxes I could tick.
I do not recommend to join this company due to the fact that you have to spend at least $110/month to stay active in the company and to have access to certain business tools.
The negative headlines have shown that Nerium is a company that lacks in integrity on so many levels.
Do you really want to put your trust and hard earned money into a company that is being dishonest?
You may reach success but it can be taken away from you in an instant just by the FTC shutting the company down, or team members in your downline are leaving the company, or your downline doesn't make any sales so you could lose a rank you have achieved and so on.
There are so many variables that you can't control.
As with any MLM company, you don't own the business. You don't own the company, you don't have any influence on the product quality, prices, and marketing strategy.
You are basically a salesperson who tries to sell the products and sponsor new people into your downline.
And in the process, you may lose a lot of money, as well as friends, and family because most MLM companies, including Nerium, advise you to sell to your warm market first.
People nowadays are more aware of MLM companies and their overpriced products than ever before so it will be a tough call to meet the sales and recruiting requirements to climb up the ranks.
If MLM is your preferred way of trying to make money you may want to check out  Stella And Dot Jewelr or Ever Skincare.
---
Want to build a business that doesn't require network marketing skills and will earn you passive income for years to come? Please read more about my #1 recommended business model.
---
A Better Way Of Making Money
There are so many other ways to earn money and work flexible hours at the same time.
What I am about to introduce is not the promise of getting rich quick (is there such a thing?), instead the opportunity to build a sustainable business without recruiting or being depended on one company or one product.
Related post: How I Make Passive Income Online and earn four digits a month.
For the past three years, I have been building my online business that doesn't involve recruiting or calling people at all. Now I can work whenever and wherever I want to work with only a laptop and an internet connection.
I have to be honest though: my recommended business model is not for everyone. It takes at least 6 to 12 months of consistent work to see the first results aka earning money.
You may have heard of affiliate marketing before but never really knew what it was all about?
In a nutshell, first up it is a legit way of earning a commission for products you recommend via a website or a blog that you have to build.
In return, you earn a commission when people buy products or services via your blog.
The website/blog is your own business, you own it not anyone else. You are in control of what you want to write about and what kind of products you would like to recommend to your readers.
It is a true work from home opportunity where you can work at your own pace as much or as little as you want to.
If you are able to invest between 10 and 20 hours of work a week then you will surely succeed.
Once you get the foundation right, you will earn passive income for years to come. All it takes is good training, consistent work, and taking action!
The key is to learn everything about how to build a website (it is easy, click here and I show you how to build one in 2 minutes), how to write content, how to engage with your readers, and how to rank your website.
Extra tip; with my recommended business model you will still have your friends and family, and you don't have to deal with complicated compensation plans etc.
The Advantages Of Affiliate Marketing:
low start-up costs, if any
the opportunity to earn passive income for years to come
a legit way of making money online
you are in control of what products or services you like to recommend
work from literally anywhere in the world
no recruiting
no selling
no inventory – you only need a good laptop
flexible hours
you are not tight to only one company
your blog is accessible 24/7 by potentially millions of internet users around the world
The Cons Of Affiliate Marketing
it can take months until you earn money
for beginners, there is a learning curve involved
it can be challenging not to see any results for a while
Who Is Affiliate Marketing For
for people who'd love to build their own business risk-free
for Entrepreneurs
for people who love to learn and love challenges
for everyone who wants to build a passive income stream
for people who want to work truly flexible hours
for people who seek time freedom
Ready to take the leap and start a legit business that doesn't involve recruiting or selling?
Start Your Journey Of Making Money Online Now!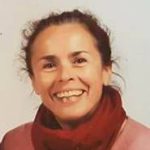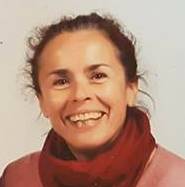 Anke
---