When you read all these Stella and  Dot Jewelry reviews online, there is a lot of excitement around this fashion company.
It is no surprise because Stella and Dot is not just your ordinary direct selling company.
Welcome to my Stella and Dot jewelry business review!
In the last few years, Stella and Dot have become one of the go-to jewelry companies that is not only fashionable but also affordable with half of their products costing less than $50.
Stella and  Dot Jewelry is also one of the hundreds of MLM companies that offer the opportunity to get involved in direct selling and multi-level-marketing with the promise to reach the (financial) freedom you deserve and to have the lifestyle you have always dreamed of.
My Stella and  Dot Jewelry review will show in detail what it takes to get involved with this company and if it is the right business opportunity for you.
Without further ado, let's get started.
---
Looking for a business opportunity that doesn't involve recruiting or selling? Read my # 1 recommendation here.
---
What Is  Stella and  Dot Jewelry All About 
It all started in 2003 when Jessica Herrin designed her first jewelry pieces and called her brand 'Luxe Jewels.' She was able to grow her business to around $1 Million in sales.
In 2007, she teamed up with Blythe Harris and rebranded 'Luxe Jewels' to Stella&Dot Jewelry.
The name Stella&Dot simply comes from both their grandmothers to honor the generation of these hardworking women.
Stella and Dot's mission statement is to help women be their own boss at their own terms.
The company has grown exponentially over the past few years with also being available globally in Irland, Canada, Germany, France, and the UK.
In 2018, they now have 18 000 active stylists and the company makes consistently $300 Million in annual sales.
The true inspiration and empowered comes from Jessica Herrin, the co-founder of Stella&Dot, who takes a very personal and genuine approach to her employees and workforce of Independent Stylists.
If you would like to learn more about the inspiring co-founder and CEO of Stella&Dot, Jessica Herrin, please read the article here.
Stella and Dot have also launched two other direct selling businesses called Keep Collective which offers personalised charms to its customers.
Read my full KEEP collective review here.
The other one sells organic skincare and operates under the name Ever skincare.
---
The Products

Shop the look with Stella & Dot here!
I must say, I do love the jewelry that Stella and Dot designing. They are unique, fashionable and right on-trend. You don't need to spend hundred's of dollars and still get beautiful and trendy eye-catching pieces.
Each of the jewelry pieces, bags, prints, bags, and hardware are custom designed in New York and Sausalito.
The design process can take up to one whole year. The cool thing is that 1/3 of the jewelry can be worn in different ways which makes them even more versatile.
And, as I mentioned before 50% of the pieces cost less than $50. That is great value for money.
Besides jewelry, Stella and Dot have expanded their range in recent years and sells now, clothes, bags, sunglasses, and other accessories.
They even have joined forces with Rebecca Minkoff with some of her gorgeous jewelry on offer. Fashionistas will know what I am talking about.
Customer service is very important to Stella and Dot which shows in a generous money-back guarantee. In company lingo, it's called the Delight guarantee.
If you are not happy with your purchase, you can return it in the first 30-days and get a cash-refund. After 30 days and up to 90 days, you can get a store credit of the retail value.
---
How To Join – The Stella and  Dot Jewelry Business Opportunity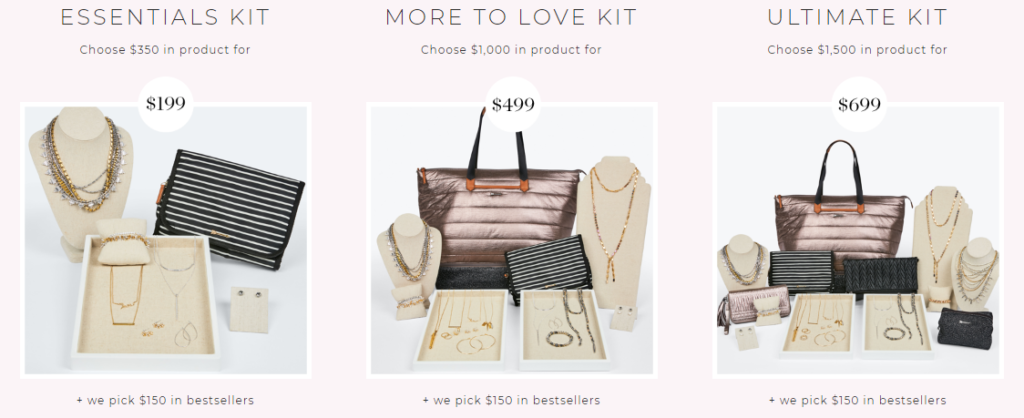 Becoming an Independent Stylist with Stella and Dot is fairly easy. You need to pick a starter kit of your choice which starts at $199 and goes up to the most expensive one which cost $699 (see the attached screenshot).
It is great to see that the company also picks $150 worth of their bestsellers which is included in the respective purchase price.
All starter kits include essential sales tools as well as a personalized website for free.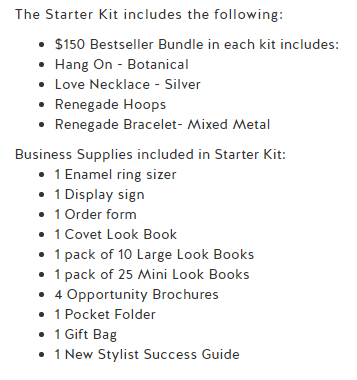 Well, I must admit for the price of $199 Stella and Dot provide great value for money considering not only the products but also the business supplies included in each starter kit.
You will also get access to online training tools and weekly training calls.
Jessica Herrin, the charismatic Co-Founder, and CEO, is pretty hands-on with video tutorials on the different styles and promoting not only the gorgeous products but also the business opportunity as Independent Stylist.
Here is a video with Jessica, where you can get a glimpse of the products and the business.
Sign-up to be a Stella & Dot Stylist Today! 
---
The Compensation Plan – How Much Can You Earn?
Let's talk about the money, shall we?
First off, Stella and Dot put a lot of emphasis on the fact that there is no pressure on the stylist to sell lots of stuff or to recruit lots of new team members.
Instead, they want you to decide how busy you want your business to be whether you are looking for a side hustle or a full-time income.
The commission on the personal retail sales starts at 25% up to 35% which get paid out weekly.
The base commission is 25% for sales under 2500 PQV (Personal Qualifying Volume) and can increase when you achieve certain sales volumes.
Once your PV reaches more than 2500 PQV you'll get 30%; over 5000 PQV 32% and over 10 000 PQV gives you 35%.
Depending on your rank, you'll also get up to 25% commission on your team's sales down to four levels.
So, let's have a look at the compensation plan and break it down a little bit.
There are ten ranks all up as follow:
Stylist
Lead Stylist
Associate Stylist
Senior Stylist
Star Stylist
Associate Director
Director
Senior Director
Star Director
Executive Director
The minimum requirement to get paid team sales commission is 500 PQV.
You can earn cash bonuses for helping new stylists you recruited to reach at least the rank of Associate Stylist. If they get there in their first year, you'll get $100 cash.
Read the full compensation plan here.
---
Is There A Fast Start Program?
Yes, there is. You are encouraged to sell $1000 worth of products in the first 30 days of your business to earn your starter kit back.
On top of that, you can get $200 in product credit and a few more perks.
---
Pros And Cons Of The Stella and  Dot Jewelry Business Opportunity
There is a lot to like about Stella and  Dot Jewelry and their business opportunity
Relatively low start-up costs including a free website
unique, handmade  products at an affordable price
Positive online reviews
A solid company with over 12 years of business experience
Accredited with the Better Business Bureau and an A+ rating
No pressure of recruiting
Great customer service with the Delight – Guarantee
No auto-ship for customers but an attractive membership for customers called VIP Style club
Perfect for women who love fashion
What are the Cons?
not suitable for people who don't like social interaction or home parties
---
Conclusion
Stella and Dot jewelry is a company with mostly positive reviews and an impressive A+ rating with the Better Business Bureau.
I do like their tasteful and classy looking website that will surely attract new customers with affordable products and personalized items.
However, their sales marketing strategy is mainly focussed on home parties which are called 'trunk shows.' Other words the company is using is a pop-up shop or in-home styling session which offer generous rewards for the hostess.
Alternatively, you can also do styling sessions via Facebook but it won't replace the personal touch and service of a styling session.
The cool thing about jewelry is that you don't really need to hold a presentation as you do with cosmetic and beauty product brands like Mary Kay or Arbonne.
More important is to display the pieces so their look appealing and to explain how they can enhance your guest's style.
But keep in mind, it can be challenging to find women who would like to host a 'trunk show.'
The truth is, the thought of inviting friends, organizing snacks and drinks and cleaning up afterward can be daunting for many.
I have found that direct selling/MLM is a tough business where you have to learn to deal with rejection, objections, and' sometimes, lots of party cancellations.
It takes a strong mindset to overcome these obstacles and to build a successful business in the industry.
Have you noticed that most MLM companies are targeting women as potential recruits? Women join these companies for so many different reasons.
When I started my direct selling business I was looking for something different than 'just' being defined as a mom. The thought of being part of a sisterhood was also appealing to me.
Even though I am a self-confident person, not reaching my goals, and not enough sales and recruiting left me quite frustrated at times and doubting myself.
The truth is 'the overwhelming majority of MLM participants (most sources estimated to be over 99.25% of all MLM participants) participate at either an insignificant or nil net profit.' (source Wikipedia)
If you do love the products and feel they are worth the money, then, by all means, go for it. I don't think there is a huge risk to lose money since the start-up costs are low and no additional fee applies.
To build a substantial income, you'll need to put in full-time hours for sure.
If you only want to invest a few hours a week, it looks like you could earn a good side income with Stella And Dot Jewelry.
Sign-up to be a Stella & Dot Stylist Today! 
---
Want to build a business that doesn't require network marketing skills and will earn you passive income for years to come? Please read more about my #1 recommended business model.
---
Is There A Better Business Model?
Even though Stella And Dot make it pretty easy to sell the product, I still think there are better business models out there than selling and recruiting.
It is called affiliate marketing where you basically build a website and promote certain brands and/or products. If people purchase something through your (affiliate) link, the company pays you a commission which can range anywhere from 4% to 50%.
Read more about affiliate marketing, which by the way, is a legit way of earning residual income online.
Now here is the really cool thing! Stella And Dot Jewelry have also an affiliate program available for people who don't want to become an Independent Stylist but still love their products and would love to promote them through a website or a  blog like a fashion blog, a gift guide blog, or other niches.
It is exciting to see that this company offers so many different choices.
If you have already a website that promotes fashion and jewelry, you can sign up to become an affiliate with Stella and Dot Jewelry. It doesn't cost anything!
Join the Stella & Dot Affiliate Program Today 
As I mentioned before, my experience in the direct selling industry was not successful. I found it challenging to get sales, to recruit and I dreaded these inevitable phone calls.
When I learned about affiliate marketing as a legit way of earning a passive income without selling or recruiting anyone, I was so excited that I couldn't wait to build my own successful online business.
I am now earning around $1000/month in passive income with little effort.
If you'd like to learn everything about affiliate marketing or building a website,  I invite you to sign up with my recommended training platform Wealthy Affiliate where you learn step-by-step how to become a successful internet marketer.
Ready to take the leap and start a legit business that doesn't involve recruiting or selling? Sign up here for free!
---
Please note that this post contains affiliate links. Read more about it here.
[mailerlite_form form_id=2]