Welcome to my in-depth Arbonne business review.
Check out if joining this health and beauty direct selling company is a viable business opportunity for you or if you should look elsewhere.
Arbonne is a company that offers 'botanically based personal care and nutrition products' and has been around for nearly 35 years.
They promote healthy living from the inside and outside; with their skincare and beauty products (for the outside) and nutrition products for a healthy inside.
Looking for a business that doesn't involve selling or recruiting? Read how I earn around $1000/ month in passive income.
Let's get started with these ten facts about the Arbonne business opportunity.
Without further ado, here we go.
---
Arbonne Business Review – 10 Things You Should Know
#1 Some Background Info About Arbonne
The founder of Arbonne is Petter Morck who comes originally from Norway. With a group of scientists, he developed the idea of skincare products that are based purely on botanical principles in Switzerland in 1975.
He immigrated to the United States and eventually established Arbonne in 1980 as a direct selling company with 19 products available.
A lot has happened since then.  Arbonne not only extended their product range extensively but also operates now globally in countries like New Zealand, Australia, Canada, Taiwan, Poland, and the UK.
They have over 200 000 active consultants and around 2 300 000 Preferred Clients (more about it later).
---
#2 The Things That Arbonne Stands For

One of the most important things to me is that Arbonne claims to be cruelty-free and don't test their products on animals, unlike Mary Kay cosmetics for instance.
On their website, it says: 'Since the company was founded in 1980, Arbonne has had a strict policy against testing on animals, and our formulas have never contained animal products or by-products. Arbonne is recognized by PETA ((People for the Ethical Treatment of Animals) for this."
So to be clear, Arbonne products are vegan free and cruelty-free.
---
#3 A Little Bit About The Products

Arbonne claims that all their products are pure, without nasty chemicals, and without animal products or animal by-products.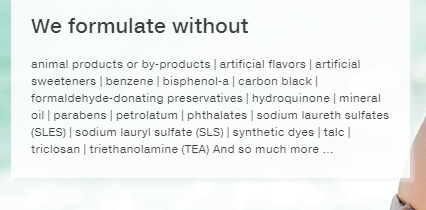 The list of what is NOT in the products is really impressive. I do like their approach to producing natural products. This is great news for vegans or people who are allergic to gluten.
Thumps up for Arbonne!
I have seen a few negative reviews about Arbonne products online. Some customers complain about allergic reactions and the likes.
As with any cosmetic or skincare product, it is essential to test it before you use it.
---
#4 How To Become An Independent Arbonne Consultant
The whole process is pretty easy and straightforward.
You pay $49 for the Welcome kit and sign a form that you agree with the terms and conditions to become an Independent Arbonne consultant.
It gives you a free (duplicate) e-commerce website, free apps for a business on-the-go, access to a social marketing library, and access to a knowledge library for business and product information.
By the way, you don't need to pay a monthly fee for the website.
After twelve months, you need to pay a renewal fee of $29.
---
#5 What Is In The Starter Kit
Well, for $49 there is not that much in the starter kit. It contains a few catalogs, samples of the RE9 line, business materials like flyers, order forms, and a copy of the success aka compensation plan.
So you need to invest some money to order products you could use for yourself (to test them) and also products for your presentations so people can smell them, feel them, and try them out.
The products are expensive therefore it is essential that your potential new customer can check a fairly good variety of products.
Arbonne offers different packs, e.g. skincare pack or a makeup pack.
You may need to decide if you'd rather invest in skincare, nutritional, or makeup products. You are looking at spending around $200 to $300 for one of these packs.
The saying goes that if you build a business you need to invest in your business. It is important to remember though not to get carried away and spend too much when you start off.
My advice is to ask your sponsor if they could help you out with some of the products. Maybe you could borrow some.
---
#6 How To Sell Arbonne Products
The main way of selling Arbonne products is via the good old home party, also called a group presentation.
It does make sense because as I said before, potential new customers need to try the products before they are going to spend a whole lot of money.
The trouble with the party plan is that it can be difficult to find people who are willing to host a party. Even though the hostess rewards can be intriguing.
Everyone seems to be busy nowadays and there is a lot of effort involved in getting the girls around. Also, once the party goes ahead it doesn't mean you get lots of sales or new recruits.
On top of that, it takes a few hours for the consultant to drive to the party, setting it up, holding the presentation, taking orders, cleaning up, and driving back home.
I am missing here the modern touch with Arbonne. How about having virtual parties like Younique has introduced to their marketing strategy?
There needs to be a balance, I guess.
Before you join Arbonne, you need to ask yourself: Do you feel confident in holding presentations and speaking in front of an audience? Do you feel confident ringing people and asking them to hold a party, or for a sale?
I don't know how much training Arbonne offers to their consultants to learn sales techniques and the likes.
But speaking from my own experience with a (different) direct selling company, it takes a lot of self-discipline and resilience to make money with this kind of business.
---
#7 Show Me The Money, Honey
Let's talk about the success plan also known as the compensation plan.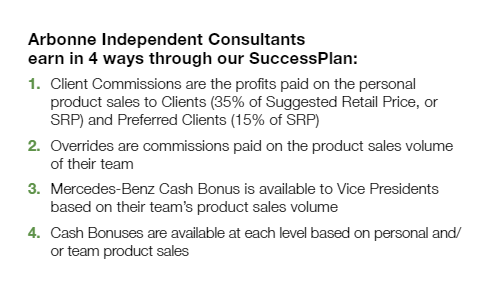 As you can see in the screenshot, there are four ways you can earn money with Arbonne. The commission payments are pretty average with 35% on the personal product sales.
If you sign up a preferred client ( more about it later) you only get 15% on the suggested retail price (SRP).
To me, it is not clear why Arbonne has a suggested retail price. Surely, you don't want to lower or increase the price.
Anyhow, back to the money side. The compensation plan is fairly easy to read. On top of the 35%, a consultant can earn overrides on their team sales and cash bonuses.
For instance, a consultant can earn a $25 cash bonus when a preferred client orders an Ultimate Value pack for $200 once they sign up.
To maintain the status of the rank as an Independent Consultant, you need to have $1200 PQV (Personal Qualifying Volume) in a year.
Keen to read the full compensation plan? Click here for more information.
Please note, you only get a Mercedes Benz cash bonus once you have reached at least Regional Vice President.
And of course, you need certain requirements, as outlined in the compensation plan. If you don't, you won't get the car bonus.
---
#8 Climbing Up The Ladder
I have noticed that Arbonne doesn't have a so-called fast start program in their compensation plan. A fast start program usually offers extra incentives for new consultants to make lots of sales and find new team members.
I have seen 'Fast Start' bonuses  with Younique or Limelight, for instance.
I think there are two sides to it. A fast start can give you great momentum in building your business. But it can also put a lot of pressure on a person.
Here are the ranks you can achieve by reaching certain sales volumes and recruiting new consultants.
Everyone starts as an Independent Consultant.
District Manager
Executive District Manager
Area Manager
Executive Area Manager
Regional Vice President (now the car bonus kicks in)
Executive Regional Vice President
National Vice President
Executive National Vice President
It is a long way to reach the top and only a few will make to Executive National Vice President.
A lot depends not only on the number of sales you are accumulating and the numbers of people you are recruiting.
It is about if you can maintain your rank which is connected to the sales volume of your team. There are so many variables which you can't always influence. It is quite frankly beyond your control.
---
#9 What Is A Preferred Client
Arbonne is talking a lot about their preferred client program. Not only can an Independent Consultant earn a cash bonus when the client spends a certain amount of money.
Preferred clients are also so keen on the product that many of them become Consultants themselves.
It costs $20 to sign up for the preferred client program that entitles them to 20% off the SRP (suggested retail price) for a whole year.
If they spend more then $150 they will also get a complimentary product of their choice.
Once the year is up, they have to pay a renewal fee of 15%.
Just to be clear, there is no need to do an auto-ship order, if the client doesn't want to. No strings attached!
---
#10 Happiness All Around?
There are lots of positives with Arbonne and their business opportunity. They are accredited with the Better Business Bureau with an A+ rating.
Arbonne is also a member of the DSA, the Direct Selling Association.
The customer service seems efficient and friendly and the 45-day money back guarantee on the products is pretty spot-on.
A huge plus for me is the fact that the products are all vegan and cruelty-free.
But before you join, make sure you have tested the products yourself and have a think about who would be happy to buy these products from you.
Otherwise, you may end up with lots of products, no one wants to purchase from you.
---
Conclusion
It is easy to understand why Arbonne has been around for 35 years. It is a solid company with only a few negative reviews.
The biggest drawcard for me is the fact that the products are not tested on animals and are plant-based without any nasty chemicals
The best way to sell the products is via home parties or group presentations.
But as I mentioned before this can be a challenging process.
Let's face it, who wants to be the 'Hostess with the Mostest' nowadays – the thought of inviting friends, organizing snacks and drinks and cleaning up afterward can be daunting for many.
So it is much easier to convince people to hold a virtual party and get some Hostess rewards as a 'Thank you.'
I am missing the modern touch here with Arbonne. It would be good to give a consultant different options.
Personally myself, I have found direct selling/MLM to be a tough business where you have to learn to deal with rejection, objections, sometimes no sales at all, and lots of party cancellations.
It takes a strong mindset to overcome these obstacles and to build a successful business in the industry.
Have you noticed that most MLM companies are mainly targeting women as potential recruits? Women join these companies for so many different reasons.
In Arbonne case, I was quite surprised to see a few men amongst the consultants.
When I started my direct selling business I was looking for something different than 'just' being defined as a mom. The thought of being part of a sisterhood was appealing to me and also getting out of the house and meeting new people.
Even though I am a self-confident person, not reaching my goals, like not enough sales and recruiting left me quite frustrated at times and doubting myself.
The truth is 'the overwhelming majority of MLM participants (most sources estimated to be over 99.25% of all MLM participants) participate at either an insignificant or nil net profit.' (source Wikipedia)
If you do love the products and feel they are worth the money, then, by all means, go for it. I don't think there is a huge risk to lose money since the start-up costs are low and no additional fee applies.
Just be aware that you need to purchase products as well as business aids and samples which can be quite expensive.
To build a substantial income, you'll need to put in full-time hours for sure.
Want to build a business that doesn't require network marketing skills and will earn you passive income for years to come? Please read more about my #1 recommended business model.
---
Is There A Better Business Model?
Even though Arbonne makes it pretty easy to sell the product, the products are expensive.
But considering the quality of the ingredients and the fact that they don't contain nasty chemicals may make it easy to find a buying audience.
I still think there are better business models out there than selling and recruiting.
I had been a consultant with a direct selling company for over three years so I speak from experience when I say it takes a lot of hard work to be successful with the MLM business model.
The initial enthusiasm rubs off pretty quickly if other people don't share the same love for the product you are trying to sell.
I've learned that selling stuff to people is not my strong point even though I loved the products.
Ringing potential customers, dealing with return and refunds, traveling for hours to do presentations without sometimes getting any sales was tough going.
I know of people who were super successful but they were working consistently for around 40 hours or more a week.
Well, looking back I'd say it was a huge learning curve but not what I was looking for in an ideal business. In reality, the hours weren't exactly flexible, instead, I had to work in the evening and on weekends.
For the past three years, I have been building my online business that doesn't involve recruiting or calling people at all. Now I can work whenever and wherever I want to work with only a laptop and an internet connection.
I have to be honest though: my recommended business model is not for everyone. It takes at least 6 to 12 months of consistent work to see the first results aka earning money.
If you are able to invest between 10 and 20 hours of work a week then you will surely succeed.
Once you get the foundation right, you will earn passive income for years to come. All it takes is good training, consistent work, and taking action!
I am now earning around $1000/month in passive income with little effort.
Ready to take the leap and start a legit business that doesn't involve recruiting or selling? Sign up here for free!
---
[mailerlite_form form_id=2]