Limelight by Alcone is one of the youngest members in the MLM and direct selling world. Despite the young age, there are lots of Limelight by Alcone reviews on the net which don't always tell the whole story.
Before you join the company, read my Limelight by Alcone review and check for yourself if it is worth joining this direct selling company.
Before I get started and to avoid some confusion, Limelight by Alcone recently (in May 2018) changed their name to LimeLife by Alcone.
By the way, I am still referring to Limelight instead Limelife because the latter is not so popular yet.
The reason for it is that they want to expand their business globally. But are they ready for it?
Read more about it and if this business is the right choice for you in my Limelight by Alcone review.
At the end of this review, I will also show you, how new and existing consultants can get more sales and recruit leads.
---
Most people fail in network marketing because they don't know how to get more leads to build a team and how to increase their network to get more sales.

It's time to stop annoying your friends, family, and workmates.

Read more about my proven strategy to generate sales and leads for your business.
---
Without further ado, here are thirteen facts you need to know before you join Limelight by Alcone.
---
#1 LimeLight/LimeLife By Alcone – A Young Company With A Twist

Even though Limelight by Alcone was launched in 2015, there is a lot of history behind this company.
Alcone is a family-owned business that started selling professional make-up to artists, actors,  and the Broadway theatre back in 1952. They are based in one of the trendiest cities in the world, New York.
In 2013, the company founded Alcone At Home with the aim to sell high-quality make-up to women at home.
Two years later, in 2015, Alcone evolved to Limelight by Alcone and adds all-natural skincare to their product range.
Finally, another name change took place in May 2018; LimeLight is now called LimeLife by Alcone. Phew,  three different names in five years, that is a lot.
---
#2 All Natural Products – Or Not?

The skin care range is all natural and according to the company is paraben free and cruelty-free.
It's a different story when it comes to the make-up products. There is no indication that they haven't been tested on animals.
The most popular product, the LimeLight botanical foundation is 100% Mineral Oil-Free, 100% Lanolin Oil Free, and 100% Fragrance-Free.
One of the strongest selling and marketing points is that this makeup has been used by professional makeup artists and celebrities for the past decade.
---
#3 The Happy Guarantee
LimeLight offers a 30-day Happy Guarantee. So if you are not happy with the product, you can either exchange it or get a refund.
---
#4 Who Wants To Be A Beauty Guide
I am always astonished how creative the marketers for each direct selling companies are. Instead of being a Sales Representative or Distributor, through my research I have found all sorts of new 'names.'
Well, in the case of LimeLight by Alcone, if you decide to sign up with them you will become a 'Beauty Guide.'
Here are some more inventive variations I have seen with other MLM companies:
Anyhow, back to Limelight. After you have enrolled, you start off as a 'Beauty Guide in Training' and once you reach certain sales (more about the money later) you climb to the next level and become an 'Independent Beauty Guide.'
---
#5 The Starter Kit – Worth The Money?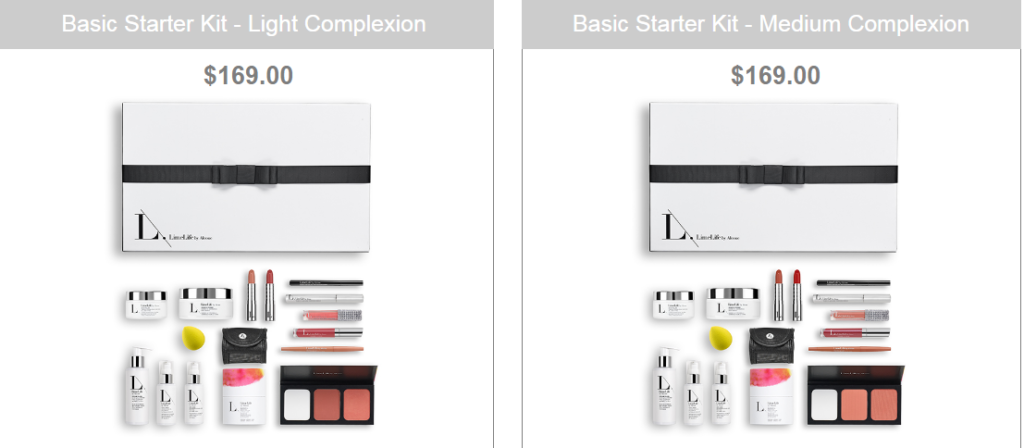 To become a Beauty Guide, you'll need to purchase a Starter kit that costs $169. That is $69 more than a Starter Kit you'll have to purchase when you join Younique for instance.
It contains: 1 Cleanser, 1 Mask, 1 Moisturizer, 1 Dew Date, 1 Bamboo Renew, 1 Perfect Mascara, 1 Blenderful, 1 Enduring Lip Liner, 1 Enduring Lip Color, 1 Perfect Lip Gloss, 2 Perfect Lipsticks, 1 Perfect Eyeliner Pen, 1 Blush/Powder Trio Palette, 10 Catalogs, 1 Set of Foundation Cards and Training Materials.
I do like the fact that you can choose from different complexions according to your skin tone. Either choose the light, medium, or dark complexion.
It is really hard to judge what the value of the kit is. It would be great to see a bag with it to store the items.
Also, a nice shiny bag is always great to show off when you turn up at your presentation.
By the way, Limelight calls a party or presentation a 'Beauty Show.'
---
#6 Getting Training
Once you sign up with Limelight, you get access to an 8-day online training course.
That is good news for everyone who is serious about building their business.
Without proper training, whether it's about sales strategies, overcoming objections, or knowledge about the product you are about to sell, you'll most likely give up before even get started.
---
#7 Are There Any Additional Costs?
Yes, there are.
The website you'll get costs $9.95 a month (the first month is free) and you have to pay a renewal of $75 starting on your first anniversary.
Even though you don't need to buy inventory, of course, you need products to showcase at presentations.
So more than likely, new Beauty Guides will spend quite a bit of money to buy more products. Be prepared to invest some money.
The products are not cheap even though you'll get them at wholesale price.
---
Read How I Make Four Digits A Month Without Selling Or Recruiting. Find Out How You Can Do Too.
---
#8 Show Me The Money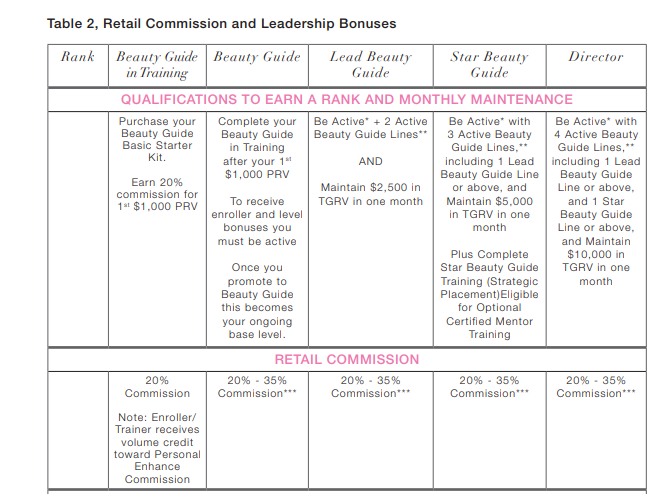 The screenshot only shows the earning potential for the first five ranks and only the commission payments on your PRV (personal retail value).
The basic commission is 20% but you can earn up to 35% commission depending on the sales volume.

As you can see in the screenshot, in order to receive these enhanced commissions you have to be at least ranked as a Beauty Guide.
To be counted as active you need to have $300 of PRV each calendar month otherwise you won't receive commissions on your team sales.
Check out the full compensation plan, including bonuses by clicking here.
---
#9 Get A Fast Start
Most MLM companies offer a 'Fast Start' program and LimeLight by Alcone is no exception.
Let the company talk a bit rather than me explaining all the nitty-gritty details.
By the way, I don't endorse this video; it just makes life a bit easier to hear it from the company itself.
---
#10 No Products – No Sales – No Commission
Well, the biggest issue with LimeLight is that, according to LimeLight by Alcone reviews, that some of the products are quite often out of stock. It can take months until products are being sent out to customers.
If products are out of stock, there is no chance to earn a commission, meet the 'active' ($300 PRV) requirement, not to speak of getting the Fast Start bonus.
One must wonder if the company has prepared themselves properly before they ventured out into the vast world of MLM marketing.
Not being able to provide customers with products is not only frustrating for Beauty Guides and customers alike.
In the end, customers will shop elsewhere and Beauty Guides will most likely try their luck with other MLM companies.
---
#11 Hostess With The Mostess
LimeLight's preferred way of introducing its product to women is via presentations or home parties. As I said before they are calling it 'hosting a (Beauty) show.'
But when I looked at the website to check out their hostess rewards, I felt rather underwhelmed. There is no indication what a hostess will receive in return for hosting a 'show'.
So, why on earth, would I get into all the trouble of inviting friends for a presentation when I don't even know what is in it for me?
Thumbs down for the party plan method. There is no Hostess with the Mostess in sight. Limelight needs to change a few things to make it more attractive for customers e.g. showing the hostess rewards.
---
#12 Rating With The BBB
Limelight by Alcone is not accredited with the Better Business Bureau but still has a rating of 'F' which is the lowest rating.
The rating is based on the length LimeLight has been in business but also because of the fact that 27 complaints had been filed and the company failed to respond to six of them.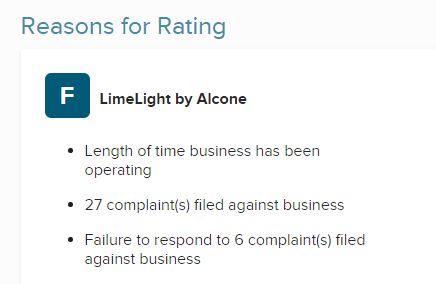 The main reason for the complaints was that products are out of stock, didn't get shipped, and still, customers were billed.
---

---
#13 Supporting A Good Cause
On a brighter note, LimeLight supports women in impoverished societies to build their own business. It is called the 'Brighter Together Foundation."
---
Conclusion
Overall, I am feeling underwhelmed with the LimeLight by Alcone business model. There is nothing new or exciting about this company.
If you are looking for a more established company that actually has products available, you may be better off with companies like Arbonne, Ever Skincare, or Mary Kay.
Limelight by Alcone is based on the good old 'Party Plan' selling model. Get the girls together for a few drinks, try out some make-up and have some giggles.
In theory, it sounds like fun…
But let's face it, who wants to be the 'Hostess with the Mostest' nowadays – the thought of inviting friends, organizing snacks and drinks and cleaning up afterward can be daunting for many.
I am missing the modern touch here as you can find it with Younique and their virtual parties or Mary Kay, who offers an app that customers can download.
I personally find direct selling/MLM a tough business where you have to learn to deal with rejection, objections, and lots of party cancellations.
This is even truer when the only way to sell products is via home parties. And it gets even harder when the products are not available.
LimeLight by Alcone has to step up their game to be as successful as their competition.
It takes a strong mindset to overcome these obstacles I mentioned before and to build a successful business in the industry.
Have you noticed that most MLM companies are mostly targeting women as potential recruits? Women join these companies for so many different reasons.
Quite often they look for ways to supplement the household income, find something that offers flexible hours, and the chance to make a career.
How To Get More Leads And Sales
Home parties are a bit outdated as I outlined before but there is a way that could help you to generate more leads and more sales for any MLM opportunity.
You probably remember that you'll get a personalized website with Limelight once you sign up? Well, the problem here is that thousands of other consultants get a website as well.
The big question is: How will your website stand out from the crowd and will be found by customers interested in the Limelight by Alcone products or the opportunity?
That is where my solution comes in. The good thing for you is that not many people know about it so there is your chance to get a huge advantage.
Are you ready for it?
Build Your Own Website/Blog!!!
No way! I can hear you say. Why would I build a website? What does it have to do with the Limelight opportunity?
Here is the answer:
Your own blog gives you the opportunity to build trust with your customers, become an authority as a makeup expert if you wanted to and promote the Limelight products at the same time.
Not only will your own blog give you the chance to connect with your targeted audience (women/moms) but you could also promote other (beauty) products as well and earn money with it. It is called affiliate marketing (read more about here).
From your blog/website you can link to your personalized Limelight website where people can sign up as a consultant or buy the products.
You could also publish videos on YouTube and link it to your blog. The possibilities are endless.
Here is a good example of a blogger who linked her blog with the Limelight opportunity by writing a review and then inviting her readers to join the opportunity if interested. Have a look at it here.
So if you are keen to learn how to build a blog/website, maybe a 'Mom' blog, a fashion blog, or lifestyle  blog, then I recommend to join my #1 training platform Wealthy Affiliate where you learn step-by-step how to build a website and drive targeted traffic and leads to your website.
Remember, more leads equals more sales and more team members.
Here is the best part. You can become a member of Wealthy Affiliate for free to see if you like it. No strings attached, no credit card required.
---
Start Getting More Leads And Sales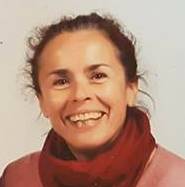 ~Anke
Connect with me on Wealthy Affiliate.
---
This post may contain affiliate links. Read more in the affiliate disclosure.
---
Stop Annoying Friends And Family!
Discover How To Create Passive Income
Without Recruiting One Person!
Sign-Up For My Free Email Course And Start Building A REAL Business!