Did you have enough of all the other It Works! reviews because they only give you a little bit of the information you are looking for!
Well, look no further. You have come to the right place.
My It works review not only covers the products and compensation plan but also gives you a detailed insight on some of the biggest flaws with this MLM company.
There are literally countless opportunities out there to get involved in direct selling and multi-level-marketing that promises you the freedom to choose your own (working) hours and the opportunity to earn big bucks.
My It Works! review will show in detail what it takes to get involved with this company and if it is the right business for you.
The company has established itself in the Evergreen Health and Weight Loss Niche which is always popular but also highly competitive.
So how is It Works differently to other companies like Juice Plus or Melaleuca for instance?
Without further ado, let's get started.
---
Looking for a business opportunity that doesn't involve recruiting or selling? Read my # 1 recommendation here.
---
What Is 'It Works' All About – The Company 
It Works was launched back in 2001 by founder and CEO Mark B. Pentecost.
The company has three headquarters: in Palmetto, Florida; in Dublin, Ireland; and, since 2018 in Seoul, South Korea.
It Works has had an exceptional growth in the past few years. In 2012, they reported sales of $100Million. From there, they reported a steady growth.
You can find the company in over 20 countries. Besides the US and Canada, there are also in Germany, Denmark, the UK, South Korea, New Zealand, and Australia, just to name a few.
They describe themselves as 'an industry leading beauty and nutrition company that empowers people to live the life of their dreams." (Mark B.Pentecost; Founder and CEO of It Works)
From the initial beginnings of selling body wraps in 2001, the real success story began, when It Works introduced their nutritional supplement line in 2005 and expanded their business internationally in 2008.
---
The Products

It Works has split their products into three categories: Beauty, Nutrition, and Lifestyle.
Some of the most popular products include, of course, the body wrap – also called the 'Ultimate Body Applicator', which is supposed to redefine the appearance of your body's contours.  It promises to tighten, tone, and firm the skin.
Other products are Keto Works, Defining Body Gel, Fat Fighter, Greens – includes Protein Shakes, and Essential Oils.
It Works also created packs such as:
 The 'Target Trio' pack:  for customers who want to lose belly fat.
Metabolic Burn: to burn calories, fight fat, and build muscles.
It Works System: to tone and tighten your skin and improve the appearance of your body.
Here is a spoiler alert though. None of the statements about the efficiency of these products have been evaluated by the FDA (the Food and Drug Administration).
Therefore under each product, you'll find the following note.
So, the customer pays a lot of money for a product that promises certain health benefits but no one knows if they actually do what they are supposed to do. Hmmm ….
---
How To Join – The It Works Business Opportunity
To become a 'Wrapreneur', that's what IW distributors call themselves, you'll need to fill in an application and pay $99 for a Business Builder kit. According to the company, this business kit has all the products and tools you need to share and sell IW.
What You Get
– Wholesale price on the products
– Cutting Edge Tools (it's not clear what exactly they provide)
– $120 worth of products including four wraps
– Simple training, and support
– A replicate website which is free for the first 30 days
– Access to 'esuite' to keep track of your sales
Now here is the catch: in order to receive commissions, you need to either have an auto-ship with products of at least 80 Bonus volume (BV) a month or sell products worth 150 PBV a month.
PBV stands for Personal Business Volume and includes all your personal purchases and from your loyal customers.
Technically, doing the auto-ship is optional but in reality, you need to sign up for it when you apply for the Business Builder kit.
Here is a screenshot of how BV is allocated to the product range.
That means you need to spend around $84 a month to be commission qualified.
On top of that, the monthly fee for a website is $20 which is expensive. So all up, the running costs to be a Wrapreneur is $100 each and every month.
To get your investment back, you need to sell a lot of products and recruit people into the business.
The emphasis is on the first 30 days and IW system '3 simple steps to success' which you should repeat every month.
What Are The Steps To Success?
Step 1: Join the Party – purchase your Business Builder Kit
Step 2: Get 'Wrap Free' – get 4 loyal customers in your first 30 days and earn $120 Distributor Rebate Credit which you can use to get 2 boxes of wraps
Step 3: Guarantee – if you personally enroll 3 distributors who complete Step 2 within your first 2 calendar month, IW guarantees a minimum income of $500/month.
Let's talk about a loyal customer. The perks of being a loyal customer are that you get 40% of the retail price and also earns some perk points for each purchase.
But, in order to get 40% off, this person has to commit to at least a 3 months auto-ship order or has to pay a $50 membership fee.
Just imagine finding four loyal customers each and every month who are happy with an auto-ship order for three months. You need to do a lot of presentations to get the word out and show people the product.
Also, recruiting three distributors who are happy to invest $99 plus a monthly cost of at least $100 per month. I'd say that is not an 'easy walk in the park.'
Moving on…
---
The It Works Compensation Plan
The chart above shows you the seven ranks one can achieve with IT Works as well the average earnings potential.
It is quite striking that the majority of people remain in the first three ranks where the average earning is no more than $474 a month. It is okay as a side hustle but definitely not to feed a family.
It is usually the case for most of the MLM companies that only a few earn the big bucks; it's just the nature of the MLM system. Read more about it on Wikipedia.
I have also attached the link to the compensation plan, which is here Compensation plan booklet.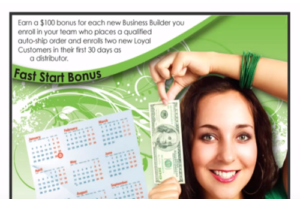 Now, there are several ways how you can earn money with It Works:
Through product sales where you get a 10% commission
Fast Start Bonus (see screenshot)
Free products through the Distributor Rebate Credit
Leadership bonus (from Diamond levels up)
Commission for team sales in your downline: 10% on the first two levels and 5% for the third and fourth level
Car Bonus: $600; if you enroll 60 new loyal customers (no time limit) and have a minimum of $3000 PBV each month
---
The Good
To be frank, I have to dig deep to come up with good things for It Works.
For starters, the joining fee of $99 is reasonable especially with the chance to get your money back when you sell the wraps that are included in the Business Builder kit individually.
The company has proven to be solid and with strong leadership which shows in consistent sales and expansion to over 20 countries worldwide.
The products appeal to a wide audience; not only to people who want to lose weight but also like to follow a certain nutritional diet.
The slogan 'Crazy Wrap Thing' and the term 'Wrapreneur' are fairly original, catchy, and could be a conversation starter to attract new customers.
That's about it really.
---
The Bad
There are quite a few things I dislike about It Works and their business opportunity.
First up, the auto-ship orders of 80BV a month to qualify for commission payments can be a huge commitment.
Even though the auto-ship is optional, it seems there is a lot of pressure to sign up for it.
These payments can be hard to meet for some people especially if they are new to the business or are on a low income.
Don't get me wrong, you have to invest money if you are trying to build a business but it should be your choice where you want to invest and how. It has to make sense overall.
Secondly, there is a lot of grumbles about the loyal customer agreement. I checked out the BBB where customers filed nearly 400 complaints (!) in the last three years.
It Works also received only a C+ rating. Not very impressive!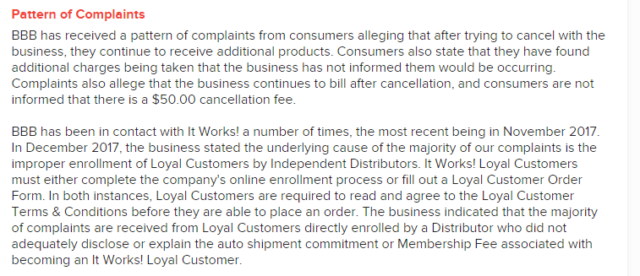 It clearly shows that people who sign up to be a loyal customer aren't aware of the three months auto-ship or alternatively the membership fee of $50.
Distributors are either not trained properly to show customers what is involved when they are signing.
Related post: The Melaleuca Business Opportunity
Or, the pressure to get new loyal customers is so high, that they rather not tell the truth about the financial commitment that is involved.
New customers can't even 'test the waters' so to speak if the It Works products are even right for them or not.
That brings me to my next point: none of the It Works! products and their health benefits have been evaluated by the FDA as outlined before. So it is not clear if they even work as promised.
Would you spend a whole lot of money on products that have no scientific research to back them up?
The problem with these kinds of products is that they may work for some but not for others. Some people may get allergic reactions or other health-related issues.
---
It Works Reviews – Wrapping It Up
Would I personally join It Works? The clear answer is 'NO'.
I do hope that my It Works review has given you some insight on whether this company is a good choice for you or not.
Even though the company tries to be original with their slogans and marketing; it is just the same old MLM strategy.
Just by looking at the three steps of success- it is all about recruiting and getting 'loyal customers' in the hope that they become 'Wrapreneurs' as well.
The company tries to make it look as it was an easy sell when in fact, many people don't like to be bound to an auto-ship order for products which might not even work.
You definitely have to organize parties to introduce the body wrap and other products to potential new customers.
But as you probably know, the competition in the health and wellness niche is vast and people doing their research before they buy into a new product.
It takes a strong mindset to overcome these obstacles and to build a successful business in the MLM industry.
If you do love the products and feel they are worth the money then, by all means, go for it.
But expect to put long hours and consistent work into networking, phone calls, organizing presentations, traveling, and advertising on social media.
Want to build a business that doesn't require recruiting people and will earn you passive income for years to come? Read more about my #1 recommended business model.
I had been a consultant with a direct selling company for over three years so I speak from experience when I say it takes a lot of hard work to be successful with the MLM business model and only a few make it to the top.
The initial enthusiasm rubs off pretty quickly if other people don't share the same love for the product you are trying to sell.
For the past three years, I have been building my online business that doesn't involve recruiting, calling people, and selling products at all. Now I can work whenever and wherever I want to work with only a laptop and an internet connection.
I have to be honest though because quite frankly my recommended business model is not for everyone. It takes at least 6 to 12 months of consistent work to see the first results aka earning money.
If you are able to invest between 10 and 20 hours of work a week then you will surely succeed.
Once you get the foundation right, you will earn passive income for years to come. All it takes is good training, consistent work, and taking action!
Ready to take the leap and learn how to make money without recruiting? Sign up here for free!
---
[mailerlite_form form_id=2]