Steeped Tea is one of the few direct selling companies that has its roots in Canada and only a few years ago expanded its business to the United States.
If you are a passionate tea drinker and love everything revolving around this ever so popular beverage, then you may be a candidate to get involved with the Steeped Tea 'business' opportunity.
The Steeped Tea opportunity promises flexible hours, no need for carrying inventory, and the tools to succeed in the party plan industry.
My Steeped Tea review walks you through the joining process, talks about the company,  and lastly if you can make money with selling tea.
At the end of this post, I will also share a business model not many people know about. It is an alternative to the constant selling and recruiting demands that come with being involved with multi-level marketing.
If you have an entrepreneurial mind, I encourage you to read right through to the end.
Without further ado, let's dive into the world of tea and 'Sipology.'
---

---
Steeped Tea – Is It Time To Par-Tea [Review]
The Steeped Tea Company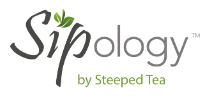 Founder and mastermind of  Steeped Tea is Tonia Jahshan who owns the company together with husband Hatem. They started the company back in 2006 and officially launched in the US in 2014.
Tonia has a strong background in the direct selling industry since she was financing her studies by being a consultant.
Their business really took off thanks to Tonia's and Hatem's successful appearance and pitch at the CBC's Dragon's Den, the equivalent to Shark Tank in the US, where there partnered with two wealthy investors.
The idea of selling loose tea that are infused with different flavors came to Tonia while her and hubby were on a short vacation in Novia  Scotia.
Tonia has received several accolades acknowledging her as number 1 female Canadian entrepreneur in 2016.
I do like that she seems to be a very hands-on person with regular FB videos and tours to speak to consultants. That is a very similar approach to Jessica Herrin, the founder of Stella&Dot, Keep Collective Jewelry, and Ever Skincare.
---
The Steeped Tea Products

Steeped Tea offers over 100 products including different blends of loose tea, tea making products such as mugs and cups, teapots and infusers, as well as tea infused dressings, seasoning, and even essential oils.
Lovers of Matcha tea will find a good variety of different flavors and for health-conscious people, there is a set for making Kombucha tea.
According to the Tea Association of the U.S.A., "tea is the most widely consumed beverage in the world next to water, and can be found in 80 percent of all U.S. households." On any given day, the association's fact sheet says "over 158 million Americans are drinking tea." [source: DSN]
Most of the teas consumed are in tea bags so for new consultants there can be a huge growth in showing customers how much better loose tea tastes.
Price wise, the tea assortment, as well as the teaware, cost not much more than specialty teas you can buy elsewhere.
I have found some positive reviews regarding the taste and flavor of the teas on here.
---
How To Become A Sipologist
How is this for being creative – Sipologist aka Steeped Tea consultant.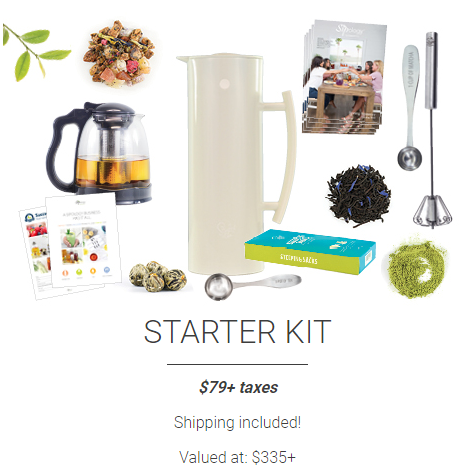 To become a Sipologist you need to purchase a starter kit which is also called a 'Business in the Box.' It costs $70 plus taxes but the shipping is free.
The starter kit contains:
Flowering Teas
 Color-changing Teas
Heal-Thy Self Tea
 Teas
 Matcha
 Teaware
Catalogs
 Order Forms
 Personal Website & Shopping Cart** (3 months)
 Training Programs
 Supporting Print Materials
 Head Office Support [source: website]
How much you would have to pay for the website once the three months are over is not clear.
All I have found out is that you have to have $500 in sales in a three months period to remain an Active Consultant.
Success Start
In the first 90-days of your Steeped Tea endeavor, you have the chance to earn $400 worth of products and tools.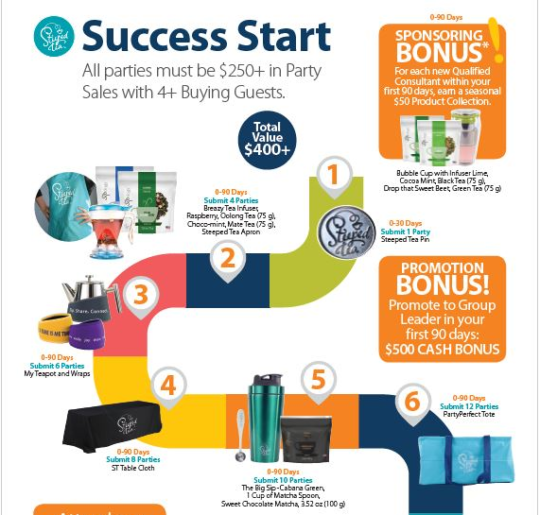 The achievements/goals for the first 90 days, as you can see on the image above, are doable and in return give you some free products you then can showcase at the  ParTeas.
It might be a bit tricky that at each party at least four different people have to buy something. The requirement for all parties, not only for the Success Start but also that the Hostess qualifies for rewards is $250 in sales and four buying guests.
From my experience with the Party Plan business, sometimes there are just one or two people at a party that are willing to spend good money.
The need to have four different people to buy something puts unnecessary pressure on a consultant in my opinion.
---
Where Is The Steeped Tea Compensation Plan?
That is something that puzzles me about Steeped Tea: there is no compensation plan to view online and trust me I did do my research.
I've tried all sorts of searches on Google and YouTube but nothing. That is very disappointing because having an insight into the compensation plan is a good indication of what ranks can be achieved and also the sales and recruiting requirements.
All I know is that a Sipologist can earn between 25% and 40% on sales and also overrides on team sales. The Success Start chart also shows that Steeped Tea pays out bonuses for rank advancements.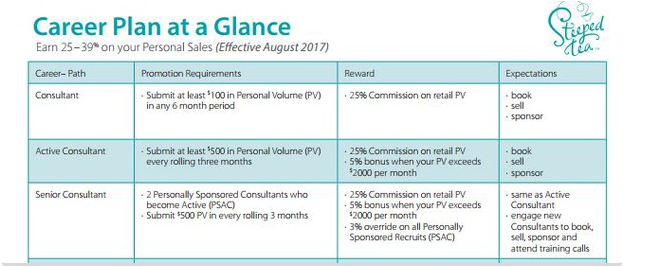 This snippet of the career plan is all I could find online. But it may give you an idea of what to expect with Steeped Tea. So basically the basic commission applies for sales of up to $2000. It increases to 30% for retails sales when the sales exceed $2000.
Wow, there is a lot of products that need to be sold to get to $2000. Since Steeped Tea doesn't share what the average party sales are, I can only assume that a consultant should have at least 8 to 10 parties a month with at least $250 in sales each time to achieve $2000.
That could be through in-home parties or virtual parties via Facebook for example. 10 parties a month is a lot and even though the consultant may have good party bookings, there are usually cancellations, guests don't show, or they are not in buying mode.
Which brings me to the Party Plan model.
---
Let's Have A Tea Party
The party plan model makes a lot of sense because customers get the chance to try the tea first before they buy. It's also a good way to catch up with your girlfriends and have some social time.
Hostess rewards are a good incentive to encourage people to organize a get-together and hopefully, from one party, the consultant gets more bookings and the chance to recruit new people into the 'business.'
Alternatively, you could sell products via your personal website or on social media.
But there are a few things that I feel are missing. Even though the products are of good quality, I miss the innovative approach here.
The Hostess rewards are okay but not overwhelmingly great with the usual product credit, half-price items, plus a host exclusive product.
Why not offering themed parties like Pink Zebra or Tupperware do?
Here is another thing. Not everyone is into drinking tea. So the product range can be a bit limiting when people try to invite friends to their tea party.
People, especially women are so busy nowadays that it can be challenging to find a) a hostess and b) if you find a hostess it may b tricky for her to find guests who love tea and tea related products.
Even though tea is a  consumable product, how often do you need to buy new tea? Just something to consider…
---
Can You Make Money Selling (Steeped)Tea
It would be awesome to see an income disclosure but there is none available, just like the compensation plan.
I wonder what is going here. Why is Steeped Tea not publishing any data?
I assume that the majority of consultants don't make much money selling Steeped Tea products. To get a monthly income of $500 (before expenses), one has to have at least $2000 in sales each month. That is a lot of effort for relatively little money.
$500 may be okay for a side hustle but not to replace a full-time income.
The only way to make money is by sponsoring people into your team and earn overrides on their sales. The reality is that many people start but also leave quickly.
Direct selling  is no 'walk-in-the-park.' It takes hard work, lots of phone calls, hostess coaching, traveling to do the parties, customer service like handling returns and follow-up phone calls and so on.
A good residual (passive income) depends a lot on the performance of your team members.
---
A Recap Of The Pros And Cons
The Pros Of Steeped Tea
There are a few things I do like about Steeped Tea. The founder Tonia is very hands-on and knows what consultants need to be successful in direct selling.
The products are of high-quality according to customer reviews. The commission payments of around 25% are average and you will need lots of sales to get to 30%.
There is good growth potential in the loose tea market which in return could lead to repeat and increased sales. The company is relatively new to the US market so the chances of building a team are really good.
The Drawbacks
Not everyone loves tea so this could be quite limiting when looking for new hostesses or recruits. I feel there is a lack of innovation when it comes to holding tea parties.
The hostess rewards are somewhat alright and there are no themes to choose from.
Selling via party plan is challenging and takes a lot of hard work. People are very busy and the thought of organizing a party with friends can be daunting for many.
As a consultant, you will have to deal with lots of objections and party cancellations which can be really frustrating especially when you are trying to achieve the next rank or other goals.
Most disappointing for me is that there is no compensation plan available to view (unless you sign up of course) and no income disclosures. Steeped Tea should be more transparent about the earnings potential and ranking requirements.
Lastly, please be aware that joining a direct selling or multi-level marketing company doesn't mean you are the boss or own the business.
To get a commission and to stay active, you have to have certain sales which are set by the company. You don't have any influence on the products, prices, sales strategies, and the likes.
What you can decide though is how much time and effort you want to put into the Steeped Tea opportunity.
---
Conclusion And An Alternative Business Opportunity
I do hope that my Steeped Tea review has helped you to make a decision whether or not you would like to become a Sipologist with this company.
Unfortunately, I can only assume how much money you can earn with Steeped Tea but looking at the commission payments, it is probably best suited for a side hustle.
The problem with most MLM opportunities is to get new customers and leads.
Now, here is something that could help new and existing consultants to generate more leads and therefore the chance to build a team as well as getting better sales.
You remember that you'll get a personalized website with Steeped Tea once you sign up, right? Well, the problem here is that thousands of other consultants get a website as well.
The question is: How will your website stand out from the crowd and will be found by customers interested in the Steeped Tea products or the opportunity?
That is where my alternative business opportunity and solution comes in. The good thing for you is that not many people know about it so there is your chance to get a huge advantage.
Are you ready? Here it is: Build Your Own Website/Blog!!!
Whaaat! I can hear you say. Why would I build a website? What does it have to do with Steeped Tea?
Your own blog gives you the opportunity to build trust with your customers, become an authority as a tea expert if you wanted to and promote Steeped Tea at the same time.
Here is a perfect example of a 'mom' blog I have found where the owner is a Sipologist as well. You can check it out here.

Not only gives your own blog the chance to connect with your targeted audience, which is most likely other women/moms but you could also promote other products as well and earn money with it. It is called affiliate marketing (read more about here).
This is what I've been doing for the last few years and earn a pretty good passive income with it.
So if you are keen to learn how to build a blog/website, maybe a 'Mom' blog, a 'Tea' blog, lifestyle or cooking blog, then I recommend to join my #1 training platform Wealthy Affiliate where you learn step-by-step how to build a website and drive targeted traffic and leads to your website.
Remember, more leads equals more sales and more team members.
Here is the best part. You can become a member of Wealthy Affiliate for free to see if you like it. No strings attached, no credit card required.
Start Building A REAL Business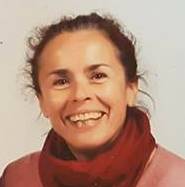 ~ Anke
Connect with me on Wealthy Affiliate
---
This post may contain affiliate links. Read more here.