Welcome to my post "Is Purium A Scam" or is it a good opportunity to earn money with Purium's health and weight loss products.
Are you looking for a way to make some extra cash? Do you love the products and want them to share with friends and family and get rewarded at the same time? Or, are you looking for a work from home opportunity to get away from the daily 9-5 grind?
Whatever the reason, you have come to the right place.
In my Purium review, I will share facts about the company, its founder, the products, and walk you through the joining process and compensation plan.
What makes Purium different from other MLM companies which are selling health, weight loss, and wellness products?
Similar and therefore competing companies are Shaklee and Forever Living.
Good on you for doing your research before getting involved with the Purium opportunity. Too often people are losing money with MLM companies and end up frustrated and with a lot of debts.
I'll try to shed some light about the fact if you can make any money with selling the Purium products and finally, is this company legit or just a plain old scam.
At the end of this Purium review, I will introduce a business model that may be great for people who have had enough of being in the network marketing industry. Who knows, it may lead to something amazing.
Without further ado, let's get started.
---
Read how I earn at least four digits a month without recruiting or selling. And you can do to.
---
Is Purium A Scam? – Or A Good Making Money Opportunity
Facts About Purium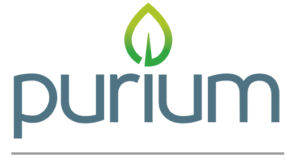 Purium Health Products has been in business since 1992 and was founded by David Sandoval and Amy Venner-Hamdi. Both are passionate about whole food and that is what Purium is all about, providing whole, raw, green products with no artificial color, binders, or fillers.
Amy is the president and also the author of the book 'Women On The Rise.' David has published the well-known book 'The Green Bible'.
Purium is a subsidiary of Organic By Nature, Inc. and has undergone a major rebranding in 2016 with a new logo, new products, and biodegradable packaging.
Purium has also been recognized as one of 5000 fastest-growing, privately held companies for a few years in a row.
Purium operates in 30 countries worldwide. In Europe, the company's name is 'Platinum Health Europe.'
The Mission Statement
Purium's vision is to heal the world by eating good and clean (organic) food. They also initiated the "Million Mom Movement" with the goal that families eat 'cleaner and greener.'
What I don't understand though is that Purium says "It includes expanding financial opportunity through the free enterprise system."
Which enterprise system? I can only assume that the company refers to the opportunity to become a brand partner with Purium. Quite frankly there is nothing 'free' about it which I will outline later.
---
The  Purium Health Products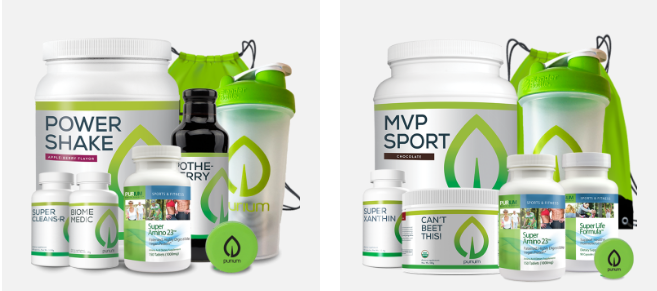 Purium is best known for its 10-day transformation either with the goal o cleanse your body or to lose weight. There are lots of reviews regarding these packs online and most of them sound pretty promising.
The cleansing pack contains
Power Shake Apple Berry
Apothe-Cherry
Super Amino 23
Super CleansR
Biome Medic
Blender Bottle w / Gym Bag and Tape Measure
It retails for $249 and for Loyal Customers around $186. It is definitely not cheap at $18.60 a day (with the loyal customer discount)
The 10-day transformation cleanse pack was even featured in the Harper's Bazaar a few years ago which is a sure sign of the pack's popularity. Read the post here.

Purium prides itself to offer products that are USDA certified organic and contain non-genetically modified organisms.
Save Money With The Loyalty Program
Considering the high price tag for some of the over 100 items, it may be wise to become a loyal customer with Purium.
There is no sign-up fee to become a loyal customer. You only need to spend over $75 on your first order and you'll receive a $50 discount.
Once you reach over $200, a 25% discount applies.
If you sign-up for the smart order which is basically a monthly auto-ship, the customer gets 25% on all orders.
---
Check Out My #1 Recommended Business Model. No Recruiting, No Selling!
---
How To Join – Become A Purium Brand Partner
For people wanting to sign up to sell Purium's products, there are a few options to chose from.
For $49 you can get the basic pack that comes with 5 gift cards and electronic member kit. I'll talk about the gift cards in the next section.
For people who'd like to get some products and don't mind spending more money, have a look at the other options on the screenshot.

The question for me is though, why Purium claims it is FREE to join when you purchase $500 worth of products at enrollment. Am I missing something here? How is spending of $500 free?
These options include some perks as well:
Marketing and Training materials, the Purium Brand Partner Starter Kit
1-year of Dreams platform (valued at $99)
The Green Bible, the book by co-founder David Sandoval
A shaker bottle
Unlimited $50 gift cards for one year, start with 100 gift cards
15 European gift cards (value €50)
QV 200 with $199
Achievement bonus activation
---
A Clever Marketing Strategy
Let's talk about the gift cards I have been talking about for quite a bit, shall we? Purium uses a very unique, simple yet clever marketing strategy to get new customers, and hopefully new Brand partners on board.
Purium hands out gift cards to its Brand Partners at no cost to them. The gift cards have a code that is linked to the individual brand partner.
So, when a person redeems the gift card and becomes a new Purium customer,  the Brand Partner who handed the gift card out gets a commission of 20%
Now, the cool thing is that the Brand Partner will get 20% on each following order the new customer may place in the future. That could result in residual (passive) income.
If the new customer decides to become a Brand Partner then he/she will become part of your team.
I do like the approach of sharing rather than selling the products.
Sounds too good to be true? Well, there is a catch: To be an active brand partner, you have to purchase at least 50 (Dollars?) BV each month. So I am not sure if the 50 refers to dollars or points.
Which brings me to the compensation plan.
---
Let's Talk About Money – The Compensation Plan
I don't want to talk too much about the compensation plan but it is fairly easy to understand. You can read the full compensation plan here.
There are eighteen ranks one can achieve starting as an Associate going up to a Royal Crown II. Now, as mentioned before, to remain active, the Brand Partner has to make personal purchases every month.
Check out the screenshot for more details and also requirements to advance in rank.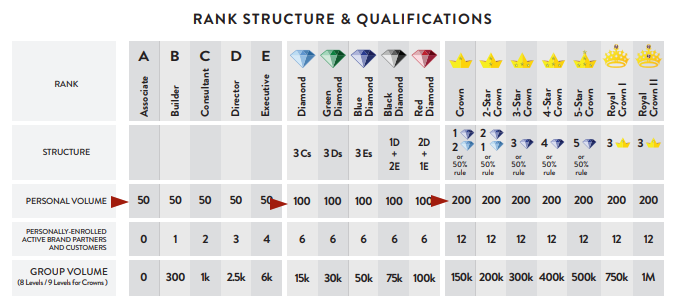 There is a bonus payment for customer purchases; for $1000 in purchases, you can get a $50 bonus, for $2000, a $100 bonus and so on.
Weekly AND Monthly Pay – 64 earning periods every year
Lucrative Coded Bonuses pay up to 60% for the enrollment of a new Brand Partner
36% Unilevel Bonuses (8 levels)
Up to 4 generations of Matching Bonuses for Diamonds and above
2 x 2% Infinity Bonuses
Total of 5% of the company volume goes into field Bonus Pools
The last three bonuses only apply to the higher ranks.
---

---
Can You Make Money With Purium
I can imagine that you could earn some money with Purium considering their unique marketing strategy. People respond much better to a sharing approach than being sold to.
But you need to have people in your personal network who are interested in healthy living and whole food for themselves and their families.
Let's check out Purium's income disclosure to see if my assumptions are right.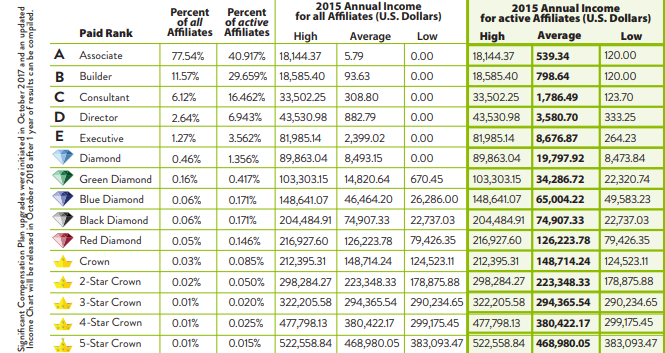 Looking at these numbers, I am feeling rather disappointed. In order to earn a decent income, one has to advance to at least Diamond or even better to Green Diamond.
The annual income (before expenses!) for the lower ranks is insignificant and won't make a difference to your overall household income.
Only 0.47% of active Associates made it to Green Diamond and the numbers dwindle the higher the ranks.
The income disclosure is from 2015 and Purium states that they are going to publish an updated one in October 2018. Well, so far nothing could be found on the world wide web.
Overall, looking at the stats the income potential with Purium is low.
---
The Pros Of Being A Purium Brand Partner
There are a few things to like about Purium. Not only are they an established company with being in business but they also providing organic whole food solutions for families to live healthier lives.
Many people, including myself, can relate to their holistic health approach and mission statement.
Purium has a BBB rating of A+ with mostly positive reviews and no complaints at all. Please note, that you will be redirected to Organic by Nature when you search for Purium on BBB.
There is no membership fee for people who want to save money on products, only a minimum order of $75.
Purium offers a 60-day money back guarantee which is great considering the high price tag for most products.
The compensation plan is easy to understand and I do like the unique marketing strategy by giving out gift cards rather than doing the hard sell.
---
What Are The Drawbacks
The biggest drawback for me is the fact that a Brand Partner has to have monthly product purchases of at least 50 BV to remain active and ultimately be eligible to earn commissions.
After all, you want to earn money and don't spend too much.
The products are quite expensive even with a $50  discount.
The earning potential is very low unless you advance to at least Green Diamond (the seventh rank!) which only 0.47% of active Associates have achieved in 2015.
---
Is Purium A Scam?
Now to one of the most important question. Is Purium a scam?
No, in my opinion, it is not a scam. The products are of high-quality, and Purium made on the list of the 5000 fastest-growing privately held companies a few years in a row.
The company has been in business for over 26 years and is represented in 30 countries worldwide.
The only red flag I want to raise is the monthly personal product purchase requirement. Very annoying!
---
Wrapping It Up
Ultimately it is up to you if you want to get involved with this MLM company. Purium distinguishes itself from similar companies by using their different marketing approach and a simple, easy to understand compensation plan.
To be successful though, you still need to know about sales techniques, how to present a product and how to approach people. Giving gift cards out is one thing but are people actually going to redeem them?
You need to know people in your personal network who are health conscious and have the finances to purchase the Purium products.
Bear in mind that you have to spend money each month to stay active and to be eligible to earn commissions.
You may be better off just being a customer who orders now and again rather than investing money in becoming a Purium Brand Partner.
The income potential is very low as outlined earlier.
---
An Alternative Way Of Making Money
There are so many other ways to earn money and work flexible hours at the same time.
If you had enough of being in the MLM or direct selling industry, you might want to carry on reading. It may lead you to something amazing…
What I am about to introduce is not the promise of getting rich quick (is there such a thing?), instead the chance to build a sustainable business without recruiting or being depended on one company or one product.
Related post: How I Make Passive Income Online and earn four digits a month.
For the past three years, I have been building my online business that doesn't involve recruiting or calling people at all. Now I can work whenever and wherever I want to work with only a laptop and an internet connection.
You may have heard of affiliate marketing before but never really knew what it was all about?
In a nutshell, first up it is a legit way of earning a commission for products you recommend via a website or a blog that you have to build.
In return, you earn a commission when people buy products or services via your blog.
The website/blog is your own business, you own it not anyone else. You are in control of what you want to write about and what kind of products you would like to recommend to your readers.
It is a true work from home opportunity where you can work at your own pace as much or as little as you want to.
Extra tip; with my recommended business model you will still have your friends and family, and you don't have to deal with complicated compensation plans etc.
What Are The Advantages Of Affiliate Marketing:
low start-up costs, if any
the opportunity to earn passive income for years to come
a legit way of making money online
you are in control of what products or services you like to recommend
work from literally anywhere in the world
no recruiting
no selling
no inventory – you only need a good laptop
flexible hours
you are not tight to only one company
your blog is accessible 24/7 by potentially millions of internet users around the world
The Cons Of Affiliate Marketing
it can take months until you earn money
for beginners, there is a learning curve involved
it can be challenging not to see any results for a while
Who Is Affiliate Marketing For
for people who'd love to build their own business risk-free
for Entrepreneurs
for people who love to learn and love challenges
for everyone who wants to build a passive income stream
for people who want to work truly flexible hours
for people who seek time freedom
Ready to take the leap and start a legit business that doesn't involve recruiting or selling?
Start Building A REAL Business!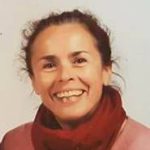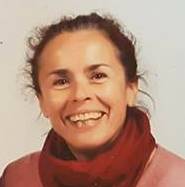 Anke
Connect with me on Wealthy Affiliate
---
This post may contain affiliate links. Please read the disclosure for more information.