Welcome to my Forever Living review to find out if Forever Living is a scam or a legit company. If you are into skincare products and nutritional supplements that are based on aloe vera, then you may be interested in the business opportunity the company offers.
Or, you might be looking for a 'work from home' job that promises flexible hours and the chance to be your own boss, just as the Forever Living consultant promised you when asking you to join.
Don't be too quick! Before you jump into starting a new career as a Forever Living consultant, read my detailed review to find out how you can join and if you should join this MLM company. Another important factor to consider is if you can make any money selling Forever Living skincare and wellness products.
A lot of people have been wondering if this company is just a scam or a legit 'work from home' business opportunity.
Let's find out the facts you need to know about Forever Living.
---
Read how I earn four digits a month without selling or recruiting.
---
Is Forever Living A Scam? – My Review
What Is The Forever Living Company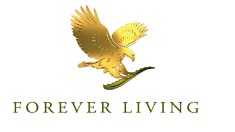 Since its humble beginnings in 1978, the Forever Living Company has become the…" world's largest grower, manufacturer and distributor of aloe vera" according to the companies website.
The company has its headquarters in Scottsdale, Arizona and is run by its founder and CEO Rex Maughan. A very important move for the company was to purchase the 'AloeVera for America' Texas-based company back in the 1990s which introduced these products to the Forever Living distributors.
Forever Living owns  Aloe Vera plantations, as well as manufacturing and packaging plants and facilities to store their products.
As of 2015, the company operates in over 150 countries worldwide and has a network of 9.3 million distributors.
---
Are  The Forever Living Products Any Good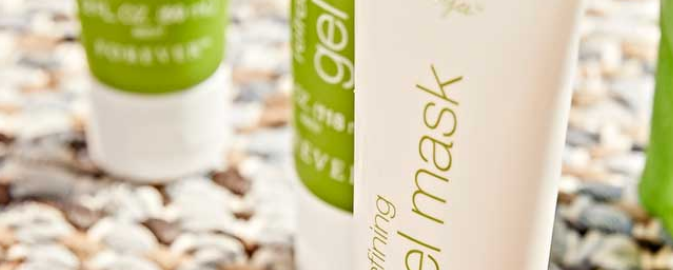 Forever Living products are based on Aloe Vera and bee pollen. They also use other botanical ingredients like acai, pomegranate, and in some skin care products a blend of essential oils.
I do like that the skincare products are leaping bunny certified which means they are not tested on animals and the consumer knows what ingredients are in the products. Interested people will find printable PDFs for each of the skin care products.
On the companies website, you can shop for (Aloe Vera)Drinks, Bee Products, Nutrition, Weight Management, Combo Paks, Skin Care, and Household.
I find the products reasonably priced compared to other wellness and beauty product MLM companies like Nu Skin, Youngevity, or Jeunesse Global.
Well, I can't say if Aloe Vera is such a healing plant or not and I am not intending to become an expert in that matter.
But I checked some product reviews online, mainly on Amazon, and most of them are pretty positive. In saying that, you need to take reviews with a 'grain of salt' but really if you are into natural products which haven't been tested on animals than Forever Living might be worth a try.
It doesn't mean though that you have to become a consultant or as they call themselves a Forever Business Owner (FBO). That is another story again.
Which brings me to my next point.
---
How To Become A Forever Business Owner
Let's start slow here because there are a few different terms Forever Living is using for people who would like to join the company.
For once, there is the term Novus Customer. A Novus Customer can join for free but must order a minimum of $100 worth of products to enjoy 15% off the retail price. By the way, is it really 'free to join', when you have to purchase a certain dollar amount of products?
As of  January 2017, they are not allowed to sponsor anyone.

This option is perfect for people who really like the products but don't want to be part of the business side.
If you do decide you want to take the next step from being a Novus customer to becoming a 'Forever Business Owner', then you have to personally order a  total of 2 case credits in two consecutive months. It qualifies you to Wholesale Qualified FBO.
Hang on a second I hear you say, what is a case credit? I'm glad you asked because I was wondering the same.
A case credit is an internal currency invented by Forever which is also used in the compensation plan. Now, a case credit is used to measure sales volume.
To make matters even more complicated, case credits can also have different sales volumes allocated to it as follows:
Wholesale $140
Novus Customer Pricing  $170
Retail $200
So, if you decide being a Novus customer is not enough, you want to become an FBO now, you have to spend a total of $340 (2 case credits) on products in two consecutive months.
Here is the second option; If you want to become an FBO straight away you can purchase one of the Starter Paks and qualify as a Wholesale Qualified FBO plus Assistant Supervisor straight away.
Prices start from $87.92 and go up to $253, and $364.65.
What puzzled me was Forever Living's statement that joining the company is completely free when as a matter of fact you have to purchase 2 case credits (as Novus Customer) if you want to become a FBO or if you want to qualify instantly you have to buy a Starter Pak.
Look at the statement on the screenshot.

I call this false advertising.
---
Can You Make Money Selling Forever Living
To determine whether or not you can make money with Forever Living we need to have a look at the compensation plan.
Here is a video by the company with an explanation of the compensation plan. Please note, I do not endorse this video, it is for educational purposes only.
There are a few things  I have noticed. First up, the compensation plan is very similar to any other MLM company with the difference of using the term case credit which is quite hard to translate into actual numbers.
The commission payments on retail sales are quite high with a markup of up to 43%. On top of that, you can also earn the usual bonuses and incentives.
To get paid the team bonus you have to stay active with 4 case credits a month which equals around $560 in sales volume.
These case credits are a combination of personal sales, retail sales, and Novus sales.
The good news is that once you achieve a certain rank you don't need to requalify – you will always stay there.
Read more about the compensation plan here.
To my surprise and disappointment, there was no income disclosure to be found. To me, that is not a good sign and doesn't speak for the company.
One can only assume, that even though the earning potential might be high (according to the compensation plan) but in reality, only a minority earns big money.
The truth is that "The overwhelming majority of MLM participants (most sources estimated to be over 99.25% of all MLM distributors) participate at either an insignificant or nil net profit.[12] Indeed, the largest proportion of participants must operate at a net loss (after expenses are deducted) so that the few individuals in the uppermost level of the MLM pyramid can derive their significant earnings." [source: Wikipedia]
---
Is Forever Living A Scam
Well, is Forever Living a scam? The answer is 'No' considering that they have been in business for over 40 years and are operating in over 150 countries.
The products seem to be of good quality otherwise they wouldn't be sold worldwide.
But they are a few things that don't go down well with me especially the company's bold claims that they are so much better than any other MLM company and to be the "greatest opportunity in the world".
And it goes on with their path of success strategy with "Guaranteed Success."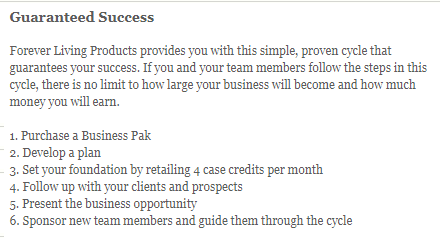 Well, wouldn't that be awesome! All you have to do is follow the cycle. and you sure will succeed. I don't think so!!!
No word about it that a new FBO needs knowledge about network marketing, sales techniques, overcoming objections, handling rejections and all those things that come with selling a product and the opportunity.
You don't want to be the annoying person who pesters friends, family, and workmates to join this MLM company, do you?
If it was that easy,  why is Forever Living not publishing an income disclosure? Some food for thoughts here.
---
Should You Become A Forever Business Owner
Before I give you my opinion I would like to have a look at the Pros and Cons with the Forever Living business opportunity.
There are a few things I like:
Forever Living has been around for over 40 years and operates in over 150 countries
They are part of the DSA  and accredited with the Better Business Bureau with an A+ rating
The skin care products are leaping bunny certified
Compared to other MLM companies like Rodan+Fields or Jeunesse Global, the products are reasonably priced
Once you qualify for a rank you don't need to requalify
Here are the Cons about Forever Living
Some of their claims are not true. It is not free to join Forever Living as I outlined before.
There is no guarantee of success as the company states.
No transparency about real earnings of FBO's
It is not clear how one has to sell the products; via a website, via home parties, via social media?
The company is vague about training tools they can provide, do you even get a website?
Last but not least: It is not your business.
Let me explain the last point further because this is the biggest drawback for me with any MLM company.
It Is Not Your Business
The biggest Con with any MLM company for me is that it is not YOUR business. You don't have any influence on their marketing structure, price policy, or anything else business related.

The statement as seen on the screenshot is simply not true. You don't OWN your OWN business.
Of course, you are flexible and can determine your working hours. But most likely you won't get rich, instead, your upline will get rich.
Based on my research and the facts I have found out, I would not recommend getting involved with Forever Living as a 'business owner.'
There is no evidence that you can make any money with the company unless you recruit lots and lots of people into your team and they recruit, and so on.
---
Alternative Business Opportunities
There are many other 'work from home jobs' out there that will give you the chance to be your own boss, and work flexible hours.
If you are one of those people that jump from one MLM company to the next in the hope of finally earning the big bucks these companies are promising, it is time to stop NOW and reassess.
It is inevitable that you will spend a lot of money, work hard for a few months, only to be disappointed that it doesn't work out for you.
It has nothing to do with you, it has all to do with how an MLM  company is structured.
So Here Is What I Suggest
Build A REAL business, build a business where you are in control and not depend on recruiting people and hoping for the best.
I recommend to build your own website and promote things you feel passionate about. You could write about healthy living, how aloe vera works, about your own experience with certain products (if it is Forever Living products why not) and recommend them to your readers.
You don't have to stick to just one company. It is good to give people choices so they can choose what is best for them.
The point is, with your own blog/website you have your own REAL business that no one can take away from you. It is your asset with your own stamp on it.
You don't need any inventory, you don't have to ring customers, or ask friends and family for favors, and there is no recruiting necessary to earn money.
You can work flexible hours from home and anywhere you like. You are your OWN boss!
Sounds good to you? You can read more about it here.
For many, the sound of blogging, and building a website may sound intimidating but there is a training platform where you learn step-by-step everything on how to build an online business.
It is completely free to start and doesn't require any credit card details. With the help and support of this online platform, I have built my online business for the past three years and earn now four digits a month in passive income.
Please feel free to check it out for yourself.
You can Sign up here FOR FREE (no credit card details required).
Start Building A REAL Business!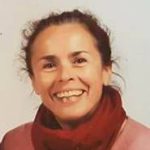 Anke
---
This post contains affiliate links. For more information, please read the full disclosure here.
[mailerlite_form form_id=2]