Welcome to my Usborne Books & More review to find out if this company is a scam or a legit.
Are you looking for a work from home job? Then you may be interested in the business opportunity the Usborne Books company offers.
Usborne Books is not your usual MLM company. They offer a unique product, beautifully illustrated, educational children's books to enhance kids literacy skills which helps them to develop a long lasting joy of reading.
In times of electronic devices, it is so important to keep the love to read alive. You can hear the mom talking, right?
I do love books and I am certain selling Usborne Books as a consultant is especially appealing to the moms out there who are looking to find a job with flexible hours and that fits in with the busy family life.
But before you jump into starting a new career as an Usborne Books&More consultant, read my detailed review to find out how you can join and if you should join this direct selling company. Another important factor to consider is if you can make any money selling Usborne Books products.
A lot of people have been wondering if this company is just a scam or a legit 'work from home' business opportunity.
Let's find out the facts you need to know about Usborne Books &More.
---
Read how I earn four digits a month without selling or recruiting.
---
Is  Usborne Books A Scam? – My Review
Some Facts About The Usborne Books Company

The parent company for Usborne Books & More (UBAM) was founded in 1973 by Peter Usborne and is called Usborne Publishing. It is based in the UK and sells their children's books worldwide via bookshops and online retailers.
In 1989, the direct selling division Usborne Books & More was created to sell the kid's books directly via home parties to customers. It is, by the way,  a division of the Educational Development Corporation. short EDC. They have been voted twice by Forbes as one of the 200 best small companies in the world.
UBAM has its headquarter in Tulsa, Oklahoma and is led by CEO Randall White.
In 2008, Usborne Books acquired Kane Miller publishing to add even more high-quality children's books to the product range.
The company has won numerous awards for their beautiful books e.g. the Touchy-Feely board books, created by the author Fiona Watt. [source: Wikipedia]
I guess everyone has seen Usborne books whether at the local school, in a library, or at the bookstore. But only in the USA, Canada, and certain European countries including Germany, Switzerland, Netherlands (just to name a few) are the books being sold via the direct selling marketing structure.
---
What Does Usborne Books Sell
As the name suggests, as an Usborne Book consultant you are selling books, to be precisely children's books. Usborne Books has a large selection of nearly 2000 books for all ages – from babies, toddlers, preschoolers up to middle grade.
The books are beautifully illustrated and loved by kids and grown-ups alike.
Even better, the price range for 75% of the books is under $10 which makes them so affordable. My kids and I love reading so I looked at the Usborne Books catalog, it was like opening a treasure box.
There is no doubt that the books are of the highest quality and will be enjoyed by many.
The question remains does that mean you should become a consultant with Usborne Books?
Which brings me to my next point.
---
How To Become An Usborne Books Consultant
Becoming an Usborne consultant is pretty straightforward. You apply online and choose one of two starter kits.
The New Consultant Mini Kit costs $75 plus tax and free shipping. It contains 10 books plus business supplies like catalogs, host guides, and recruiting brochures. It also gives you 6-months access to the E-business package which includes an e-commerce website. After the 6-months period, you pay $1.30 a month. The pack is valued at over $178.
The second kit is the New Consultant Kit for $125 plus tax and free shipping. It is valued at over $278, comes with 20 books, includes business supplies and access to the E-business package as well.
How Do You Sell The Products?
The main way of selling the products is by doing in-home parties. Usborne Books calls them home shows where the hostess can earn free books as hostess reward.
Other ways of selling are virtual parties, book fairs, fundraisers, and through the website.
Another way is holding book events for schools and libraries. To do so you have to be an ESR, a certified Educational Service Representative. This role is more of a professional contact person between public schools and Usborne Books where the ESR can sell or donate books.
You have to qualify to become an ESR by completing three steps and you have to fulfill certain requirements. One of them is that you must be an active consultant and maintain $500 in sales in the previous three months.
You can access detailed information here.
---
Can You Make Money Selling Usborne Books
To determine whether or not you can make money with Usborne Books we need to have a look at the compensation plan.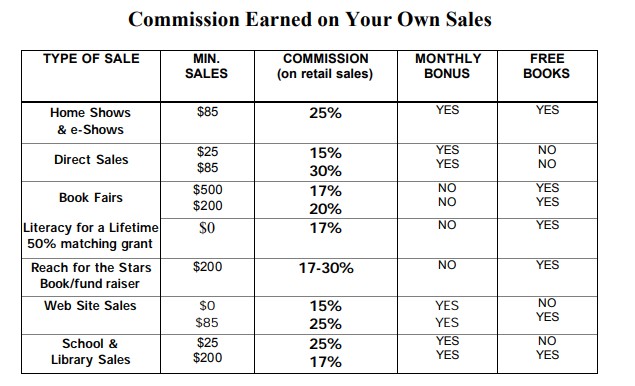 As you can see on the screenshot, a consultant earns up to 25% on retail sales. You can also earn an additional sales bonus when you reach a certain sales volume.
On top of that, you can earn bonuses for recruiting, and on your team's monthly sales.
A consultant doesn't need to meet monthly sales quotas. But, to be eligible for recruiting bonuses and team sales commissions, you must have $350/month in sales.
Read the full compensation plan here.
What Is The 'Write Your Own Success Story'?

The 'write your own success story' program is basically a fast start incentive for new consultants with the chance to earn their starter kit back, get extra cash bonuses and lots of free books. Read more here. 
To my surprise and disappointment, there was no income disclosure to be found. To me, that is not a good sign and doesn't speak for the company.
But I have found a post by Chelsea from SmartMoneyMamas who did a survey with 22 Usborne Books consultants to find out how much money they earn in average, how much time they spend on their 'business' and if they have any complaints about the company. Here is the link if you'd like to read the full story.
Now, she found out (based on surveying 22 consultants) that the average hourly rate is $40.
The average monthly income for the consultants ranged from $150 to $4,100 with $550 of monthly earnings as the median.
The person who has been earning over $4000 a month is most likely a consultant that has lots of other consultants in her team/downline.
Chelsea also found out that a consultant spends in average 3 hours on each party including doing the presentation and putting orders through. I'd say holding a  home show with Usborne Books is definitely not as time-consuming as being a Pampered Chef or Tupperware consultant, that's for sure.
Usborne Books states that the average earning per party is $100 for the consultants. Doing the maths is easy, if you need to earn an extra $500/month, you'll need to have 5 or 6 parties a month.
Many consultants also organize virtual parties via Facebook and according to the survey, earn quite a substantial income.
In conclusion, it looks like the Usborne Books opportunity might be a good choice for people who just want to earn a bit of extra money. To make a full -time income will require way more hours and lots of recruiting.
---
Is Usborne Books A Scam
Well, is Usborne Books & More a scam? The clear answer is 'No'. The parent company has been in business for 45 years and the direct selling part of the company has been operating for 20 years now.
The products are of high quality and will appeal to children of all ages, even to adults.:-)
There are a few reviews online that complain mainly about Usborne Books customer service at the home office. Also, the shipping times are too long and the online competition e.g Amazon is a threat.
---
Should You Become An Usborne Books & More Consultant
Before I give you my opinion I would like to have a look at the Pros and Cons that come with this 'work from home' business opportunity.
There are a few things I like:
I do love the colorful, beautifully illustrated books which are affordable for most people
The compensation plan is easy to understand with a good earning potential
The company has been around for over 40 years
They are a member of the DSA
There is no hype around the company rather a down to earth approach.
Here are the Cons about Pampered Chef
As an incentive, you'll get lots of free and discounted books. How many books does one family need?
Doing home parties can be exhausting (heavy books to carry) and it can be difficult to book new home shows
The customer service has been criticized by a few customers. Also, the orders can take a long time to be delivered. It makes it hard for the consultant to provide a good service from their end because they can't influence what is going on with orders, shipments etc.
Last but not least: It is not your business.
Let me explain the last point further because this is the biggest drawback for me with any MLM company.
It Is Not Your Business
The biggest Con with any MLM company for me is that it is not YOUR business. You don't have any influence on their marketing structure, price policy, or anything else business related.
As outlined before, you can do your best with the presentation, taking orders and so on but if the shipment takes too long, books are out of stock, or the home offices customer service is bad then all your hard work can be in dire straits.
Of course, you are flexible and can determine your working hours. But most likely you won't get rich, instead, only your upline may get rich.
Based on my research and the facts I have found out, I would recommend Usborne Books as a way of earning an extra income. You could do it on top of your main income. Because you don't need to meet monthly sales requirements, there is no pressure on selling.
To be able to make a full-time income, you need to recruit other people into your team. It also requires lots of hours and consistent customer service. You are also expected to train your team and be basically a leader.
Ultimately, it is your decision whether or not you would like to join Usborne Books as a consultant. There is not much risk involved in losing money.
If you don't mind doing home parties and being a salesperson, love to socialize then becoming an Usborne Books consultant might be a good option for you.
---
Alternative Business Opportunities
There are many other 'work from home jobs' out there that will give you the chance to be your own boss, and work flexible hours.
I had been a consultant with a direct selling company for three years with not much success. It can be frustrating when you do home parties or the hostess cancels last minute.
In 2016 I have found a business opportunity that earns me now four digits a month without recruiting or selling anything.
So Here Is What I Recommend
Build A REAL business, build a business where you are in control and not depend on recruiting people and hoping for the best.
I recommend to build your own website and promote things you feel passionate about. You could write about books, recommend them to your readers and also write about other related topics.
The great thing is that you don't have to stick to just one company. It is good to give people choices so they can choose what is best for them.
The point is, with your own blog/website you have your own REAL business that no one can take away from you. It is your asset with your own stamp on it.
You don't need any inventory, you don't have to ring customers, or ask friends and family for favors, and there is no recruiting necessary to earn money.
You can work flexible hours from home and anywhere you like. You are your OWN boss!
Sounds good to you? You can read more about it here.
For many, the sound of blogging, and building a website may sound intimidating but there is a training platform where you learn step-by-step everything on how to build an online business.
It is completely free to start and doesn't require any credit card details. With the help and support of this online platform, I have built my online business for the past three years and earn now four digits a month in passive income.
Please feel free to check it out for yourself.
You can Sign up here FOR FREE (no credit card details required).
Start Building A REAL Business!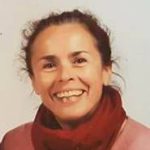 Anke
---
This post contains affiliate links. For more information, please read the full disclosure here.
Stop Annoying Friends And Family!
Discover How To Create Passive Income
Without Recruiting One Person!
Sign-Up For My Free Email Course And Start Building A REAL Business!