Youngevity is a well established MLM company that started off with health and wellness products back in 1997.
Times have changed since then and it is about time for me to review this company before you join and try to earn money with the Youngevity business opportunity.
If you are looking for a review of Youngevity's products and if they work then you are not in the right place.
I will only be touching on it briefly since it is a very complex subject. I am by no means an expert when it comes to dietary supplements neither do I attempt to become an expert.
My focus is on the Youngevity business opportunity to find out if it is legit or a scam.
At the end of my post, I am introducing a business model for people who have had enough of selling products for someone else and find recruiting a pain in the neck.
Let's get started.
---
Read here how I earn four digits each month and how you can too, without selling or recruiting!
---
What Is Youngevity – Some Background Information

Youngevity has been around since 1997 and has its headquarter in Chula Vista in California. The company is represented in 13 countries.
The founder of Youngevity was Dr. Joel Wallach who has a background in Veterinary medicine. In 1982 he became a Doctorate in Naturopathic Medicine at the National College of Naturopathic Medicine in Portland.
Through several studies, he found out that the human body needs 90 (!) essential nutrients and minerals every day to stay healthy and to live longer.
That's how Youngevity's flagship product Beyond Tangy Tangerine was created with the catchy slogan '90 For Life'.
One needs to note that there is lots of criticism around Dr. Joel Wallach's research and his foundings especially for his claim that one needs 90 essential minerals and vitamins every day.
People also criticize that his medical background is in the Veterinary medicine. The fact that he is a Naturopath and not a conventional doctor is another reason why critics don't take him seriously.
But, he was recognized with the Klaus Schwarz award for his research of cystic fibrosis and his discovery that a lack of Selenium could lead to this disease.
His son Steve is now the CEO of Youngevity.
---
The Youngevity Products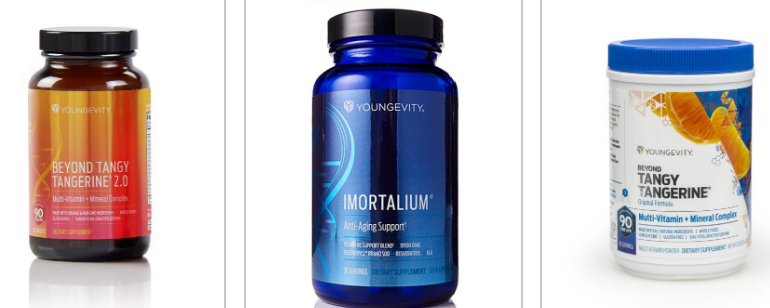 Youngevity started off with a small product range that consisted mainly of nutritional supplements and meal replacement shakes.
The prices are, as usual for an MLM company, overpriced compared to similar products you can buy on Amazon or your local drugstore.
But gosh, times have changed when it comes to the original product range. In the past few years, Youngevity has acquired a huge number of businesses and brands whose products are now being offered on the company's website.
So you'll find handbags and accessories by Gigi Hills or essential oil-based nontoxic care and cleaning products by Nature Direct, an Australian company.
Customers can choose from over 2000 (!)products from 31 brands.
You'll find the following categories:
Health and Nutrition
Food and Beverage
Spa and Beauty
Fashion (including jewelry)
Home and Family (even pet products)
For the health conscious customers, there are different so-called dietary supplement 'Paks' available that are aimed to tackle specific health problems e.g. like blood sugar, weight loss (of course!), or healthy body and brain.
A Healthy Body Start Pak, including three products, retails at $178.50. The Healthy Body Brain And Heart Pak with five products cost $285.64. These themed Pak's remind me a lot to what the Healthstyle Emporium offers.
If you want to save money, you can sign up to be a preferred customer and save 30% on the retail price. As far as I know, there are no costs involved to be enrolled as a preferred customer. It is not clear to me if you have to sign up for an auto-ship order or not.
A few words about health claims published by raving distributors. Some of them are wrong, over the top, and raise hope for ill people to be cured of various diseases just by taking these Youngevity nutritional supplements.
Here is a list compiled by TruthInAdvertising about claims made by distributors or the company itself  "that Youngevity products can treat, cure, alleviate the symptoms of, or prevent developing diseases and disorders."
There is no evidence that these products do what these distributors claim!
---
How To Join – The Youngevity Business Opportunity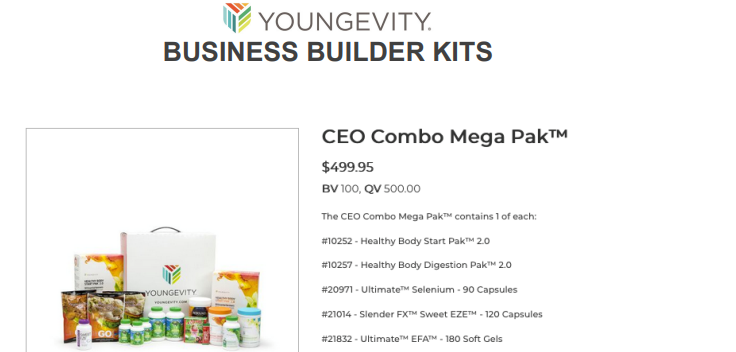 To enroll as a distributor you need to either purchase a Business Essential Kit for $199.95 or a Business Builder Kit for $499.95.
*Update 29.10.19: a reader pointed out that the start up costs are different to what I have stated in this review. So, you can get started for as little as $30 which includes a welcome pack, replicated website, and the help pf a business coach. The Business Essentials starter kit starts at $159, and the Business Builder Kit is still $499.*
You can choose from four different Business Essential kits, e.g. Health and Nutrition Basics, Spices and Rubs, Mineral Makeup, and Jewelry.
The Business Builder kits have 21 plus options to choose from.
What most people don't know is that once you purchase a business builder kit you automatically sign up for an auto-ship order. A big red flag right there!

The question remains what is the minimum order for the auto-ship order or do you get the Business Builder kit each month? That would be ridiculous though, wouldn't it?
I also don't know what business tools Youngevity provides to their distributors. Do you have to pay for your own website? Do you get access to training tools? How do you even sell the products? Via presentations, social media, home parties?
Also, having a variety of products is great but Youngevity's product range is overwhelming. What are you supposed to you sell primarily? Coffee, makeup, jewelry, nutritional supplements, pet products, cleaning products? It is all a bit wishy-washy to me!
---
The Compensation Plan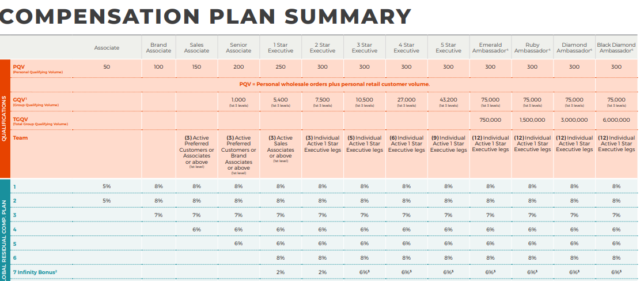 Let's talk about Youngevity's compensation plan which, by the way, reminds me very much of  Nerium's excessive compensation plan.
Read Youngevity full compensation plan here.
Youngevity has a variety of ways, rewards, and bonuses a distributor can earn money with. They call it 'dynamic compensation'.
Global Revenue Pool (for higher ranks)
Car Bonus
Status Reward
Vacation Reward
Residual Bonus: 5% to 8% on team sales
Refer 3 get yours free
Fast Starter Bonus: $70 bonus on every Mega Starter Pak referral
Infinity bonus – commission payments unlimited levels
Product Sales: up to 30% on every sale plus 30% bonus on new customers
There are 13 ranks one can achieve in within the company, with the Black Diamond Ambassador being the highest.
Want to know more? You can watch this video to get a more detailed overview of the potential earnings. I do not endorse this video.
---
Can You Make Money Selling Youngevity Products
What really puzzles me is the fact that Youngevity has never published an income disclosure. Another red flag.
So my guess is as good as yours. But from my experience, it is safe to say that the income potential is not the best. You need to take into account high start-up costs that you need to earn back first.
The advantage of direct selling is to educate customers about the products. But how can a new distributor possibly know all the things about Youngevity's product range and explain to customers why they are so expensive, how they can benefit from them etc.
Only a few make it to the top in any MLM company and a majority only make a few hundred dollars a year.
The truth is 'the overwhelming majority of MLM participants (most sources estimated to be over 99.25% of all MLM participants) participate at either an insignificant or nil net profit.' (source Wikipedia)
---
Pros And Cons Of The Youngevity Business Opportunity
Here are the Pros:
it turns out that Youngevity is a member of the DSA (Direct Selling Association) – that is a plus
BBB rating is A+ with only 28 complaints – not too bad compared to other MLM companies like ItWorks or Rodan and Fields
Youngevity has been in business for over 20 years
low start up costs of $30 for the starter kit
Here are the Cons
excessive compensation plan
no transparency regarding auto-ship requirements, training and marketing tools
product range very broad which makes marketing for distributors difficult
health claims are not backed up by scientific research
products are very expensive
---
Wrapping It Up
Do I think that Youngevity is a scam? No, but … there are a few things that are not clear to me, e.g. how much a month a distributor has to pay for their auto-ship order.
There is no obvious focus on how to train distributors to be successful in their 'business', Maybe a Youngevity distributor could shed some light on this one?
There is also no income disclosure available so it is difficult to determine the income possibilities.
If you would like to get involved ins ultimately your decision. A start up fee of $30 is reasonable so there is not a high risk to lose money.
There is one thing you should bear in mind: it is not your business. You are basically a salesperson who will only make good money by recruiting new distributors.
Overall, there are few unanswered questions and a lot of controversy regarding health claims and about the founder Dr. Joel Wallach himself.
---
My Recommended Way Of Making Money
There are so many other ways to earn money and work flexible hours at the same time.
What I am about to introduce is not the promise of getting rich quick (is there such a thing?), instead the opportunity to build a sustainable business without recruiting or being depended on one company or one product.
Related post: How I Make Passive Income Online and earn four digits a month.
For the past three years, I have been building my online business that doesn't involve recruiting or calling people at all. Now I can work whenever and wherever I want to work with only a laptop and an internet connection.
I have to be honest though: my recommended business model is not for everyone. It takes at least 6 to 12 months of consistent work to see the first results aka earning money.
You may have heard of affiliate marketing before but never really knew what it was all about?
In a nutshell, first up it is a legit way of earning a commission for products you recommend via a website or a blog that you have to build.
In return, you earn a commission when people buy products or services via your blog.
The website/blog is your own business, you own it not anyone else. You are in control of what you want to write about and what kind of products you would like to recommend to your readers.
It is a true work from home opportunity where you can work at your own pace as much or as little as you want to.
If you are able to invest between 10 and 20 hours of work a week then you will surely succeed.
Once you get the foundation right, you will earn passive income for years to come. All it takes is good training, consistent work, and taking action!
The key is to learn everything about how to build a website (it is easy, click here and I show you how to build one in 2 minutes), how to write content, how to engage with your readers, and how to rank your website.
Extra tip; with my recommended business model you will still have your friends and family, and you don't have to deal with complicated compensation plans etc.
The Advantages Of Affiliate Marketing:
low start-up costs, if any
the opportunity to earn passive income for years to come
a legit way of making money online
you are in control of what products or services you like to recommend
work from literally anywhere in the world
no recruiting
no selling
no inventory – you only need a good laptop
flexible hours
you are not tight to only one company
your blog is accessible 24/7 by potentially millions of internet users around the world
The Cons Of Affiliate Marketing
it can take months until you earn money
for beginners, there is a learning curve involved
it can be challenging not to see any results for a while
Who Is Affiliate Marketing For
for people who'd love to build their own business risk-free
for Entrepreneurs
for people who love to learn and love challenges
for everyone who wants to build a passive income stream
for people who want to work truly flexible hours
for people who seek time freedom
Ready to take the leap and start a legit business that doesn't involve recruiting or selling?
Start Your Journey Of Making Money Online Now!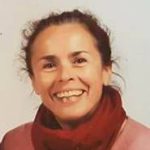 Anke
---
[mailerlite_form form_id=2]