Welcome to my Ever skincare business review! Chances are that someone has asked you to become a salesperson for the company or you may be looking for a new business venture that offers flexible hours.
Please read my thorough review before joining the Ever skincare direct selling company.
In the last couple of years,  Ever skincare has become very popular and one of the go-to companies for luxurious, plant-based anti-aging skincare and makeup products.
The Ever skincare company tapped into a highly competitive market with well-established brands like Arbonne or Mary Kay, just to name a few.
Ever skincare, together with its sister brands Stella&Dot and KEEP collective, is also one of the hundreds of MLM companies that offer the opportunity to get involved in direct selling and multi-level-marketing with the promise to reach the (financial) freedom you deserve and to have the lifestyle you have always dreamed of.
My  Ever skincare review will show in detail what it takes to get involved with this company and if it is the right business opportunity for you.
How is it different from other direct selling/multi-level marketing company that sells beauty products? Or is it not different at all?
Without further ado, let's get started.
---
Most people fail in network marketing because they don't know how to get more leads to build a team and how to increase their network to get more sales.

It's time to stop annoying your friends, family, and workmates.

Read more about my proven strategy to generate sales and leads for your business.
---
What Is  Ever Skincare All About
Before I get into how and why Ever skincare got started we need to have a look at Jessica Herrin who is the mastermind behind the Stella&Dot family of brands which consists of Stella&Dot, KEEP collective and, of course, Ever skincare.
It all started in 2003 when Jessica Herrin designed her first jewelry pieces and called her brand 'Luxe Jewels.' She was able to grow her business to around $1 Million in sales.
In 2007, she teamed up with Blythe Harris and rebranded 'Luxe Jewels' to Stella&Dot Jewelry which has become one of the most popular brands for fashionable jewelry. Even more so when they joined forces with Rebecca Minkoff.
If you would like to learn more about the inspiring co-founder and CEO of Stella&Dot, Jessica Herrin, please read the article here.
Back to Ever skincare. Stella&Dot launched their sister brand as a luxurious skincare cosmetic brand in May 2015.
The company is passionate about their anti-aging skin care products that don't contain any harmful chemicals or additives. Their mission reflects in their captivating tagline "Pure Ingredients – Powerful Results."
---
The Products

Ever skincare prides itself to be very transparent about their ingredients which you can find for all products on their website.
Here is a list of things that are not in their skincare and makeup products.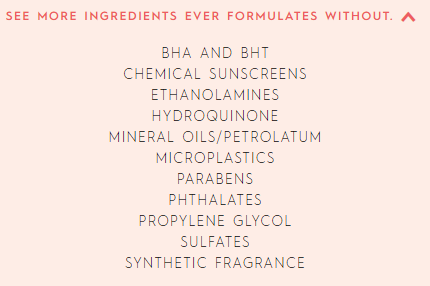 The products are also cruelty-free which means they are not tested on animals. It is worth mentioning though that Ever skincare products are not 'leaping bunny' certified though as for instance Arbonne products.
So it would be nice to see the official cruelty-free sign on each of their products. Read more facts about the products here.
The most popular, and also award-winning, product line is the LSR10 Pure Results Regimen which is designed to fight the top ten visible signs of aging like reduce fine lines and wrinkles, reduce redness, and reduce blemishes.
There are lots of before/after pictures and videos online that shows impressive results by using this 4-step skin care regimen.
LSR10 is a patent-pending complex that contains oil from the magnolia plant which helps to fight free radicals and reduces inflammation.
Well, as I mentioned before the products are quite expensive as you can also see in the screenshot above. the whole set costs $255 and will last for around 45 to 60 days.
A lipstick costs $29 and a cleanser around  $40.
You can take advantage of the Even skincare loyalty program (subscription) which gives you 10% off your order, 10% back towards future purchases, free shipping for orders over $80, and a $30 birthday credit.
Customer service is very important to Ever skincare which shows in a generous money-back guarantee. In company lingo, it's called the Delight guarantee.
If you are not happy with your purchase, you can return the product in the first 45-days and get a cash refund.
---
How To Join – The Ever Skincare Business Opportunity

If you decide to join Ever skincare as an independent business partner, you'll become a Personal Specialist (the first rank of nine).
The usual procedure to join is to choose one of three starter kits with the cheapest starting at $49. This one doesn't contain any products instead only offers a 60-day trial for digital marketing tools and access to 24/7 online training. You also get a 25% discount off Ever products.
Note: I haven't found anything regarding what the digital tools are and how much it will cost after the 60-day trial ends.
Also, I have no data on the requirements to stay as an active Specialist. The same applies to the compensation plan. For some reason, the company is not very transparent to publish these kinds of details.
---
The Compensation Plan – How Much Can You Earn?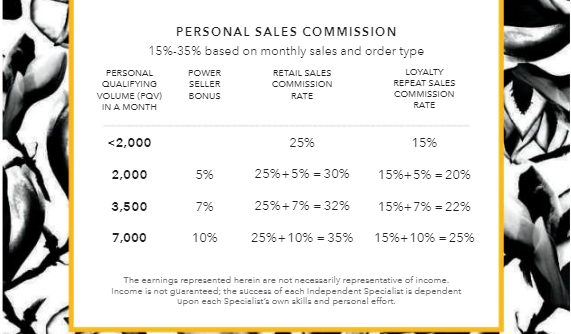 The commission on the personal retail sales starts at 25% up to 35% which get paid out weekly.
The base commission is 25% for sales under 2000 PQV (Personal Qualifying Volume) and can increase when you achieve certain sales volumes.
Once your PV reaches more than 2000 PQV you'll get 30%; over 3500 PQV 32% and over 7 000 PQV gives you 35%.
Please note that the commission payments are different for repeat sales by loyalty customers. The base commission starts at 15% and goes up to 25%
There are nine ranks you can achieve with the Ever skincare company:
Personal Specialist
Specialist
Senior Specialist
Influencer
Senior Influencer
Executive
Senior Executive
Vice President
Senior Vice President
I haven't found the compensation plan online, but in the opportunity brochure for newly enrolled Specialists, it says that you can earn 3% – 10% line commissions on two lines and 1 – 2% bonuses on your entire organization.
The requirements to earn a commission on team sales is $200 in sales per month.
I would love to hear more details from Ever skincare specialists what the requirements are and what bonuses one can receive.
---
Is There A Fast Start Program?
Yes, there is but again. I haven't found many details regarding the 'fast start' program. There is only one video online where the consultant gives a quick insight into the jump start program. Basically, you'll get product credits for certain sales volumes.
As an example, if you sell $200 you will get $50 in product credit and if you'd sell $500 you would get $150 in product credit.
Here is the video so you can check it out for yourself.
---
Pros And Cons Of The Ever Skincare Business Opportunity
There is a lot to like about Ever skincare but also a few things I don't like about their business opportunity.
Relatively low start-up costs
Products are free of nasty chemicals and not tested on animals
Positive online reviews
It doesn't seem there is any pressure of recruiting
Great customer service with the Delight – Guarantee
No auto-ship required for customers but Ever skincare offers an attractive loyalty program
What are the Cons?
Products are sold via home parties even though the company says it is a business you can do on-the-go
No real data available on earning potential for team sales or the 'fast start' program
Products are expensive and are more suitable for more mature ladies since they are anti-aging skincare products
Lots of competition by similar companies
High-quality products that are cruelty-free and don't contain nasty chemicals are also available through Amazon or iHerb for cheaper prices
---
Conclusion
Ever skincare has a strong company in the background with the Stella&Dot family of brands. The anti-aging skincare as well as the makeup products have received great reviews online and even won an award.
What probably sets Ever skincare apart from other beauty companies is the generous customer guarantee.
Otherwise, the products are very expensive and will mostly appeal to the more mature audience due to the focus on the anti-aging properties.
If you do decide to join the company as a specialist, there is no way around of doing home parties, one-on-one meetings or organizing your own social event.
If you are a 'social butterfly', love going live on Facebook or YouTube, and love chatting about the products to friends and family, then Ever skincare may be the right choice for you.
But to be honest, not many people are keen on having parties or inviting friends over.
The thought of inviting friends, organizing snacks and drinks and cleaning up afterward can be daunting for many.
I have found that direct selling/MLM is a tough business where you have to learn to deal with rejection, objections, and' sometimes, lots of party cancellations.
It takes a strong mindset to overcome these obstacles and to build a successful business in the industry.
Have you noticed that most MLM companies are targeting women as potential recruits? Women join these companies for so many different reasons.
When I started my direct selling business I was looking for something different than 'just' being defined as a mom. The thought of being part of a sisterhood was also appealing to me.
Even though I am a self-confident person, not reaching my goals, and not enough sales and recruiting left me quite frustrated at times and doubting myself.
The truth is 'the overwhelming majority of MLM participants (most sources estimated to be over 99.25% of all MLM participants) participate at either an insignificant or nil net profit.' (source Wikipedia)
If you do love the products and feel they are worth the money, then, by all means, go for it. I don't think there is a huge risk to lose money since the start-up costs are low and no additional fee applies.
To build a substantial income, you'll need to put in full-time hours for sure.
If you only want to invest a few hours a week, it looks like you could earn a good side income with Ever skincare.
---
Want to build a business that doesn't require network marketing skills and will earn you passive income for years to come? Please read more about my #1 recommended business model.
---
Is There A Better Business Model?
Even though  Ever skincare makes it easy to sell their products, I still think there are better business models out there than selling and recruiting.
My favorite business model is called affiliate marketing. All you need to do is build a website and promote certain brands and/or products by writing good articles. If people purchase something through your (affiliate) link, the company pays you a commission which can range anywhere from 4% to 50%.
Read more about affiliate marketing, which by the way, is a legit way of earning residual income online.
As I mentioned before, my experience in the direct selling industry was not successful. I found it challenging to get sales, to recruit and I dreaded these inevitable phone calls.
When I learned about affiliate marketing as a legit way of earning a passive income without selling or recruiting anyone, I was so excited that I couldn't wait to build my own successful online business.
I am now earning around $1000/month in passive income with little effort.
I know that the thought of building a blog can be scary for many people, but with proper training and guidance, it is not difficult at all. When I started building my online business a few years back, I didn't know anything about these kinds of things and truth to be told, I am still no 'whizz on the keyboards.' 🙂
The good news is that there is an online training platform where you can learn everything to build a successful online business. Even better, it is FREE to get started so you can check for yourself f this is the right path for you.
If you'd like to learn everything about affiliate marketing or building a website,  I invite you to sign up with my recommended training platform Wealthy Affiliate where you learn step-by-step how to become a successful internet marketer.
Ready to take the leap and start a legit business that doesn't involve recruiting or selling?
Start Building A REAL Business!
Anke
Stop Annoying Friends And Family!
Discover How To Create Passive Income
Without Recruiting One Person!
Sign-Up For My Free Email Course And Start Building A REAL Business!