Advocare is one of so many MLM companies that sell health, wellness, and weight loss related products. Is this MLM company any different from other well-known brands like Nerium, Youngevity, Melaleuca, or Zurvita?
As you can see, there is no shortage of MLM companies that offer nutritional supplements with the promise to support your health, or to help you lose weight.
Welcome to my  Advocare review to find out if they are a trustworthy company or if you are only going to lose money when you join the MLM opportunity.
Are you a mom who is looking to earn some extra money to pay off debts or to help with the monthly expenses? Are you looking for flexible hours to work around the family?
Have you been approached by a  distributor who is trying to recruit you into the company and promises that you can earn good money?
Either way, you have come to the right place.
In my  Advocare review, I will not only talk about the company, its founder and the products but also walk you through the joining process and compensation plan.
I'll try to shed some light about the fact if you can make any money with selling Advocare products and finally if this is a trustworthy company or just a plain old scam.
And the end of this  Advocare review, I will share a  business model with you that may be great for people who have had enough of being in the network marketing industry. Who knows, it may lead to something amazing.
Without further ado, let's dive in.
---
Read how I earn at least four digits a month without recruiting or selling. And you can do to.
---
My Advocare Review – Are You Only Losing Money With This MLM Scheme
What Is Advocare – Some Background Information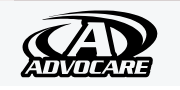 The Texas-based MLM company Advocare was founded in 1993 by Charles E Ragus, who was no newcomer in the world of network marketing.
He found another MLM company called Omnitrition International in 1989 and then carried on the be a distributor with Herbalife. His involvement with Herbalife must be one of the reasons why many people see similarities between both companies.
Since April 2018, Brett Blake has been in charge as CEO.
In September 2018, Advocare expanded its business to Canada.
One of Advocare's essential business practice is to contract popular sports people as 'celebrity endorsers'. Having famous people on board who confirm the quality of the products is a huge advantage for selling the products.
I am sure you all know Drew Bree, the New Orleans Saints quarterback, who has been a National Spokesperson for Advocare for over a decade.
The list of athletes is impressive and ranges  from basketball, baseball, tennis, to golf and football.
Most recently, Kansas City Chiefs quarterback Patrick Mahomes II has joined the Advocare product endorsement team.
Advocare has also been sponsoring several NASCAR racing teams. [source: Wikipedia]
Despite all these positive efforts, there is a lot of controversy surrounding Advocare just as I have found with other MLM companies like Vemma or Modere.
A Lot Of Controversies Around Advocare
TruthInAdvertising (TINA.org) compiled a list of misleading health claims stated by distributors. Read it here.
"In 2009, a Dallas County jury awarded $1.9 million in damages against AdvoCare after finding that the company had engaged in deceptive trade practices and unfairly canceled agreements with two of its distributors." Wikipedia
One of the most recent cases is a class action lawsuit filed by two former distributors claiming that Advocare is operating an illegal pyramid scheme. Both distributors have lost a lot of many money investing in the Advocare 'business opportunity'.
You can read the full lawsuit here. 
In October 2018 the case was dismissed with prejudice.
But, is it a coincidence that Advocare amended its new "Policies, Procedures, and Compensation Plan" nearly at the same time, in August 2018?
I guess the lawsuit was a good wake-up call for the company.
---
The Advocare Products

Advocare has a long list of products that include nutrition bars, meal replacement shakes, energy drinks, phytonutrient supplements, and protein shakes to help build muscles.
The most popular products seem to be the Spark powder which is a vitamin and amino acid supplement and MNS3, a multi-nutrient dietary supplement that is supposed to help with controlling your appetite.
The product lines are called:
Trim
Active
Well
Performance Elite
Fit
The prices are not overly expensive but also not cheap. I can't see why they would be any better than less expensive options I can get from other retailers.
On the other hand, there will be a buying audience especially with so many athletes in the background who endorses Advocare products.
To get the products for less, one can sign up to become a preferred customer to get a 20% discount off the products. The sign-up fee is $19.95.
---
How Can You Become A Distributor
The joining process is simple, for an annual fee of $50 plus a payment of $59 plus shipping and taxes, you will receive your distributor kit and an immediate product discount of 20%.
It is not clear what's in the distributor pack. With this price, I don't think there will be much product so you may have tp purchase additional items. A distributor will get a personalized website called 'microsite' where your customers can order directly with Advocare.
Advocare states that there are no minimum sales requirements. You may be also pleased to hear that Advocare has a 'buy back' policy in place.
"For those no longer interested in being a Distributor, AdvoCare offers to repurchase all inventory, including the cost of the Distributor Kit."
But to get a higher discount, some distributors may be considering to purchase large volumes of products to get a better discount. The tricky part is that Advocare is talking about points and not dollars in their charts and tables. I do not know how many points make up a dollar purchase.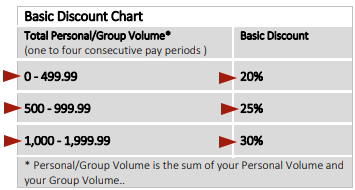 Another thing you should know is that one pay period is two weeks. That means four consecutive pay periods equal two months.
Once you qualify as an advisor, you'll get a 40% discount.
Advocare doesn't allow its distributors to sell products on social media or on personal websites. This is a major drawback in my eyes.
Let's talk about the compensation plan, shall we?
---
Read More About My #1 Recommended Business Model.
---
The Compensation Plan
There are five ways to earn money:
Retail Profit
Wholesale Commission
Overrides
Leadership Bonus
Incentive Trips and other bonuses
To make a profit with retail sales you first have to purchase inventory at wholesale price and resell them to customers at the suggested retail price. If you buy the product at the 20 percent discount you will basically get a 20% commission.
That's why I mentioned before, the more you purchase, the higher the discount which results in a higher commission payment.
Now, before you go and spend all your money on inventory make sure you have customers lined up who are willing to buy from you. Otherwise, you'll end up with a garage full of stuff.
You may also earn a wholesale commission which can be earned when your retail customer or preferred customer orders through your Advocare microsite.
Here is an example: your discount level is 30% and the discount level of your preferred customer is 20%. So, you get a 10% commission (the difference between your discount and the customers discount level) of the qualifying volume by your customer.
If you have the same discount level, you won't get paid a wholesale commission.
You can also earn a wholesale commission from purchases and sales from distributors you have sponsored.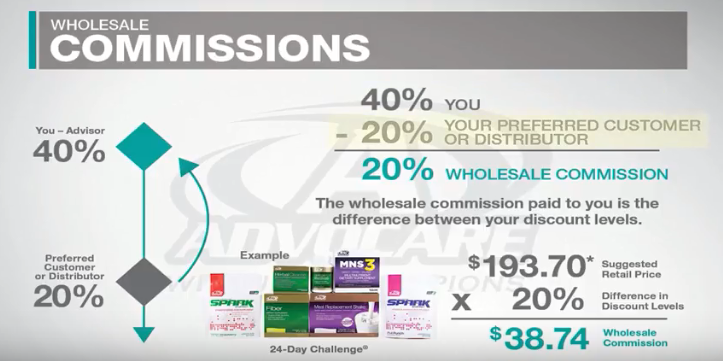 Let's get to the overrides and leadership bonuses.
Only advisors and higher ranks are eligible to earn these incentives. To qualify as an  Advisor, you have to have 2000 in P/GV including 500 PV in 1 to 4 consecutive pay periods. Once qualified, you'll also get 40% off product purchases.
So here is the catch: Advocare has put some precautions into place to avoid that distributors make personal purchases so they can qualify. Remember the class action lawsuit?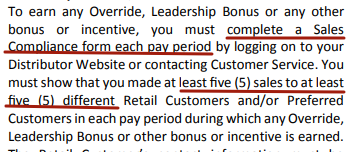 While we are talking about overrides etc. I am not attempting to explain these because of its complexity. Quite frankly, I find it difficult to understand.
But I have found a video that may be easier to follow along.
You can also read the full compensation plan here.
I do not endorse this video, it is for educational purposes only.
---
Can You Make Money With Advocare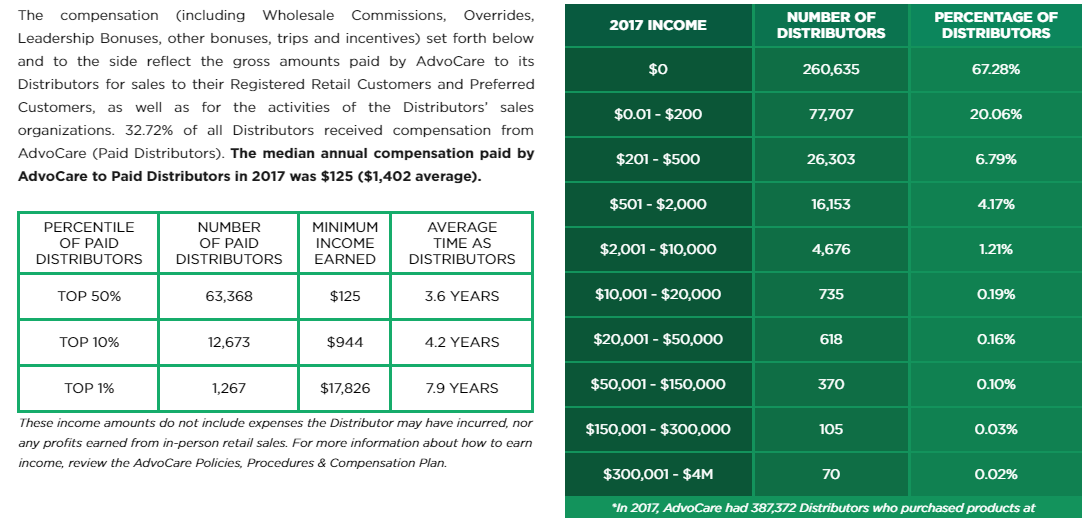 Kudos to Advocare for being transparent and publishing an income disclosure statement.
Unfortunately, the earnings potential doesn't look too good. Only 32.72% of all distributors earned an income in 2017.
The income doesn't include any expenses that may had to be paid by distributors to run their 'business' nor does it include any retail profits accumulated through personal product sales.
The average annual compensation Advocare paid to distributors was $1402 which equals $116 a month. In my books, this earnings potential is not worth the effort. After all expenses and tax have been paid there is not much profit left that's for sure.
---
Pros And Cons Of The Advocare Opportunity
Let's have look at the GOOD and The BAD of the Advocare opportunity at a glance.
The Good
Advocare is a member of the DSA
They are investing a lot of money in getting celebrities on board to endorse the products which are great for getting sales
The products are not too expensive
No minimum monthly personal purchases are required
BBB rating A+, only 19 complaints
The Drawbacks
Advocare is not an accredited business with the BBB
Complicated Compensation plan
Strict requirements before you get paid any overrides and bonuses e.g. you have to fill in a sales compliance form
You are not allowed to make sales via social media or a personal website
It is not clear what is included in the distributor kit
What kind of training offers Advocare to its distributors?
It is not your business! You have to obey Advocare's Policies and Procedures. You have no influence on the marketing structure or other business-related matters.
---
Is Advocare A Scam
As outlined before, there has been a lot of controversy around Advocare in the past regarding false health claims, and lawsuits for operating an illegal pyramid scheme.
Advocare has adjusted its compensation plan as well as its Policies and Procedures accordingly.
So, therefore, I can conclude that Advocare is not a scam. But the chances to earn any money with them is very very low.
I do not like the fact that distributors are not allowed to use social media to sell products.
How are you supposed to sell them? Via in-home presentations? On fairs? Only by word-of-mouth?
The competition is fierce in the health and wellness niche. I can't see AdvoCare's point of difference to similar MLM companies.
---
Wrapping It Up
You may love the products but does it mean you have to sell them? You are probably better of becoming a preferred customer.
If MLM is what you love to do then well give it a shot. The start-up costs are reasonable.
Keep in mind, only less than 1% of distributors in any MLM company, earn a substantial amount of money, 99% don't.
Either way, it is your decision if you want to become a distributor for Advocare.
If you are looking for different ways of earning money, please carry on reading. It may lead you to something amazing.
---
An Alternative Way Of Making Money
There are so many other ways to earn money and work flexible hours at the same time. Personally, I am not a big fan of MLM.
After reviewing dozens of MLM companies, I see time and time again that one doesn't earn much if any, money with this type of business.
I have been involved in this type of industry for three years and spent more money than I actually earned.
At the end of the day, being a salesperson who was also trying to recruit people into the company, didn't fulfill me and made me doubt myself.
If you are someone who is trying one MLM company after the other only to lose money and getting frustrated along the way, then it might be time to stop and reassess.
I'll show you an alternative business model not many people know about.
What I am about to introduce is not the promise of getting rich quick (is there such a thing?), instead the opportunity to build a sustainable business without recruiting or being depended on one company or one product.
Related post: How I Make Passive Income Online and earn four digits a month.
For the past three years, I have been building my online business that doesn't involve recruiting or calling people at all. Now I can work whenever and wherever I want to work with only a laptop and an internet connection.
I have to be honest though: my recommended business model is not for everyone. It takes at least 6 to 12 months of consistent work to see the first results aka earning money.
You may have heard of affiliate marketing before but never really knew what it was all about?
In a nutshell, first up it is a legit way of earning a commission for products you recommend via a website or a blog that you have to build.
In return, you earn a commission when people buy products or services via your blog.
The website/blog is your own business, you own it not anyone else. You are in control of what you want to write about and what kind of products you would like to recommend to your readers.
It is a true work from home opportunity where you can work at your own pace as much or as little as you want to.
If you are able to invest between 10 and 20 hours of work a week then you will surely succeed.
Once you get the foundation right, you will earn passive income for years to come. All it takes is good training, consistent work, and taking action!
The key is to learn everything about how to build a website (it is easy, click here and I show you how to build one in 2 minutes), how to write content, how to engage with your readers, and how to rank your website.
Extra tip; with my recommended business model you will still have your friends and family (no harassing on Facebook, no asking for holding a party for you) and you don't have to deal with complicated compensation plans etc.
The Advantages Of Affiliate Marketing:
low start-up costs, if any
the opportunity to earn passive income for years to come
a legit way of making money online
you are in control of what products or services you like to recommend
work from literally anywhere in the world
no recruiting
no selling
no inventory – you only need a good laptop
flexible hours
you are not tight to only one company
your blog is accessible 24/7 by potentially millions of internet users around the world
The Cons Of Affiliate Marketing
it can take months until you earn money
for beginners, there is a learning curve involved
it can be challenging not to see any results for a while
Who Is Affiliate Marketing For
for people who'd love to build their own business risk-free
for Entrepreneurs
for people who love to learn and love challenges
for everyone who wants to build a passive income stream
for people who want to work truly flexible hours
for people who seek time freedom
Ready to take the leap and start an exciting, challenging new journey that doesn't involve recruiting or selling?
Start Building A REAL Business!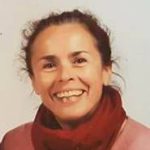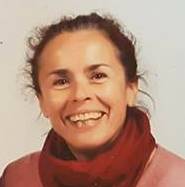 Anke
---
This post may contain affiliate links. Please read the disclosure for more information.