Over the last years, affiliate marketing has become hugely popular amongst bloggers and website owners as a way to make a residual income online.
According to the United Nations Agency more than three billion people worldwide using the Internet with increasing tendency. Millions of them are researching products, reading reviews and purchasing items.
So, what does it mean for affiliate marketers? What is affiliate marketing online?
I will talk about the basics, how you can search and find affiliate programs, about affiliate networks and how Google likes affiliate marketers. You'll also see if you can make money with it.
Without further ado, let's get right into it.
---
The Basics Of Affiliate Marketing
As an affiliate marketer, you are in the business of helping people either find an answer to their questions and solving their problems. Every time someone "googles" something, they are looking for help one way or the other.
Helping people should be the main focus when you get started in affiliate marketing. Everything else like receiving an income will follow.
Affiliate marketing is a pretty straightforward process. There are millions of products and services available on the market that I, as an affiliate, can promote through my blog or website.
Here is an example: If you have a site about losing weight, you will most likely write about diet plans, books about losing weight and maybe also about dietary supplements, etc. If a person comes to your site, reads about the product and buys it, you will earn a commission on the sale.
The cool thing is that no additional costs occur for the buyer nor you.
How much commission you get paid depends on the affiliate program you have signed up with. It can range from 1% up to 75%.
---
It Is Simple But Not Easy
If you think all you need to do is, is to create a  website and put some affiliate links on your site, you are on the wrong path. 
The primary focus should be to provide quality content for your readers. They are coming to your website because they are looking for answers to certain questions or problems they may have.
And I do enjoy helping them with my product reviews or blog posts. I try to give my readers the best options, and if I am not convinced about the quality, I'll let my audience know.
It's about providing service and help for them. You want to build trust and ideally a relationship with your audience. And trust me on this one, your readers will sense it if you are not genuine.
Offer solutions to your reader's problems and recommend products you have used.
Usually, you would write a product review and why you would or wouldn't recommend this particular product or service.
---
Would you like to learn how to become a successful affiliate marketer? Read my review about my #1 online training platform.
---
Why is it simple but not easy? Nowadays everyone can build a website in under a minute, very easy. The hard part is to write consistently quality content on your site, rank in Google and get traffic to your site and blog.
Once the traffic comes in, the next step is to convert the traffic into buying customers. This way you can earn a lucrative income online over time.
What I do love about affiliate marketing is that you don't need your own products because you are promoting someone else's products.
There are no overhead costs, no shipping costs or customer service required from your end.
All that is needed is a website that offers help to their readers, and that is SEO (Search Engine Optimization) ready.
---
The Pros Of Affiliate Marketing
What are the advantages of affiliate marketing?
You don't need to have your own products
You are the link between the product and the sales company (e.g.Amazon)
You are promoting existing products
Your website is available 24/7, so you earn even when you are asleep
You work your own (flexible) hours
No more commuting to work and back
It is rewarding to help people
It is free to join any affiliate program
Low start-up and ongoing monthly costs
---
Are There Any Cons?
Yes, there are some Cons:
You work on your own and have to held yourself accountable
You have to write consistently that means adding content every week
It can take months until you make your first sale
It is not a get -rich-quick – scheme
It takes resilience and self-discipline to stick to it.
My solution to overcome these obstacles is to develop a work schedule (and stick to it) as well as joining a community with like-minded people. My top-ranked place to be is Wealthy Affiliate University, which is not only a  training and hosting platform but also a community of people who are in the process of building an online business. For further information, read my full review here.
How To Search And Find An Affiliate Program
Let's have a closer look at our  'Losing Weight' example. You might like to recommend a diet plan to your readers, preferably one you succeeded with as well.
So go to Google and type in "diet plan + affiliate program, " and you will get hundreds of results (refer to screenshot)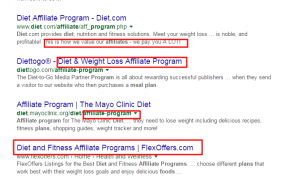 All you need to do is, choose the one you prefer and apply to become an affiliate with them. As soon as you get accepted, you can add affiliate links on your site where it is appropriate.
The biggest affiliate program, in my opinion, is the online giant Amazon. I don't think there is anything Amazon doesn't sell! The commission rate is a bit low with starting at around 4% and increasing the more items you sell. But Amazon is a trusted brand, so therefore it is a good program to be affiliated with.

Just to give you an idea, look at the screenshot for 'diet books on weight loss' alone, and it shows over 75000 results!!! That is massive!
It shows the potential and enormous amount of products an affiliate marketer can promote.
By the way, 'losing weight' would be too broad to promote as a niche. A better niche would be 'losing weight for vegans' or 'using the paleo diet' or 'losing weight for women over 50'?
---
If you want to learn how to find a niche and to develop it successfully, check out my #1 recommendation.
---
What Are Affiliate Networks
Affiliate networks or sometimes also called affiliate marketing platforms are a pretty smart idea. Instead of signing up for each affiliate program individually, you would sign up with the affiliate network which hosts numerous merchants.
Once you have signed up, you can search for programs within the network you would like to promote. Everything is under one roof. You will find banners, text links and customized links in one place.
Note: you still need to apply for each affiliate program inside the network. But once you have done this, everything is in one dashboard. That makes life so much easier.
The most popular networks are: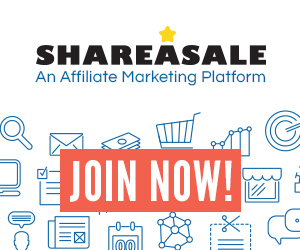 shareasale.com
clickbank.com
CJ (commissionjunction.com) and
flexoffers.com,
just to name a few.
One of my favorite platforms is ShareASale. But this is another blog post. 🙂
It is important to know that you don't need to pay anything to become an affiliate. It is always free. So stay away if you are asked to pay a fee.
Read more in my post What Is The Best Affiliate Marketing Program.
---
How Does Google like Affiliate Marketers
As mentioned before, it is important to provide good quality content to readers. That means well-researched posts and also using the right keywords to target the right audience.
Google loves websites that offer a great user experience. A site that is easy to navigate, fast loading, with good images and helpful and well-written blog posts.
Google doesn't like posts that are loaded with affiliate links but have nothing else to offer.  It can hurt your site's ranking and therefore can have an effect on the traffic your site is getting. The motto should be 'less is more.' So my tip is to use affiliate links sparingly but effectively at the same time.
Always put your customer first, and sales will come automatically.
---
Can You Make Money With Affiliate Marketing
The clear answer is "YES." It doesn't happen overnight, though. It is a process that can take time and lots of work. Some affiliate marketers get their first sales in the first three months; others after six months or even later.
It depends on some factors: your chosen niche, your keyword research, and the competition. And of course, how often you publish content. The more often, the better, especially when you start a new website/blog.
Another important factor is being present on social media as well. My favorite one is Pinterest. For others, it might be Facebook, Twitter or Google plus.
I noticed when I checked out the most successful affiliate sites that most of them have been around for at least a couple of years. The longer you are on the internet market, the more trust you earn with the search engines like Goggle, Bing or Yahoo.
---
Wrapping It Up
Having a website is the most important tool in affiliate marketing. It is easy to create one, and it is mostly easy to apply and get accepted in various affiliate programs.
The more time-consuming part is to produce quality content (writing, writing, writing) for your blog, improve your SEO (Search Engine Optimization), drive traffic to your site and give your readers a great experience.
If you want to learn all about these and many more things, please read my review about my recommended online training platform.
You can also visit me at my favorite social hangout place at Wealthy Affiliate. Here is the link to my profile or read the about me page.
Last, but not least, if you have any questions, please leave a comment below. I also would love to hear from you if you have had any experience, good or bad, with affiliate marketing.
---
Note: This post may contain affiliate links.