Are you planning to start a business that aligns with party supplies? How about food party items? I must say that in my years of reviewing multi-level marketing (MLM) companies, a company offering party food items is a rare sight.
I have come across Party Time Mixes recently and decided to make a feature and review it here on my site.
So, if you are looking for a party food company that is worth getting involved in or if you have come across Party Time Mixes before like I do, then get all the facts now about this company in this MLM review article.
Without further ado, let's get started.
---
Party Time Mixes MLM Review – Get All The Facts Now
#1 The Party Time Mixes Company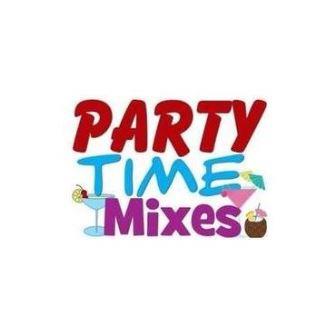 Party Time Mixes (PTM) is a direct selling company under the category of food party items. It is a family-owned company operated by Lisa & Tony Miraglia and their children. The company was launched on March 15 in the year 2015 and is based in Illinois, USA.
The company products and opportunities are available in several countries including the USA, Canada (except Quebec), Puerto Rico, Virgin Islands, Australia, England, Wales, Scotland, Northern Ireland, Germany, Austria, Spain, Italy, and Sweden.

The company has been listed in Better Business Bureau since 2017 but is currently not rated.
---


#2 The Party Time Mixes Products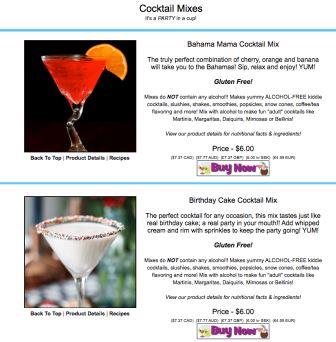 Party Time Mixes (PTM) offers cocktail, dip, and dessert mixes in the market. These products are ideal for parties and offer convenient, nutritious, and delicious options to buyers. It is said that the products are made in USA nut-free USDA and FDA-approved factories. The products are said to contain 100% natural ingredients with no preservatives, no fillers, no MSG, and are free from GMO, fructose, sulfite, wheat, corn, rice, alcohol and Gluten.
Here are PTM products and their prices:
Cocktail Mixes – $6 for packets that can make 4 glass servings
Here you will find fruity cocktail mixes like the Bahama Mama, Fuzzy Navel, Hard Lemonade, Mai Tai Pineapple Mango,  Orange Dream, Pina Colada, Sangria, Strawberry, and Watermelon. 
There are creamy and chocolate cocktail mixes as well including flavors like Birthday Cake, Caramel Cream, Mudslide, Caramel Mudslide and child-favorite Bubble Gum. You also have sugar-free options for some of the mixes.
Dessert Mixes – $5 for about 1 plate serving
Available flavors are apple pie, banana cream, birthday cake, chocolate cake, chocolate mousse, cinnamon swirl, cotton candy, New York cheesecake, raspberry truffle, royal Hawaiian, salted caramel, smores, and tiramisu. There are also sugar-free options.
Dip Mixes – $5 for packs that make 2 cups
Available flavors include Bacon & Onion, Bacon Lovers Ranch, Buffalo Bleu, Cajun Ranch, Cheesy Bacon, Chili, Cracked Crab, Dad's Burger, Dill Dip, Garden Spinach, Garlic Galore, Grilled Chicken, Guacamole, Italiano, Loaded Potato, Mesquite Peppercorn, Onion & Chive, Pepper Jack, Prime Rib, Ranch Dip, Southwest Jalapeno, Taco, Texas Ranch, and Veggie
Products are also offered in combo packs. There are gift certificates as well available at increments of $5.
---
#3 How Can You Join The Party Time Mixes Company
Joining Party Time Mixes (PTM) as a consultant is fairly easy.
To join PTM as a consultant, you need to purchase a starter kit worth $10, $20, $50, or $130. Then, you need to complete a consultant application form. To remain active, you need to have a $10 monthly volume.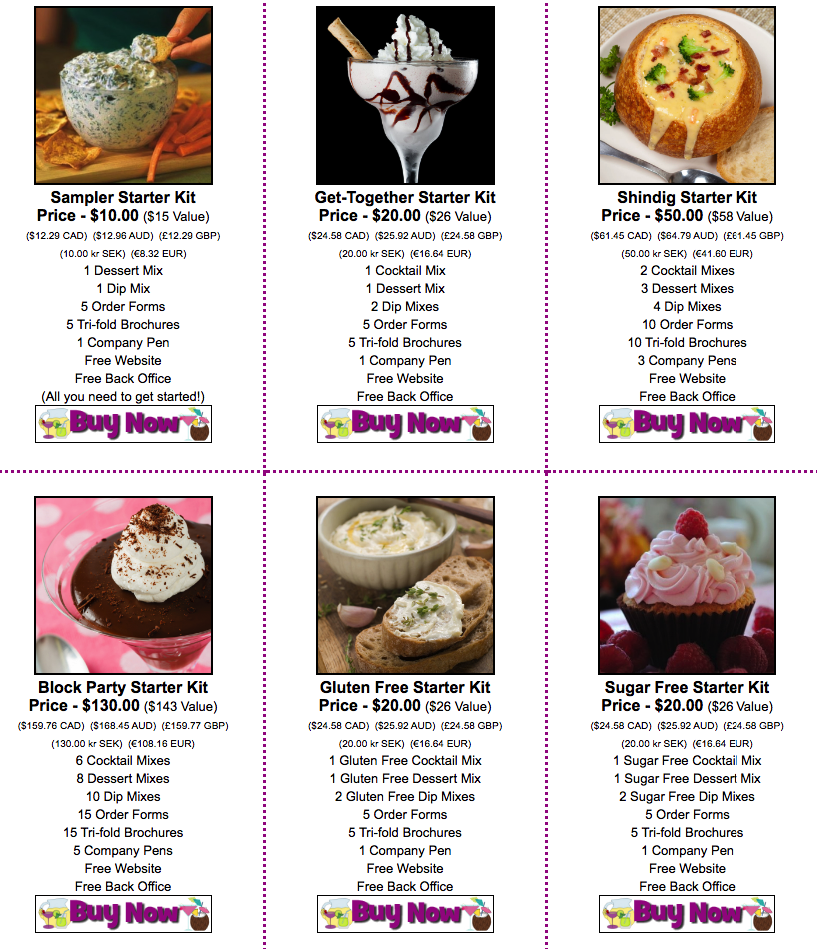 Most people fail in network marketing because they don't know how to get more leads to build a team and how to increase their network to get more sales.

It's time to stop annoying your friends, family, and workmates.

Read more about my proven strategy to generate sales and leads for your business.
#4 Show Me The Money -The PTM Compensation Plan
As a consultant, here are the ways that you can earn an income from Party Time Mixes (PTM). 
1. Sales Commission
You can earn up to 20-30% sales commission including party sales commission and starter kit commission.
2. Consultant Discount
You can earn a 25% discount as a consultant.
3. Rank Advancement Bonus
You will earn from $15 to $3000 commission depending on the rank achieved. 
4. Downline Commission
This is the commission that you can earn from the sales of your downline from level 1 to 5 depending on your rank.
5. Top Seller/Recruiter Bonus
This is the bonus for the top 5 sellers and recruiters for the month. The bonus is $10 to $50 with top1 getting the highest bonus of $50. 
There are 7 ranks to achieve in PTM.
There's no full text of PTM's compensation plan on the corporate website. The compensation plan chart available below is from a consultant's FB page.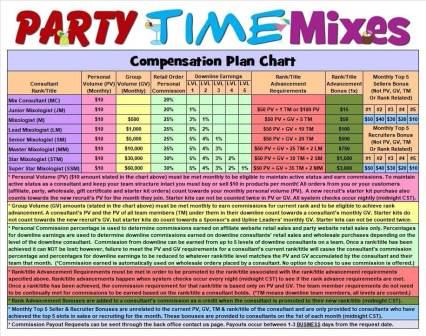 #5 Let's Party
Party Time Mixes is a direct selling company that works with the party plan selling method, similar to Tupperware or Limelight by Alcone for instance.
That means that Hostesses will get rewards once the party/presentation reaches a certain sales volume.
To host a party or also called mixer, you need to coordinate with your consultant to assist you with your party. You can do in-home mixer or online mixer.
Hostess rewards in PTM are provided in the below chart.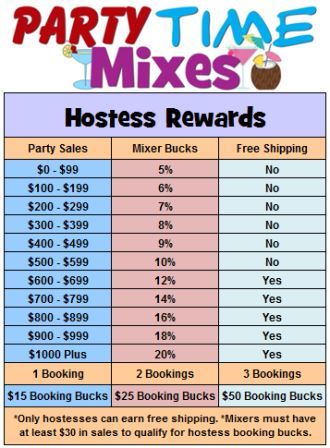 #6 Can You Actually Make Money With Party Time Mixes?
Party Time Mixes (PTM) has no income disclosure statement available for viewing on its corporate website. What the company has is a provision about income claims on its independent consultant agreement of which the link is available here.
The company prohibits its consultants from making income claims, earnings, or lifestyle representations unless it is based on the company's official publication. As of this writing, I cannot find any official publication of PTM relating to its income disclosure statement. 
Looking at the company's compensation plan, the company allows its consultants to earn a retail commission with just $10 monthly personal volume. So, if you can sell, it is quite easy to remain active and earn a retail commission.
However, just like most multi-level marketing companies, you need to recruit to increase your commissions with PTM. The company rewards downline commissions as well as rank advancement bonuses that you can only qualify with when you recruit a certain number of people who can help you achieve the qualifying group volumes. 
But, I must also say that the top seller reward is a good thing since it does not come with any conditions, you only need to sell and be on top. This way, it encourages a focus on retail sales. 
With the right selling and recruiting skills, you can surely earn money from PTM's opportunity. However, if you are new to doing this kind of thing, then it is important to note that you will need a lot of training especially if you plan on promoting your own PTM website online.
We know that making your presence online and convincing people to buy or take action from the things you promote is a challenging task so you cannot just join a business and expect results to come in without you exerting time and effort to improve your selling and recruiting skills and capabilities. 
#7 The Pros And Cons In A Nutshell
Thumbs up for:
The company is a legally established company with headquarter in Illinois, USA.
The company offers unique consumable products that are available in several countries.
The products are retail-viable.
It allows you to start a business for as low as $10.
Thumbs down for:
The company is listed in Better Business Bureau but has no rating yet.
To earn an income, you need to sell and recruit.
The products lack brand recognition and may face tough competition.
There is no income disclosure statement.
Conclusion
I get the impression that Party Time Mixes is a closed-knit company that wanted its affiliates to feel at home and enjoy its products. It is a legally established company based in Illinois, USA. It offers unique and consumable party food products that look delicious and surely have valid consumer demand.
It allows you to start a business for as low as $10 from home.
However, the company is relatively new. It is not even rated by the Better Business Bureau yet. PTM wanted to appear welcoming to its affiliates based on the wordings on its corporate websites however as the saying goes business is business. It is clear that PTM offers a business opportunity designed similar to most MLM business opportunities.
For consultants to earn, they need to sell the products and recruit. There are some good points about PTM's compensation plan especially on the part where it rewards sales commissions and bonuses with minimum sales qualifications and is not rank related. Still, PTM lacks in showing enough proof about the profitability of its business opportunity for its affiliates.
PTM has no official income disclosure statement as of this writing. This document can answer all doubts about the business opportunity when available as this can show typical earnings of consultants from the business opportunity.
PTM has its strengths as a company and has its weak points as well. I have some doubts about PTMs business opportunity if it actually helps its affiliates to make money. But, since PTM cannot show proof and I know the figures in terms of income earnings for members of MLM companies across the industry, I would suggest not to get your hopes up on this business opportunity.


---
Please note, this post contains affiliate links.