Until recently I had never heard of the Healthstyle Emporium (the HSE) until one of my acquaintances started to publish posts on Facebook about a new 'health' product she has been trying and was raving how the product had changed her life for the better.
The product, so promised my friends post, will help with a decrease in stress, to lose weight, and improve your overall lifestyle and health.
Oh, okay, I thought, that sounds interesting. Well, to no surprise, shortly after I get a PM to check out the products, and also the info, that the company,  the Healthstyle Emporium is hiring people…
So I decided to have a closer look at the Healthstyle Emporium and what this company is all about.
There are literally hundreds and hundreds of opportunities out there to get involved in direct selling and multi-level-marketing that promises you the freedom to choose your own (working) hours and the opportunity to earn big money.
Before you get involved with the Healthstyle Emporium, check out my review which will show you in detail what it takes to get involved with this company and if it is the right opportunity for you.
Most people fail in network marketing because they don't know how to get more leads to build a team and how to increase their network to get more sales.

It's time to stop annoying your friends, family, and workmates.

Read more about my proven strategy to generate sales and leads for your business.
If you had enough of MLM or direct selling, please read through to the end of this post. I will show you an alternative business model not many people know about.
And who knows, it may be the start to an exciting new journey.
---
What Is The HSE All About
From my research, the company has only been around for a couple of years and has established itself in the Evergreen Health and Weight Loss Niche which is always popular but also highly competitive.
After all, who doesn't want to stay healthy and let's be honest, nearly everyone tries to lose a few pounds now and again.
It took a lot of digging to find out more about the HSE and how they operate.
Head of the operation is a young Australian woman, Chani Thompson, who initially started out with her blog HealthyPeach where she shared her journey of healthy living, a holistic lifestyle and how she wants to help other women to pursue their dreams.
So a few years ago, she has teamed up with (spoiler alert) Juice Plus, an MLM company that produces (not only) fruit, vegetable, and berry capsules as a dietary supplement.
By doing so, Chani has developed her own brand/company, the HSE, and has grown her team which she refers to as her tribe or 'Babes in Business'. Chani says
"Babes in Business is a project I created geared towards the innovative entrepreneurs, the daydreamers, the travelling gypsies, professional women, mums and side hustlers! Those with a day job, those already in business trying to find their way…"

"If you've been asking The Universe for a sign… THIS IS IT!

We are witnessing a phenomenon… women from all around the globe have discovered the secret to success and happiness in both their lives and careers – & I have the secret sauce… and I'm going to share it with you!" (Chani Thompson on her blog HealthyPeach)
This type of approach will resonate with many women from around the globe and the HSE is currently present in six countries; Germany, Canada, Australia, New Zealand, United Arab Emirates, the UK, and the USA.
Chani has now 4500 members in her team and has become a Juice plus National Marketing Director in 2017.
The whole program/business runs online mostly via Facebook groups,  Instagram, and YouTube.
---
The Products
As mentioned before, the HSE sells Juice plus products but with a bit of a twist. They have created packages to suit the needs of different customers.
Instead of selling the plain old fruit, berry & vegetable capsules plus food replacement such as shakes and bars, Chani created a clever marketing plan.
She sells these products as packages with enticing names like 'The Lifestyle Package' or 'On-The-Go Package.'

You can choose from different packages which vary slightly depending on your home country. (BTW, you have to pay for a minimum of four months).
All packages include a monthly check-in with an Emporium coach, multivitamin gummies for one child (free), meal guides, daily inspiration, recipes, access to monthly educational workshops, exercise guides, access to a support group, food journal, etc.
The Back to Basic Package: 44.50/month for fruit/and vegetable capsules
Trio Package: $71.50/month for fruit, vegetable&berry capsules
On-The-Go Package: $66.50/month for 120 chocolate and/or vanilla shakes
The Lifestyle Package: $111/month for fruit&vegetable capsules and 120 chocolate and/or vanilla shake
The Emporium Package: $137.50/month for the fruit, berry&vegetable capsules, and 120 chocolate and/or vanilla shake
The Premium Emporium Package: $170.25/month for the fruit, berry&vegetable capsules, and 120 chocolate and/or vanilla shake plus 60 mixed fruit bars
The Tower garden: not available at the moment
In return for the free gummies for the kids, you will be asked to take part in a Children's Health Study which has been founded by Juice plus.
Now, I am not talking about the Juice plus products just yet and whether they are really helping to improve your health or not. This is part of my Juice plus review. Read it here.
Let's just say, Juice Plus products are quite controversial. First up, there is no real evidence that they provide health benefits as promised by the company. Read more on Wikipedia.
Also, the products are overpriced considering that you have to pay for at least four months. You can get similar products cheaper on Amazon or Costco where you can buy as you need them.
The main point of this Healthstyle Emporium review is to share some info regarding the business opportunity.
---
 The HSE Business Opportunity
First up, kudos to Chani for using the power of social media, blogging, and clever marketing by targeting a specific type of audience in building a successful online business.
The program is aimed at women who feel they need to conquer the following issues as you can see on the screenshot.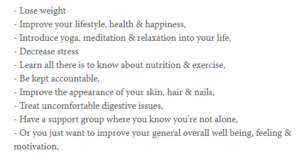 She has leveraged an already established product and put her own stamp on it by developing the HSE brand.
However, I haven't found much information about the HSE business opportunity as such rather than that you have to provide your email address and they will get in touch with you.
The info is pretty vague saying that you will work 100% online and you can work from anywhere in the world.
Once you join, you will receive training to become 'a Wellness Coach.' Sounds great, doesn't it? But really, how do you get training? What is a 'Wellness Coach'? What qualifies a person to give out advice to customers regarding taking the right nutrition, how to exercise, and recommendations on other supplements?
Chani offers training videos e.g. how to launch your business via Facebook, how to invite people to your virtual event, and also how to use the Facebook group 'Babes in business'.It seems there is more training on recruiting people than on being acoach.
I assume that you have to pay $50 to get started, The same amount you have to pay when you join Juice plus.
---
Why not build your own blog/website and make money online. Learn how to build one step-by-step. It is free to get started.
---
Compensation Plan
Let's talk about money, honey. I have to guess again. I haven't found anything regarding compensation related to the Healthstyle Emporium brand.
But I would say that the Juice plus compensation plan is used since the HSE is piggybacking with Juice plus.
There are 7 levels one can achieve with the Juice plus company, starting as a Distributor, Direct Distributor, Virtual Franchisee, Sales Coordinator, Senior Sales Coordinator, Qualifying National Marketing Director, and National  Marketing Director.
The commission level starts at 6% (Direct Distributor), 14% once you reach Virtual Franchisee, and 22% as Sales Coordinator and above.
All up, there are three ways to earn money.
Retail Sales Profit $39
Commissions; except for Distributors (the first level)
Performance Bonuses
For more details, please watch the video below. I do not endorse the video, it just makes it easier to understand the earning potential.
Well, nothing new here to be quite honest.
But I think being called a 'Wellness Coach' (with the HSE) sounds much better than being a plain old 'Distributor.' 🙂
---
Can You Make Money With The HSE
This question is hard to answer since there is no data available.
Since the HSE works online and not through direct selling as in party plan or ringing customers aka direct contact with your client, it is difficult to say how you can build rapport as a Wellness Coach with your customers.
As always in MLM, it starts with getting your friends and family involved and from there hopefully it snowballs into a thriving business.
The health and wellness niche is evergreen and always will be. So many women are trying constantly new diets, fitness programs, and so on.
The HSE appeals with its fresh look, design, and media presence to the modern trendy women who works hard, has to juggle job and family and knows how to navigate her way on social media.
Would you like to learn how to write a blog and build an online business without selling or recruiting?
---
Pros And Cons Of The HSE Business Opportunity
Here are the Pros:
I like the fresh look and different choices of packages – it will resonate with consumers especially with hip, trendy and health conscious young to middle-aged women
Low start-up costs
Only work online – training, selling, recruiting mostly via Facebook
Moderate chances to make a side income
What Are The Cons
Juice plus products are quite controversial regarding their promised health benefits
The customer has to pay for the products for at least four months
It is not clear how comprehensive the training is for a new 'Wellness Coach', what exactly is involved?
You need to be comfortable with the use of Facebook and other Social Media channels
---
Final Thoughts/Verdict
Despite the fresh look and holistic approach of the HSE,  at the end of the day, it is 'just' an MLM company.
So in order to climb the ranks and earn a substantial amount of money, you will need to sell the products and recruit new team members.
I do like the fact though that the HSE not only sells Juice plus products but also offers additional things like a support group, recipes, meal guides, fitness guides etc.
It could be a good opportunity for people who are highly motivated, love to network and don't mind getting friends and family involved to launch their business.
I personally find direct selling/MLM a tough business where you have to learn to deal with rejection, and objections,
It takes a strong mindset, persistence, and resilience to overcome these obstacles and to build a successful business in the MLM industry.
If you do love the products. feel they are worth the money and you don't mind getting your friends and family involved, then by all means, go for it.
But bear in mind, to build a substantial income, you'll need to put in full-time hours for sure.
---
An Alternative Business Model
I had been a consultant with a direct selling company for over three years so I speak from experience when I say it takes a lot of hard work to be successful with this kind of business model.
The initial enthusiasm rubs off pretty quickly if other people don't share the same love for the product you are trying to sell.
I've learned that selling stuff to people is not my strong point even though I loved the products.
Ringing potential customers, dealing with return and refunds, traveling for hours to do presentations without sometimes getting any sales was tough going.
I know of people who were super successful but they were working consistently for around 40 hours or more a week.
Well, looking back I'd say it was a huge learning curve but not what I was looking for in an ideal business. In reality, the hours weren't exactly flexible, instead, I had to work in the evening and on weekends.
Start Building A REAL Business
For the past three years, I have been building my online business that doesn't involve recruiting or calling people at all. Now I can work whenever and wherever I want to work with only a laptop and an internet connection.
Learn more about this business model and my #1 recommended online training platform and see if it is right for you.
Quite frankly my recommended business model is not for everyone. It takes at least 6 to 12 months of consistent work to see the first results aka earning money.
Read here, how I make four digits a month without selling or recruiting.
If you are able to invest between 10 and 20 hours of work a week then you will surely succeed.
Once you get the foundation right, you will earn passive income for years to come. All it takes is good training, consistent work, and taking action!
Are you ready to do something new, exciting and challenging?
Ready to take the leap?
Start Building A REAL Business!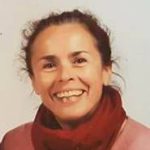 ~ Anke
---
Stop Annoying Friends And Family!
Discover How To Create Passive Income
Without Recruiting One Person!
Sign-Up For My Free Email Course And Start Building A REAL Business!