Welcome to my post  Become A Scentsy Consultant – Or Rather Not?
This post is for women who are looking for a flexible work from home opportunity. You might be a stay-at-home- mom or you want to earn some extra money to pay for some of your bills or maybe to spoil yourself a little bit.
Have you been approached by a Scentsy consultant who has offered you the chance to join the company and is raving about being a consultant?
Maybe you love the products already and want to share them via direct selling and earn a commission?
Related Post: What Is Pink Zebra? – Turn Your Passion Into Dollars [A Review]
Either way, it is always a good idea to do your thorough research before you start your new career as an Independent Scentsy consultant.
Read my detailed review to find out how you can join and if you should join this MLM company. Another important factor to consider is if you can make any money selling Scentsy products.
Let's find out all the facts you need to know about this company. A lot of people also wonder how Scentsy compares to Pink Zebra, another MLM  company which is selling scented candles.
Lastly, at the end of my post, I will talk about an alternative business opportunity for people who have had enough of selling and recruiting.
Without further ado, let's get started.
---
Read How I Earn Four Digits A Month Without Selling Or Recruiting.
---
Become A Scentsy Consultant? – Or Rather Not?
Some Facts About The  Scentsy Company

Scentsy is based in Meridian, Idaho and was founded in 2004 by Orville and Heidi Thompson. The companies mission statement and approach is very family focused.
So it comes as no surprise that mainly women join this company to work flexible hours and the chance to make a good income. Scentsy even calls their events 'Scentsy Family Reunion.'
Scentsy is part of the Direct Selling Association as well as the Better Business Bureau where they achieved an A+ rating.
In the last 15 years, the company has grown exponentially and is now being sold in fourteen countries including Germany, Australia, New Zealand, the UK, Canada, and Mexico.
Scentsy found its niche in selling wickless candles and decorative warmers.
---
 The  Scentsy Products

Scentsy's most popular product without a doubt is the wickless candles (Scentsy Bars) which are placed into beautifully handcrafted warmers in which they are releasing a nice fragrance.
There is a huge variety of products available besides the Scentsy bars that come in 95 scents and the warmers.
Customers can choose from a range of natural essential oils, laundry liquids, diffusers, kids products, body cream, and a few more items.
You'll find the following categories on Scentsy's website:
Scent
Warmers & More
Disney
Laundry
Clean
Body
Gift Ideas
A Scentsy bar costs $6, a warmer up to $55, and a diffuser can cost up to $150. All warmers are made in China whereas the Scentsy bars and other home-fragrance products are made in Meridian, Idaho.
I do find the price range not too bad even though you'll find similar products for less money elsewhere. What I disliked though was the high shipping costs, Scentsy is charging its customers.
Shipping for products under $80 cost $8 flat, for shipments of products over $80 to $199.99 you would pay 10% off the retail price, e.g. order $150 worth of products equals $15 in shipping costs! Free shipment is only available for orders over $200.
To avoid these ridiculous shipping charges, you may want to check out the 'Scentsy Club.'
The Scentsy Club
Joining the Scentsy Club will be a great option for customers who love the products. There is no joining fee involved to become a member and no minimum order is required either.
It is basically an auto-ship membership where you can choose from monthly, two monthly and three monthly shipments. Not only is shipping over $60 free but the company also delivers discontinued Scentsy bars to members once they have been ordered before they were discontinued.
Scentsy club members can only order consumable items which mean warmers and diffusers cannot be purchased via the membership.
A Word About Scentsy's Warranty
Scentsy offers a lifetime warranty on their products that covers manufacturing defects.
If you are not happy with your purchase, you can send items back in within 30-days for an exchange product.
Scentsy Go, Scentsy Go Solid, and Scentsy Diffusers come with a limited lifetime warranty. A replacement for a defect item is free for the first 30-days. Afterward, Scentsy will charge a hefty processing fee. Find more details here.
There have been a few complaints about the customer service and exchange policy on the Better Business Bureau. You can find them here.
I have also noticed that there might be issues with the quality of the Scentsy Bars. Longtime customers have noticed that the scent doesn't last as long as it used to be.
Here is a screenshot of one of the complaints about product quality issues.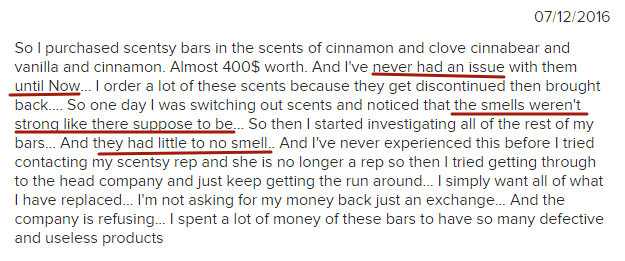 The good news is that the customer in this example got all the bars replaced by Scentsy.
---
How To Become  A Scentsy Consultant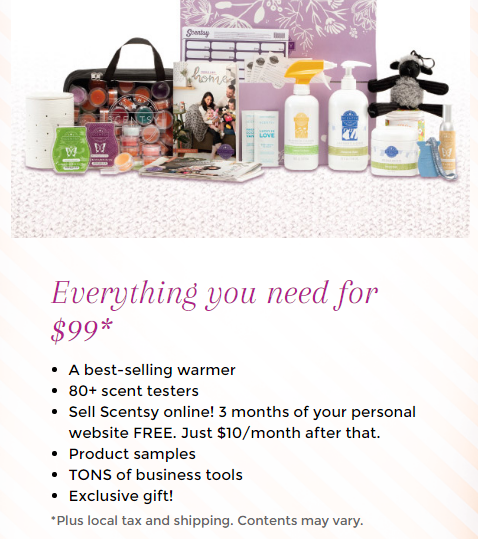 As you can see on the image, the Scentsy starter kit retails at $99 and includes business tools and supplies as well.
Scentsy has got a consultant support team, free marketing resources, and online training and business tools.
As you can see on the image, the replicated Scentsy website is free for the first free months. After the three month period, you'll be charged $10/month.
As a consultant, you will be mainly doing in-home parties but you can sell your products via your personal website, virtual parties, and basket parties. The latter basically means to fill a basket with Scentsy products and order forms and leave them at your workplace, at schools or kindergartens where staff can have a look and the chance to order something.
The base commission starts at 20% on the first 1000 points in Personal Retail Value (PRV). Once you reach 1000 in PRV you'll get 25% in commission payments and you can call yourself Certified Consultant.
To stay as an active consultant, the minimum requirements are 200 PRV in at least one month in a four-month period.
Here is something I have noticed; Scentsy doesn't offer any discounts for its consultants! But, they offer each month a Scent Of The Month Kit for $35 plus handling/shipping as well as a Scent/Warmer Combo Of The Month Kit for $60 plus handling/shipping. [source: Scentsy Consultant Guide]
So, your monthly business expenses can easily reach between $45 (for the website plus kit) or even $70 (for the combo plus website). And, I am pretty sure, most consultants will use these kit offers so they can showcase new products at their parties.
---
Shoot For The Stars
Like most MLM companies, Scentsy has an incentive program in place so consultants can essentially earn free products which they can showcase at the in-home parties.
'Shoot For The Stars' is no different. Once you sell 500 worth in PRV, you'll be awarded the 'Shooting Star Award' and are eligible to purchase the Shooting Star Enhancement Kit.
Well, shouldn't it be free as a reward? But hang on, you'll earn  PRV on your purchase so you'll get paid a commission. Really!? I'd rather have the kit for free.
By the way, I couldn't find out how much this enhancement kit is.
Next up, you can qualify for the Scentsational Star Award who has three levels. All this is supposed to be happening in the first 70 days of being enrolled as a consultant.
Level 1: 1250 PRV or three personally sponsored consultants who reach 150 in PRV in sales
Level 2: 2500 in PRV or 1250 in PRV plus  three personally sponsored consultants who reach 150 in PRV in sales
Level 3: 5000 points in PVR or six  personally sponsored consultants who reach 150 in PRV in sales
---
 The Scentsy Compensation Plan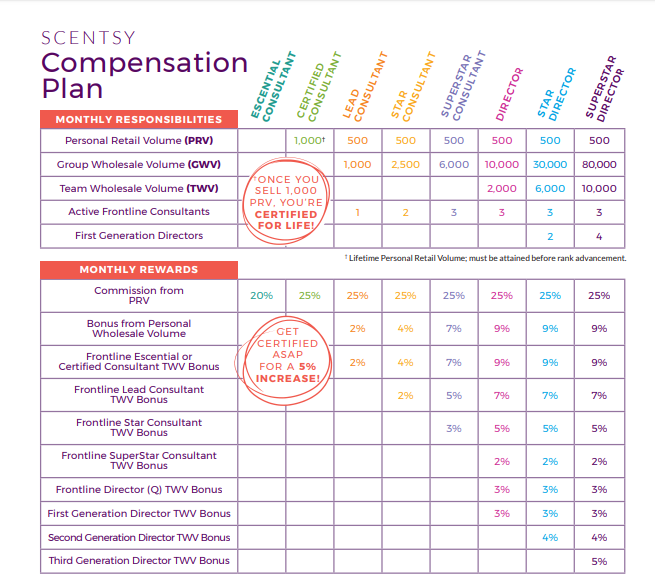 I don't want to get into too much detail regarding the compensation plan since it is pretty self-explanatory as you can see on the screenshot.
There are a few things to note here. You start earning a bonus of 2% from personal wholesale volume (which is 75% off retail) when you have recruited at least one active consultant. That is when you qualify from Certified Consultant to Lead Consultant.
At this rank, you can also get 2% of the sales the Certified or Escential consultant you sponsored, is selling. The group wholesale volume has to be 1000 points.
Once you reach Start Consultant the commission percentage doubles. The sales requirements remain the same for personal sales – 500 points in PRV.
As with any other MLM company, you only climb up the ranks when you recruit people into your team.
---
Can You Make Money With Scentsy
Kudos to Scentsy for being transparent and publishing an income disclosure. But what is missing here is a break down of how many consultants have achieved which rank. Superstar Director would be the highest rank.
In this screenshot, I want to just have a look at group 1 because these consultants had been with Scentsy for all 12 months of 2016.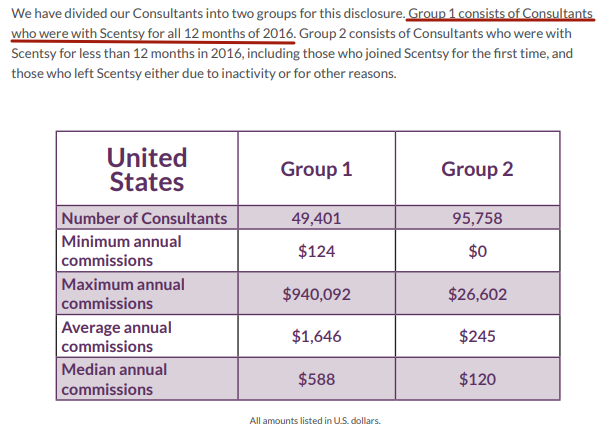 I can only assume when I look at the average annual commissions of $1646 that the majority of consultants are in the lower rank positions where the earnings potential is not high.
$1646 a year equals a monthly income of $137 not included tax payments, fees for the website, paying for the scent kit, travel expenses to go to parties etc.
To me, it doesn't look like there is much money to be made with Scentsy.
---
Is Scentsy A Scam
No, I don't think that Scentsy is a scam. The products seem to be of good quality and popular with customers.
The fact that the company is selling their products in fourteen countries shows that there is a demand for this type of product.
---
Should You Become A Scentsy Consultant
Becoming a Scentsy consultant may be a good 'work from home' opportunity if you are just looking to make a little bit of extra money.
I had been with a direct selling company for three years so I know what to look out for in a good 'business' opportunity.
But before I give you my opinion I would like to have a look at the Pros and Cons with the Scentsy business opportunity.
There are a few things I like
The Starter Kit is affordable.
Scentsy is a member of the DSA and BBB.
A wide range of products which suit different budgets.
Different training tools available to consultants.
Here are the Cons I see with Scentsy
A strong focus is on the recruiting part.
High shipping costs for customers which can affect your sales.
Consultants can't purchase products at wholesale price.
The main focus is on doing in-home parties to sell the product. It makes sense because customers need to experience the product but parties are also very time consuming and can be challenging for new consultants.
There is so much more involved than just doing parties. You not only have to travel to the venue, hold your presentation and go back home. There is a process to it. Before the party: you need to do your hostess coaching. That means you have to ring (not text) the hostess a few times prior to the party to make sure a) she has invited enough people, b) find out how many are coming, c) is anyone interested to book a party d) is anyone interested being a consultant, e) the party is going ahead.
Tip: usually the hostess is a potential recruit since she already loves the product.
After the party: a) send out 'Thank you cards', emails or text messages, b) put the orders through, c) ring your potential next hostess and repeat the hosting coaching process, d) invite a potential recruit for a coffee date.
Last but not least: It is not your business.
I have said this in other reviews and I will say it again: It Is Not Your Business.
Let me explain the last point further because this is the biggest drawback for me with any MLM company.
The biggest Con with any MLM company is that it is not YOUR business. You don't have any influence on their marketing structure, price policy, or anything else business related.
Of course, you are flexible and can determine your working hours. But most likely you won't get rich, instead, your upline will get rich.
Based on my research and the facts I have outlined before, becoming a Scentsy consultant might be suitable for people who love the product, love being social and don't mind recruiting people or doing in-home presentations.
You could make some extra money and you would surely get repeat customers because of the quality and wide range of products.
If you are looking to earn a full-time income then you have to recruit lots and lots of people into your team and they have to recruit, and so on and so forth.
It requires lots of hard work and takes more than 30 hours of work a week.
The investment for a starter kit is reasonable so there is not much risk to lose a lot of money.
Just be aware that it is so easy to spend more money than you originally planned. Many people are losing money with MLM because they want to meet the sales requirements.
Ultimately, it is up to you whether or not you are going to join Scentsy or not. I do hope that my review has helped you to make a decision.
---
How Does Scentsy Compare To Pink Zebra
A lot of people have been asking how being a Scentsy consultant compares to being a Pink Zebra consultant.
The startup costs are the same at $99 for both 'business' opportunities. Where Pink Zebra really shines and fares better than being a Scentsy consultant is in the compensation plan.
The base commission with Pink Zebra starts at 25% and you earn a 7% enroller bonus no matter if you have qualified for a rank or not.
On top of that, the commission payments on retail sales are tiered so you can earn up to 35% commission.
Based on these numbers, thumbs up for Pink Zebra.
Read my full Pink Zebra review here.
---
Alternative Business Opportunities
There are many other 'work from home jobs' out there that will give you the chance to be your own boss, and work flexible hours.
If you are one of those people that jump from one MLM company to the next in the hope of finally earning the big bucks these companies are promising, then it might be time to stop NOW and reassess.
So Here Is What I Suggest
Build A REAL business, build a business where you are in control and not depend on recruiting people and hoping for the best.
I recommend to build your own website and promote things you feel passionate about. You could write about perfume,  scented candles, and the effect essential oils and fragrances can have on the home environment and well-being of every single person.
If you decide to become a Scentsy consultant you could learn how to drive traffic to your personal website by writing content that is relevant to your customers. In return, it could generate sales and even lead to new recruits.
With owning your own website, you don't have to stick to just one company. It is good to give people choices so they can choose what is best for them.
The point is, with your own blog/website you have your own REAL business that no one can take away from you. It is your asset with your own stamp on it.
You don't need any inventory, you don't have to ring customers, or ask friends and family for favors, and there is no recruiting necessary to earn money.
You can work flexible hours from home and anywhere you like. You are your OWN boss!
Sounds good to you? You can read more about it here.
For many, the sound of blogging, and building a website may sound intimidating but there is a training platform where you learn step-by-step everything on how to build an online business.
It is completely free to start and doesn't require any credit card details. With the help and support of this online platform, I have built my online business for the past three years and earn now four digits a month in passive income.
Please feel free to check it out for yourself.
You can Sign Up Here For FREE (no credit card details required).
Start Building A REAL Business!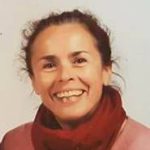 Anke
---
This post contains affiliate links. For more information, please read the full disclosure here.
[mailerlite_form form_id=2]