Welcome to my review Is HempWorx A Scam where I will present all the important facts and information one need to know about this relatively new MLM company.
When I talk about HempWorx there is no way around of mentioning My Daily Choice as well because these two brands/companies belong together as I will outline later.
All the information I provide here applies to My Daily Choice (MDC) as well.
So if you have been approached by a HempWorx affiliate to join the company, it is important that you do your thorough research. In my review, I will not only explain the HempWorx compensation plan but also if you can make any money by selling HempWorx products.
Is HempWorx a scam or does it offer a legit work from home opportunity?
Without further ado, let's get started.
---
Read How I Earn Four Digits A Months Without Recruiting Or Selling.
---
Is HempWorx A Scam – Read The Important Facts
What Is The  HempWorx Company

It all started in 2014 when Josh Zwagil founded My Daily Choice (MDC) which started selling nutritional sprays that are supposed to help with weight loss, give you more natural energy, and help with getting a better good-night-sleep.
Josh was a highly successful top seller for another MLM company before he decided to create his own network marketing business MDC which is based in Las Vegas by the way.
As the story goes he met his future wife Jenna just before launching MDC which she then joined as an affiliate.
Jenna soon developed health issues and tried out products that contain CBD (stands for Cannabidiol) with great results. That's how they decided to create the HempWorx product range in 2017 which has quickly become the flagship product for the company.
With the launch of the Hempworx product line, Jenny and Josh have tapped into a fast-growing market and high demand for hemp-based products.
To be clear, hemp is not the same as marijuana. Industrial hemp contains less than 0.3% of THC so it has no psychoactive compounds. Read more on industrial hemp and how it can be used here.
---
The HempWorx Products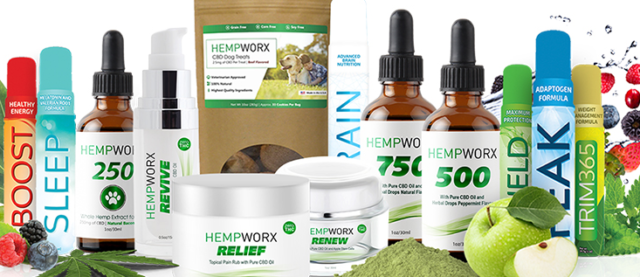 HempWorx has eleven products in their range:
500mg  and 750 mg Full Spectrum Oil in three flavors; Cinnamon, Peppermint, and Natural. Both oils are also available with no THC. costs: $69 and $89
Hemp Infused Coffee – THC free, $69
Keto coffee creamer in three flavors, Hazelnut, Vanilla, Mocha, $69
Renew anti-aging cream, contains 50mg of CBD, $69
Revive cream with 50 mg CBD, $69 for 0.5oz/15ml (!)
Relief Icy Pain Rub, contains Emu oil and CBD, $69
Dog Treats and Bacon and Beef flavored oil, $39
All these products come with a 60-Day-Empty Bottle Refund policy. So if you are not happy with your purchase, send it back and get a full refund.
Now, these prices are pretty high compared to similar products that are available on Amazon for example. In addition, HempWorx made headlines because of illegal and inappropriate health claims published by some of its Affiliates, e.g. saying that the use of hemp oil can treat diseases like cancer or Parkinson's.
TINA.org has compiled a list of these 'health claims'. You can access the full article here.
Josh Zwagil adviced his Affiliates not to use words like "cures", "treats", and "prevents" because it is against FDA regulations. Words like "support" and "assist" would be more appropriate.
---
The HempWorx The Business Opportunity
There are two ways to join and sell HempWorx products. You can either become a Preferred Customer and buy the products at a wholesale price which would save you 25% on the retail price. You can also choose from the product packs as seen on the above image.
As far as I understand, as a preferred customer, you would also have to sign up for a monthly auto-ship order. Please correct if me I am wrong.
But I want to primarily talk about becoming an Affiliate with HempWorx. Anyone can sign up by paying a one-time activation fee of $20 that pays for a replicated website, access to your back office, and a welcome kit.
Next up, you need to choose one of the starter packs. The cheapest starts at $39 and gives you 20BV (business volume) and the most expensive one, the Executive Pack, for $599 which equals 400BV.
The HempWorx Executive Pack for $599 and the Spray Executive Pack for $299 will put you straight away in the rank of an Executive (Affiliate). Well, if you want to maintain your rank as an Executive then you need to generate  90 in personal business volume.
You can do this by buying a director pack for $199 each month which equals a 100BV. Of course, you can sell products or packs to preferred customers or recruit new Affiliates who then purchase a business pack which would give you part of the BV as well.
If you pay $69 for a Builder Pack, you'll be in the rank of a Builder. The minimum requirement to maintain this rank is a monthly BV of 40. To reach 40 BV you can either pay for a builders pack each month for $69 or sell products worth $69 to customers/new Affiliates.
HempWorx Business And Training Tools
Without training and business tools, no one will get the chance to succeed in the competitive world of network marketing.
HempWorx offers the following tools:
Media: you get online access to any image, video, PDF, training calls, and downloads available for MDC and HempWorx
SMS: there is an app that will sync all your contacts on your phone so you can send messages with one click. My question here is, does it really replace the personal contact/phone call?
Social Media: one-click sharing
How effective and good these business and training tools are can only be answered by HempWorx Affiliates.
---
The HempWorx Compensation Plan
The compensation plan in the Multi-Level Marketing world is easy to read and understand, said no one ever. And this is especially true for HempWorx/My Daily Choice.
Josh Zwagil stretches the fact that an Affiliate could earn up to 85% of Business Volume without mentioning though that only people in the highest rank as Super Affiliate will benefit from this high payout.
He is particularly proud of the Jump Start Bonus that gets paid out weekly. The base commission starts at 25% and increases to 30% for Builders.

As you can see, it increases the higher you climb the ranks. To qualify for the jump start bonus you must have 40BV in a month.
The list of potential payments goes on: Binary Team Commission, LeaderShip Matching Bonus, and a Global Bonus Pool.
For ranks from 5k upwards, there are several one-time rank incentives and bonuses put in place. Read the full compensation plan here.
Alternatively to reading the compensation plan, here is a video with Josh Zwagli explaining the whole 'shebang' which takes him over an hour!
---
Can You Make Money With HempWorx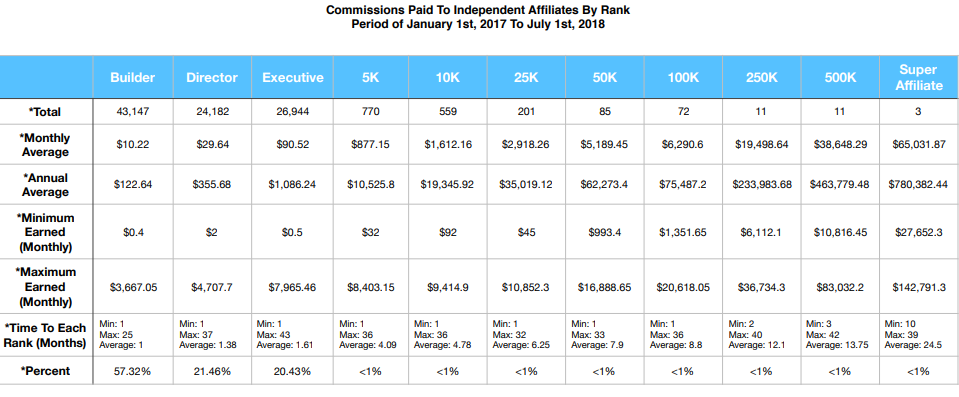 I always give kudos to MLM companies who publish an income disclosure as HempWorx did as well. The one you can see on the screenshot is from 1st January 2017 to 31st July 2018, so very recent.
As you can see the majority of  HempWorx /My Daily Choice Affiliates, around 98% of Affiliates are on ranks (Builder to Executive) that make less than $100/month on average.
Here are some more numbers from the Income Disclosure Statements:
"During the time period, 24,941 of all Affiliates received no income at all."
." 70.3% of all Affiliates do not continue with MyDailyChoice after their first year."
" Based on a survey conducted by the company in 2018, the average annual expenses an Affiliate incurred were $1,608 USD." In other words, the average income as stated on the Income disclosure doesn't take any business-related expenses into account.
Interestingly enough, HempWorx even states in their Policies and Procedures from 5th August 2017 the following:
Section 3 Compensation

 

 
I think this statement speaks for itself.
---
Is HempWorx A Scam
Well, I don't think HempWorx/My Daily Choice is a scam. The products are overpriced but still seem to get good reviews. And one can't argue with the 60-day empty bottle refund guarantee.
Still, it seems to me that Affiliates are encouraged to sign up for a monthly auto-ship order so they can maintain their rank status. A minimum of $69 each month is needed to count as an active Affiliate.
It reminds me quite a bit of the Kyani business opportunity
---
Should You Become A HempWorx Affiliate
Before I answer this question, let's have a look at the pros and cons to get a better idea.
Here are the Pros:
Joining the company is reasonable with a one-time activation fee of $20 and a Builder Pack for $69.
There are no additional costs for a replicated website and other business tools.
HempWorx is transparent regarding its potential earning potential by publishing an Income Disclosure Statement.
What Are The Cons
The compensation plan is bloated and hard to understand.
The products are overpriced and there is not a wide product range.
The earning potential is low (if you earn anything at all) as outlined before.
HempWorx is not accredited with the Better Business Bureau but still have a rating of B- due to over 30 complaints
It is not clear how to sell the products or recruit new Affiliates.
The company made negative headlines because some Affiliates made inappropriate health and misleading earnings claims.
Whether or not you should join HempWorx as an Affiliate is up to you. Based on my research, I would rather stay away from this MLM company. It looks like that you pay more for the products then what you would make in profits.
Only a small percentage of people make it to the top and earn the big bucks, that's just how the MLM structure works.
---
A Better Way Of Making Money
There are so many other ways to earn money and work flexible hours at the same time.
If you had enough of MLM and the constant demand for selling products and recruiting new people into the company, here is a business model I recommend.
What I am about to introduce is not the promise of getting rich quick (is there such a thing?), instead the opportunity to build a sustainable business without recruiting or being depended on one company or one product.
Related post: How I Make Passive Income Online and earn four digits a month.
For the past three years, I have been building my online business that doesn't involve recruiting or calling people at all. Now I can work whenever and wherever I want to work with only a laptop and an internet connection.
I have to be honest though: my recommended business model is not for everyone. It takes at least 6 to 12 months of consistent work to see the first results aka earning money.
You may have heard of affiliate marketing before but never really knew what it was all about?
In a nutshell, first up it is a legit way of earning a commission for products you recommend via a website or a blog that you have to build.
In return, you earn a commission when people buy products or services via your blog.
The website/blog is your own business, you own it not anyone else. You are in control of what you want to write about and what kind of products you would like to recommend to your readers.
It is a true work from home opportunity where you can work at your own pace as much or as little as you want to.
If you are able to invest between 10 and 20 hours of work a week then you will surely succeed.
Once you get the foundation right, you will earn passive income for years to come. All it takes is good training, consistent work, and taking action!
The key is to learn everything about how to build a website (it is easy, click here and I show you how to build one in 2 minutes), how to write content, how to engage with your readers, and how to rank your website.
Extra tip; with my recommended business model you will still have your friends and family, and you don't have to deal with complicated compensation plans etc.
The Advantages Of Affiliate Marketing:
low start-up costs, if any
the opportunity to earn passive income for years to come
a legit way of making money online
you are in control of what products or services you like to recommend
work from literally anywhere in the world
no recruiting
no selling
no inventory – you only need a good laptop
flexible hours
you are not tight to only one company
your blog is accessible 24/7 by potentially millions of internet users around the world
The Cons Of Affiliate Marketing
it can take months until you earn money
for beginners, there is a learning curve involved
it can be challenging not to see any results for a while
Who Is Affiliate Marketing For
for people who'd love to build their own business risk-free
for Entrepreneurs
for people who love to learn and love challenges
for everyone who wants to build a passive income stream
for people who want to work truly flexible hours
for people who seek time freedom
Ready to take the leap and start a legit business that doesn't involve recruiting or selling?
Start Building A REAL Business!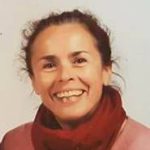 Anke
Stop Annoying Friends And Family!
Discover How To Create Passive Income
Without Recruiting One Person!
Sign-Up For My Free Email Course And Start Building A REAL Business!